In have an updated list which captures what I am using now.
Minimalism led me to simplify my possessions. Each year I review what I used the previous year to determine what changes I want to make. I strive to use items that enable me to have an a healthy, impactful life, while minimizing friction. The following is a complete list of everything I personally own. Making this list was inspired by zenhabit's one bag lifestyle and Tynan's Gear posts, and is similar to blackshine's list. Please don't use this list to fuel consumption or as a challenge to create a curated list of minimalist styled possessions. Do not allow your possessions to become the basis of your sense of security or well being.
Items in bold are exceptionally great. I happily use items marked with "*", but not so much that I would automatically replace them. If I was a "true minimalist" I would get rid of them. The (year) is when the item became a standard part of my life, /year indicates when I re-purchased.
While I enjoy simplicity, a bit of variety can be nice. For example, I often wear my pullover hoodie when it's cool, but sometimes I prefer a sweater. For the first half of 2022 I am between several locations which will blur the differences between "travel" and "everyday" resulting in several items going into storage while my "traveling list" will likely grow. Items that are used by the whole family are on our family gear page.
On My Person / Day Activities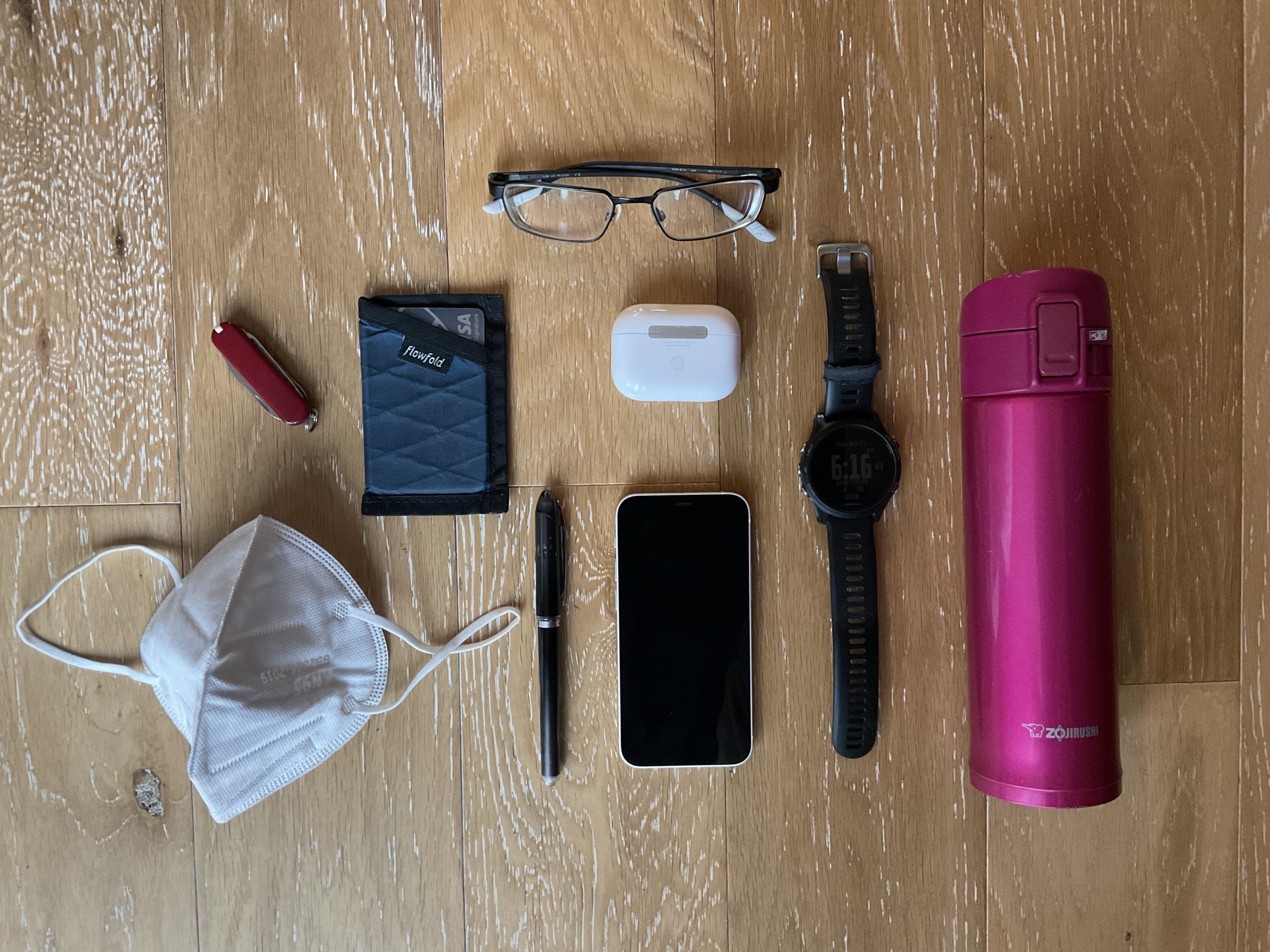 Flexon Eyeglasses (1995/2020) eyeglass frames with Zeiss high index progressive lens. Eyeglasses are an incredible blessing. I used to break frames within a year of getting them. I started to use Flexon frames around 1995. They have lasted an average of 8 years with many prescription changes. In 2021 I tried transition lens but was disappointed. My cycling sunglasses (listed below) worked well in daylight but don't go clear enough as dusk approached. Transition Xtra Active go clear enough, but don't darken enough while driving and aren't polarized so doesn't cut down glare. There is now Transitions XtrActive Polarized which almost what I long for: goes from almost clear and unpolarized to 90% light blockage that is polarized but isn't available in high index materials. For me, prescription glasses with clear lens and fit-over sunglasses that are polarized and have >=90% light blockage seem best combination other than looking silly.
N95/KT94 Masks (2021) have replaced my cloth masks because N95 are more effective and now available without taken them away from medical professionals. Masknerd has great reviews. My family really likes one of his top recommendations, an appropriately sized BOTN KT94, but they are sometimes hard to acquire.
Victorinox Swiss Army Rambler (1999/2015) is the smallest, usable tool I have found with a blade, phillips head & flat screwdriver, scissors, bottle opener, and nail file. When flying I switch to a Swiss+Tech Utili-Key which is not as usable as the Rambler, but has made it through TSA checkpoints over 100 times since 2002 without being confiscated. I am on my 3rd Rambler after losing a couple. I have some notes about other knife options.
Flowfold Minimalist Wallet (2012) which holds my IDs, 2 credit cards, a few bills, while taking up minimal space.
Uniball Vision Elite .5mm Pen (2015/2021) has a good "feel" and doesn't leak after plane flights! I think the Pilot V5 has the best writing feel, but they leak 🙁
Apple iPhone 12 Mini (2020) on Verizon. Not as small as the original SE… the upper right corner is a stretch for one handed use but smaller than most phones. I am somewhat locked into the Apple eco-system because they rest of my family is deeply committed. I found the UI on Android 10 and later has caught up with iOS and has superior notifications and speech recognition. Can someone please make a thin smart phone with a high resolution screen that is 4″ on the diagonal? Maybe Unihertz will do this someday? Verizon is expensive, but gives me the coverage I want in the USA. I will give GoogleFi a try when they support multi-carrier / network switching on the iPhone. Airalo and Gigsky make it easy to acquire an eSIM for wireless data while traveling internationally.
Apple AirPod Pros (2021) are nicely integrated with the Apple eco-system and just work. I found Bluetooth connects quickly and the connection is reliable. Noise reduction is decent, and the "ambient mode" provides situational awareness. I have written about other headphones options. These replace a pair of AirPods that died and often use on shorter flight so I don't need to hassle with my IEM + bluetooth receiver.
Garmin 935 Watch (2017) accurately tracks my activities and measures my fitness level. The watch is light enough that I don't mind wearing it continuously. It originally could last ~5 days without charging while using GPS 12 hours during this time. Now I can get 9 days without using the GPS, and each hour of GPS uses 10% battery, so I typically see 3 days with 6 hours of GPS. Has decent integration with smartphones and notifies me when I have left the paired phone behind. I find the data I get from Garmin to be significantly higher quality than other wrist worn sensors, being close to medical grade instruments when paired with a HRM and a power meter. When battery dies will likely replace with a Garmin 255. There are other good sport watches.
Zojirushi Double Walled Mug (2013/2017) can easily be used one handed, locks so it doesn't open accidentally, pours at the perfect speed, the mouth is wide enough for ice cubes, and insulating better than every other mug I have tested. I have a Deep Cherry color mug which I picked up after misplacing my silver mug at work. The striking color make it easy to spot when searching for it. In many countries you you can fill it with ice (no water) and get through security. Once through, add water and you can have icy cold water for your flight.
Nicore NU25 rechargeable headlamp – not shown (2019) Very light-weight, especially when the headband is replaced with shock cords. Decent regulation, electronic lock so it doesn't turn on accidentally. Use when I need hands free light: repair work, hiking, backpacking, running in the dark, and it has been used when I forgot to recharge my bike light. Can be powered from a remote USB power supply making it useful in extreme cold. There are many other good flashlights.
Office / Electronics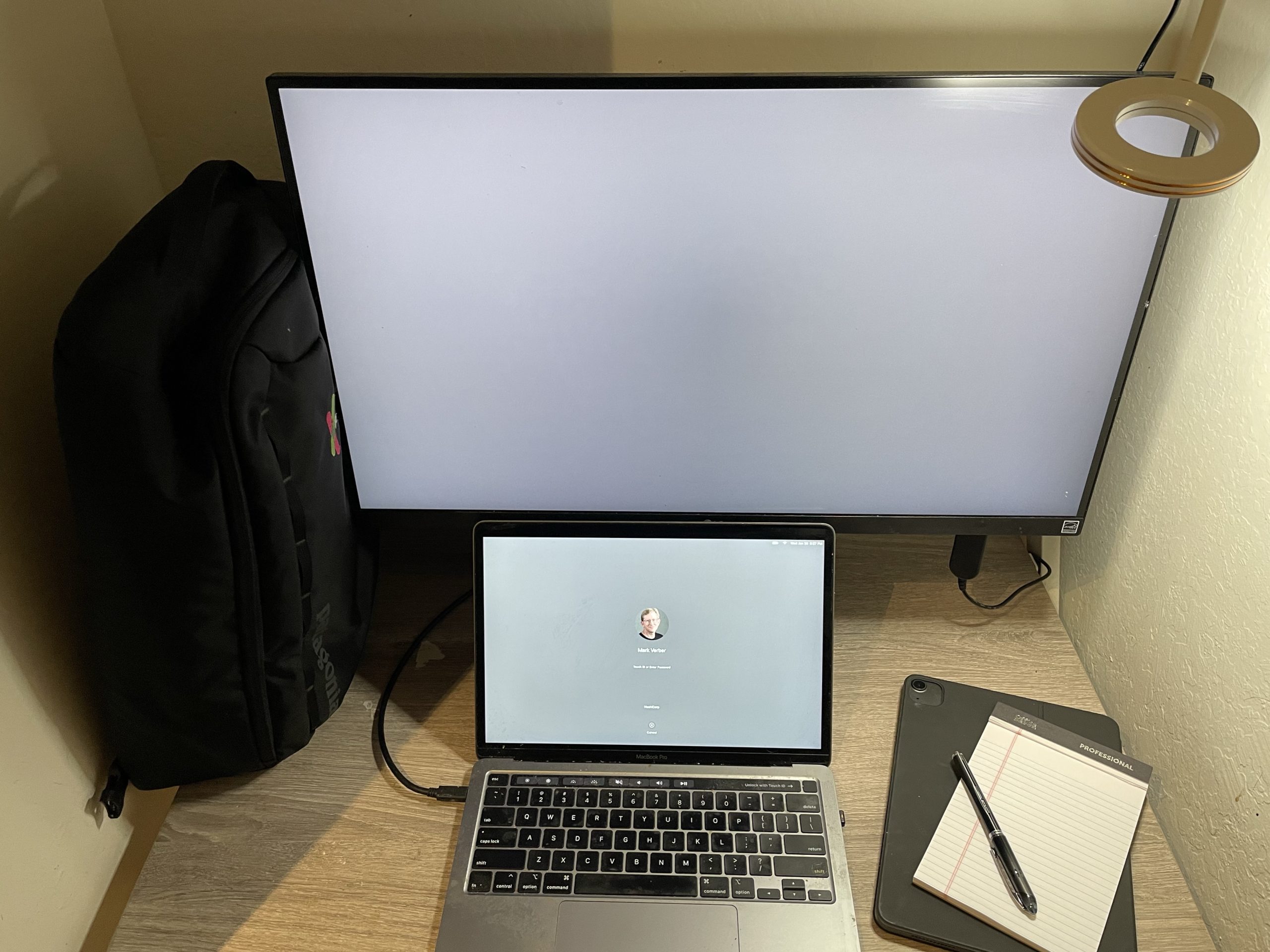 MacBook Pro 13-inch (2020) provided by Hashicorp and a MacBook Pro 14-inch (2021) – not shown for personal work. Been using MacBooks since 2006 as my primary computer. There are better performing laptops for the money, but I like the ergonomics of the Macbook touch pad and OS X because it gives me high quality commercial applications and full UNIX tooling. When I purchase a MacBook for personal use I select a configuration with the maximum memory available which has allowed me to use the same Macbook for ~6 years before it feels too sluggish. The 2021 MacBook Pro is a return to what it should have been. I hope Apple brings back the ultra-portable 12″ MacBook someday.
LG 27BN88U 27-inch 4K Display (2020) provide by work. Historically I have worked from the display on my laptop, using an external monitor only occasionally when needing to visualize a lot of data. In the era of Zoom meetings I use the laptop screen for displaying people, and the external monitor for notes, presentations, and general work.
RAVpower 120w USB-C Charger* – not shown (2021) A compact power source with 2 USB-C, 2 USB-A ports allows me to rapidly charger all the devices I use each day. Purchased so the previous charger could move into the garage. has 2 USB-C cables, a UCB-C to Micro adapter, a Garmin and an Apple Lighting cable attached to it. It sometimes gets confused how much power to deliver to which port and I need to disconnect / reconnect devices until each is getting powered 🙁
Apple iPad Air 4* + Smart Keyboard Folio* (2021) Purchased as a second monitor (via Sidecar) for MacBook for when I am working away from home. I have found the iPad also works well for consuming media. The Folio keyboard is compact making it a good choice for onebag travel, but the keyboard feel is mediocre and not stable enough to use on the lap. I tried to do most of my "personal" computing on the iPad with a Magic Keyboard (works better than the Folio keyboard) to see if a iPad could replace a laptop: it was a failure. There is too much friction integrating information from several windows and often the app experience on the iPad fell short when compared to the experience on a real laptop or Chromebook. This is my third iPad since they were introduced. While each was useful for a particular task, I have yet to find it a compelling device for general use. A portable UCB-C powered screen is more effective for me as a second screen. I have abandoned using the iPad. Jackie is now seeing if she can "live on it". It looks like it's no better for her.
Patagonia Tres 25L Bag (2016) 23andMe swag which holds my current "working set" of paperwork and office supplies. Much of the year it's not really needed, but it is required during tax season. I haven't succeeded in getting all my tax documents into electronic form yet. There is still room to add my MacBook Pro and power supply. Switched from the plastic file folder for easier transportation.
Small fabric tape measure – not shown (2012) to measure packages and other smaller items.
USB Power Task Light* (2020) to replace a task light my wife needed somewhere else in the house. Most of the time I don't need task lighting, but it works well when I need the extra light.
Foldable Desk (2012) which my monitor is mounted on. When folded up small enough to fit in the trunk of our car for transport.
Bathroom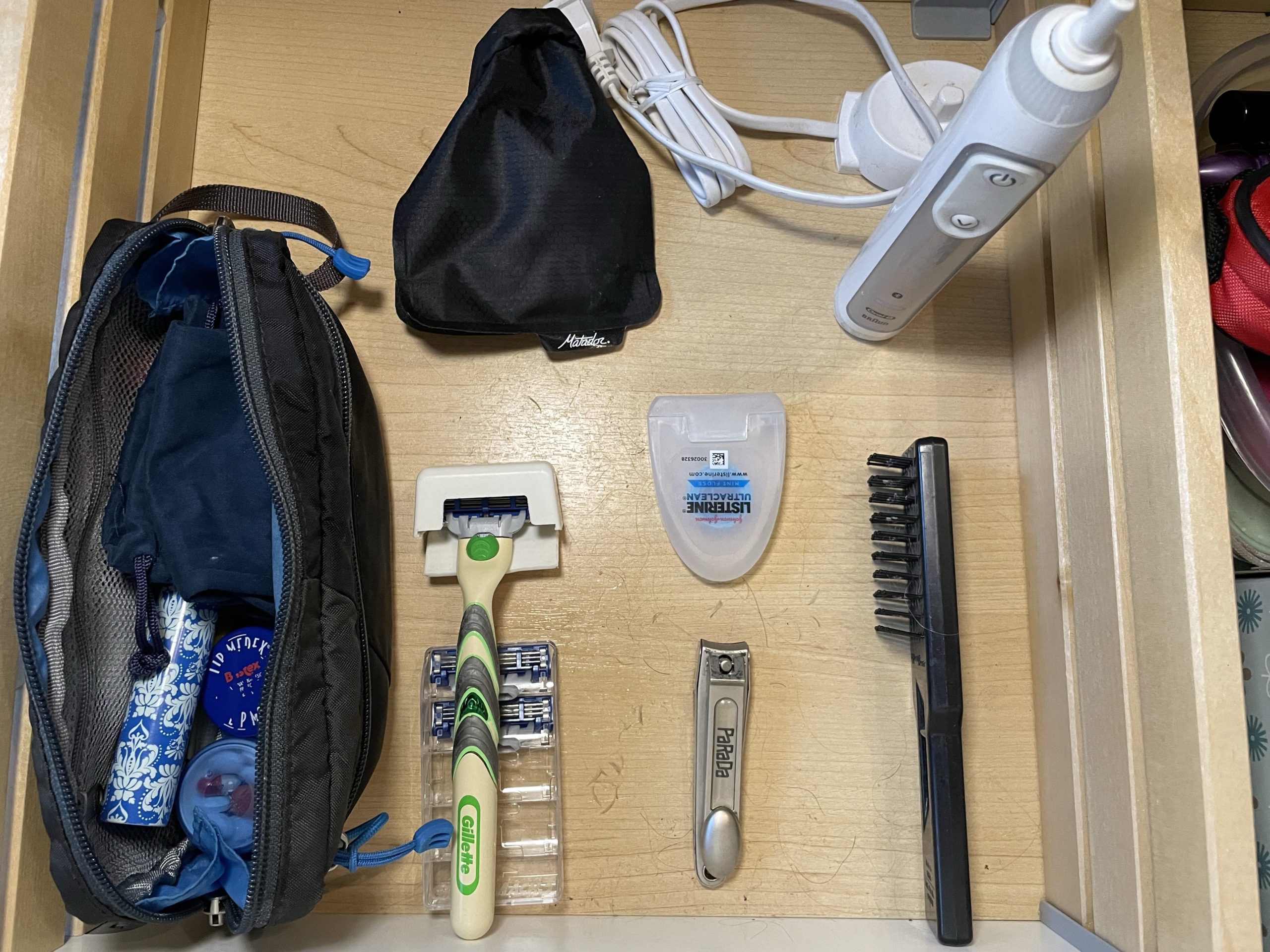 REI Micro Shower Bag (2017) is the perfect size for my toiletry kit while providing just enough organizational features to make it easy for me to find everything quickly. Inside pocket holds a few doses of medicines for allergies and colds. Main area has: Violife slim sonic toothbrush (was thinking about some other options but replace heads are back), lip balm, toothpaste, a micro fiber cleaning / storage bag for my glasses, a small HumanGear GoTubb to store aleve, and most of the bathroom items listed below. Outside pocket holds first aid kit which includes waterproof Band-Aids, antiseptic wipes, antibiotic cream, superglue, a couple of safety pins. No longer made. The GOX Organizer looks to be similar.
Matador Flatpack Soap Case (2020) to carry a 100senses body bar which takes care of all my cleaning needs without drying out skin or making my hair feel like straw. Replaced Dr Bronner's soap, Aveda shampoo, and Pacific shaving oil. One bar lasts me around 1/2 a year. I am sure there are better shaving creams and shampoos, but it's been good enough and simplifies life for me.
Gillette Power Mach-3 Razor (1999) Vibration no longer works so use as a manual handle.
Listerine Floss (1996/2021) is the most effective dental floss I have used. Gentle to the gums while still getting plague and food wedged between teeth out.
PaRaDa Nail clipper (2014) with a trimmings catcher to make cleanup easy.
Retractable Bristle Hairbrush (1994) which is compact and effective.
Oral-B/Braun 6000 Electric toothbrush (2016) and USB powered charger. A recent meta analysis concluded that the rotational approach of Oral-B is likely superior to approach of Sonicare, but both are significantly more effective than manual brushing and the lower power electric toothbrushes like my Violife which relies on a brushing motion. When traveling for less than a month I leave the Oral-B behind.
Linen Towel – not shown (2020) Lighter weight, dries faster, and less likely to get smelly than a traditional cotton terrycloth towel, but isn't as soft.
Sleep!
ChiliPad (2019) which cools or warms water which flows through a mattress topper. I need to be significantly colder than Jackie to sleep soundly. Allows me to sleep without requiring the room to be cold and Jackie needing heavy blankets. I had problems with the heat exchanger isn't able to dump enough heat to hit the cooling target with the unit under the bed (it has the specified clearance) but it has been fine when I move it from under the bed. The eightsleep system is more advanced, much quieter, but also more expensive.
Newvanga Sleep Mask (2021) helps me get longer / better sleep because it stops external light from disturbing me. Since 2015 I have gone through 4 Bucky 40 Winks Sleep Mask which are similar. The Newvanga is cheaper at purchase time, hoping that it is more durable than the Bucky. If I was a hard core minimalist I would use my Buff as a sleep mask.
---
Clothing
I have notes about selecting clothing for an active life which goes in detail about how I select clothing for a wide range of activities and conditions. All the clothing, shoes, and outerwear listed below (excluding the "Variety" section) easily fits into a 46L bag.
Core Everyday Clothing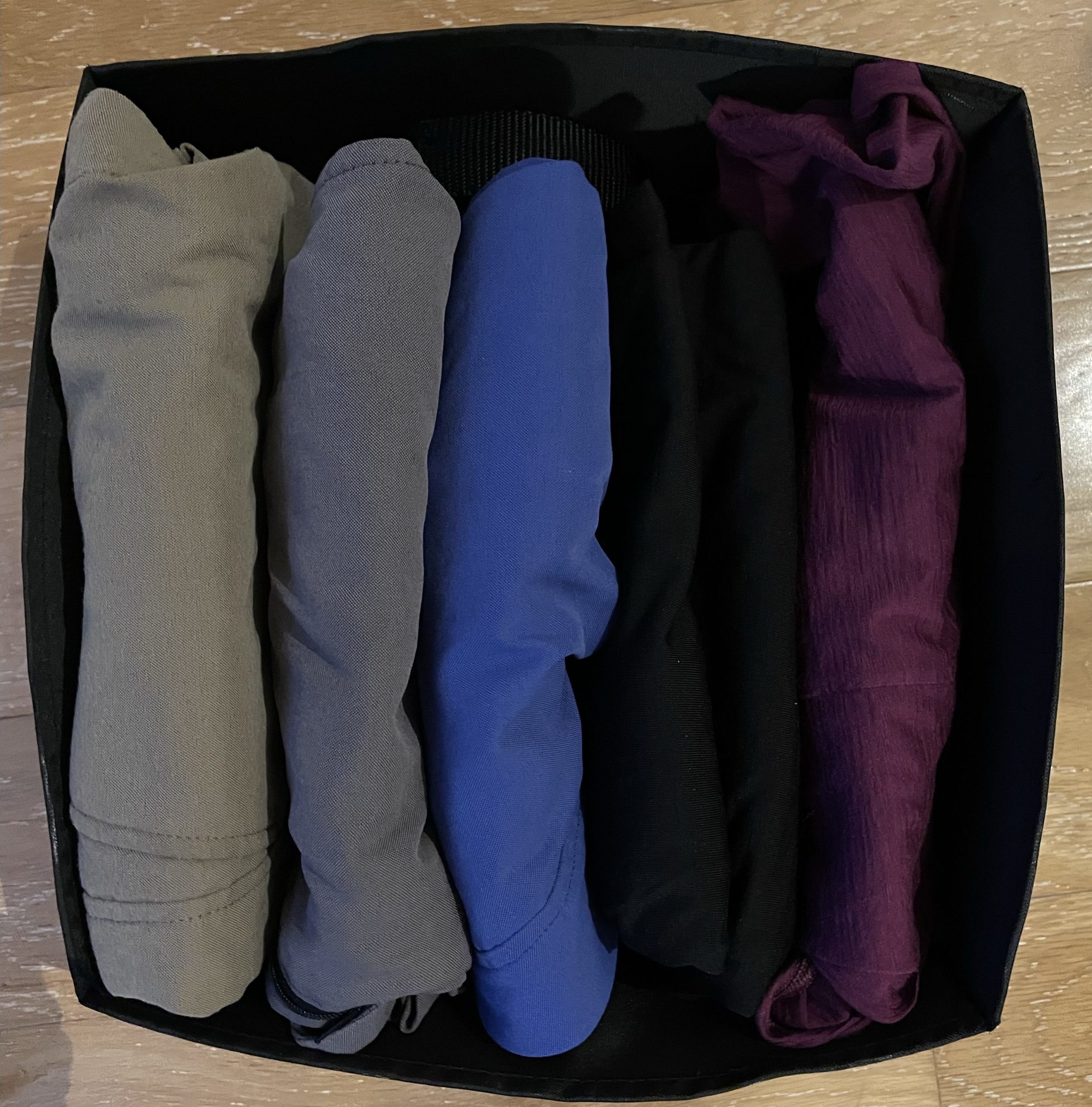 Outlier New Way Shorts – 3 pair (2014) are nice looking shorts which fit me perfectly, don't have cargo pockets, durable, dry reasonably quickly, and resist stains. They are pricy but at the time that I purchased them, I hadn't found any shorts I like as much and have had no need to replace them.
Icebreaker Anatomica Tee-shirt – 2 shirts (2014/2021) merino wool with a bit of nylon for durability (3x longer lasting 100% merino in the the same fabric weight) with just a bit of lycra for a body hugging fit. This tee-shirt fits me perfectly, is super comfortable, doesn't smell after several days of wear, dries fairly quickly, and my wife likes how the shirt looks on me. I still find synthetics technical-tees superior in two ways. First, synthetics work better when I am heavily sweating while exercising [See Xenith shirt mentioned below]. Second, synthetics are more cost effective because they tend to be cheaper and longer lasting. I get around 500 days of wear before an Anatomica Tee looks tired, and 600 days before holes appear. There are a number of other good merino wool tee shirts from Smartwool, Outlier, and Wool&Prince.
Icebreaker Spector Tee* (2021) I decided to try a lighter weight tee that isn't as body hugging and is more colorful. I quickly decided that I prefer the Anatomica fit, and grey or black for daily wear. When this shirt wears out I will replace it with another black Anatomica tee-shirts.
Black Webbing Belt – not shown (1996) Easy to adjust to exactly the right length and has no metal so metal detectors don't get triggered.
Icebreaker Anatomica Briefs – 4 pairs (2014/2021) the most comfortable underwear I have worn. First generation developed holes after around 150 days of wear. All my original pairs have worn out. The newer version has a bit of nylon with the wool. I have gotten >600 days before the waist band deforms and small holes appear. Some people prefer boxer style but I see no reason to have extra fabric. Good alternatives are the synthetic travel oriented briefs from Ex Offico, Uniqlo, and the comfortable but expensive underwear from Saxx.
Darn Tough Socks – 6 pair (2013/2019) are unsurprisingly durable since they come with a lifetime warranty. I have a mix of no-show mesh and light cushion crew. Icebreaker and the Smartwool PhD line are good alternatives. Worn out and replaced 2 pair.
Akona 2mm Neoprene Socks (2019) which protect my feet when using flippers or with sandals if I am on a trip which is constantly going in and out of water.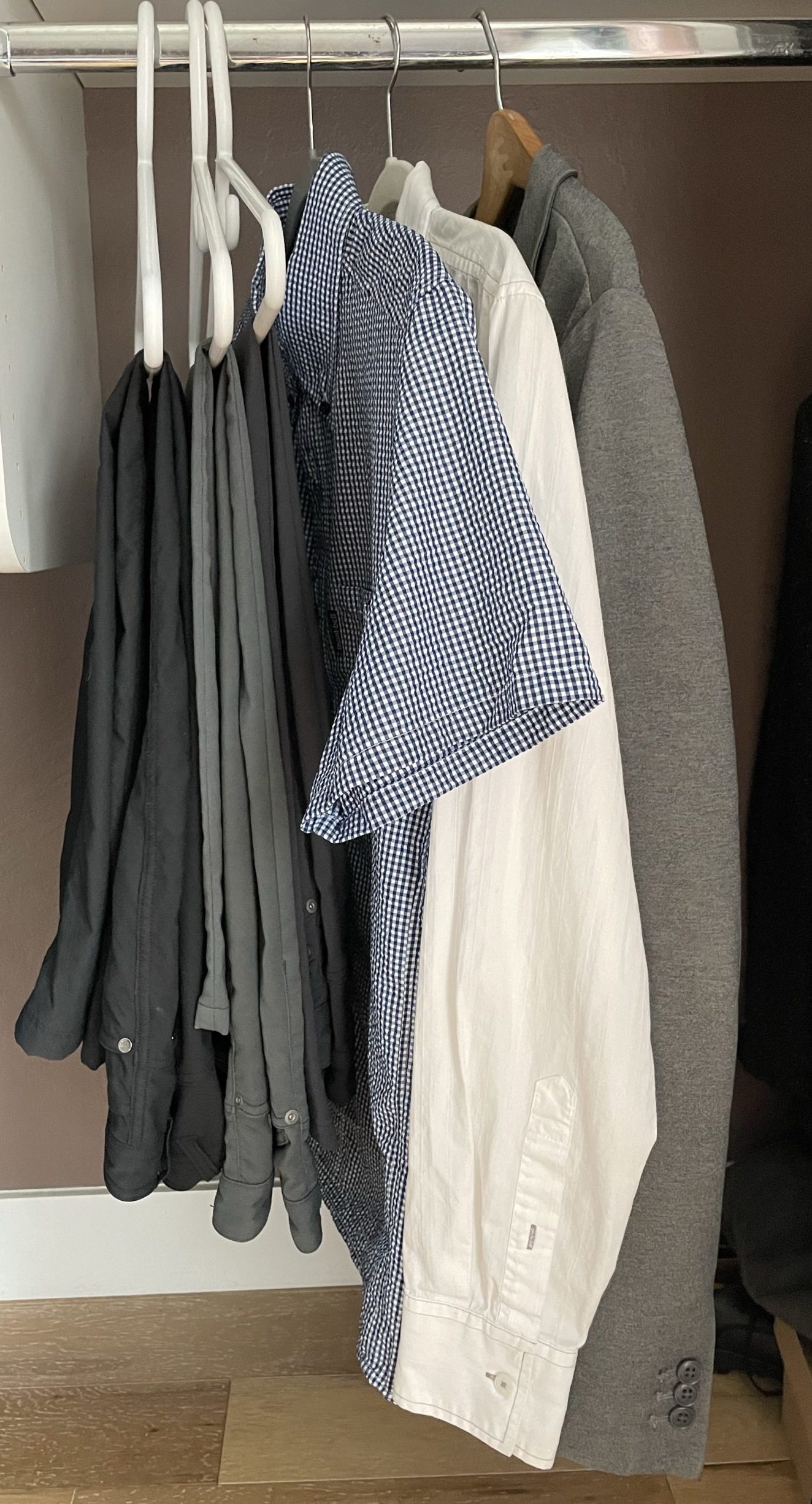 Western Rise Evolution Pants (2020) Slight stretch nylon pants in the style of jeans. Compared to Slim Dungarees: less expensive, lighter material which makes them pack smaller, are more comfortable in hot weather, less stain/water resistant, not quick as dressy looking, but over all pretty good. The coin pocket is too deep.
Outlier Slim Dungarees – 2 pair (2014/2019) High-tech nylon pants in the style of jeans. Wonderful fit, looks good, excellent mobility. Thanks to the NanoSphere treatment very stain and water resistant. They are perfect except when it's >80F and I am active. They seem pricey, but the per day cost of wearing is about the same as denim jeans. I have gotten more than 550 days of wear before my original pair started to pill in a high wear location. I have yet to completely wear out a pair. Buffworks, Maker&Rider and Wool&Prince makes nice alternatives. Current pants acquired in 2017 and 2019.
Montbell Wickron Dry Touch Short Sleeve Shirt* (2021) for when I need to be more dressed when it's is hot. A gift from my wife. The seersucker fabric is more comfortable that my tee-shirts in hot, humid conditions, but the lighter colored are estimated to be 15-20 UPF. Late in 2022 replaced it with a UPF 50 shirt.
White Button-up Shirt (2012) when I want to wear something more formal than a tee-shirt. Appropriate in almost any setting.
Muji Sport Jacket* (2013) for events when I should be more dressy than a shirt but I don't need to wear a formal suit. Doesn't easily wrinkle. Gift from Jackie.
"Variety" Clothing
The following I sometimes call my "Jackie clothing". I know my wife get tired of me wearing the same thing every day (sometimes I do as well), so when we are doing a special activity together, I will select something than isn't my daily wear. While we are moving about in 2022 thee cloths are going into storage. When rolled over their hangers these items and my "optional" shoes fits nicely into a $4 Ikea Frakta Duffel (2022).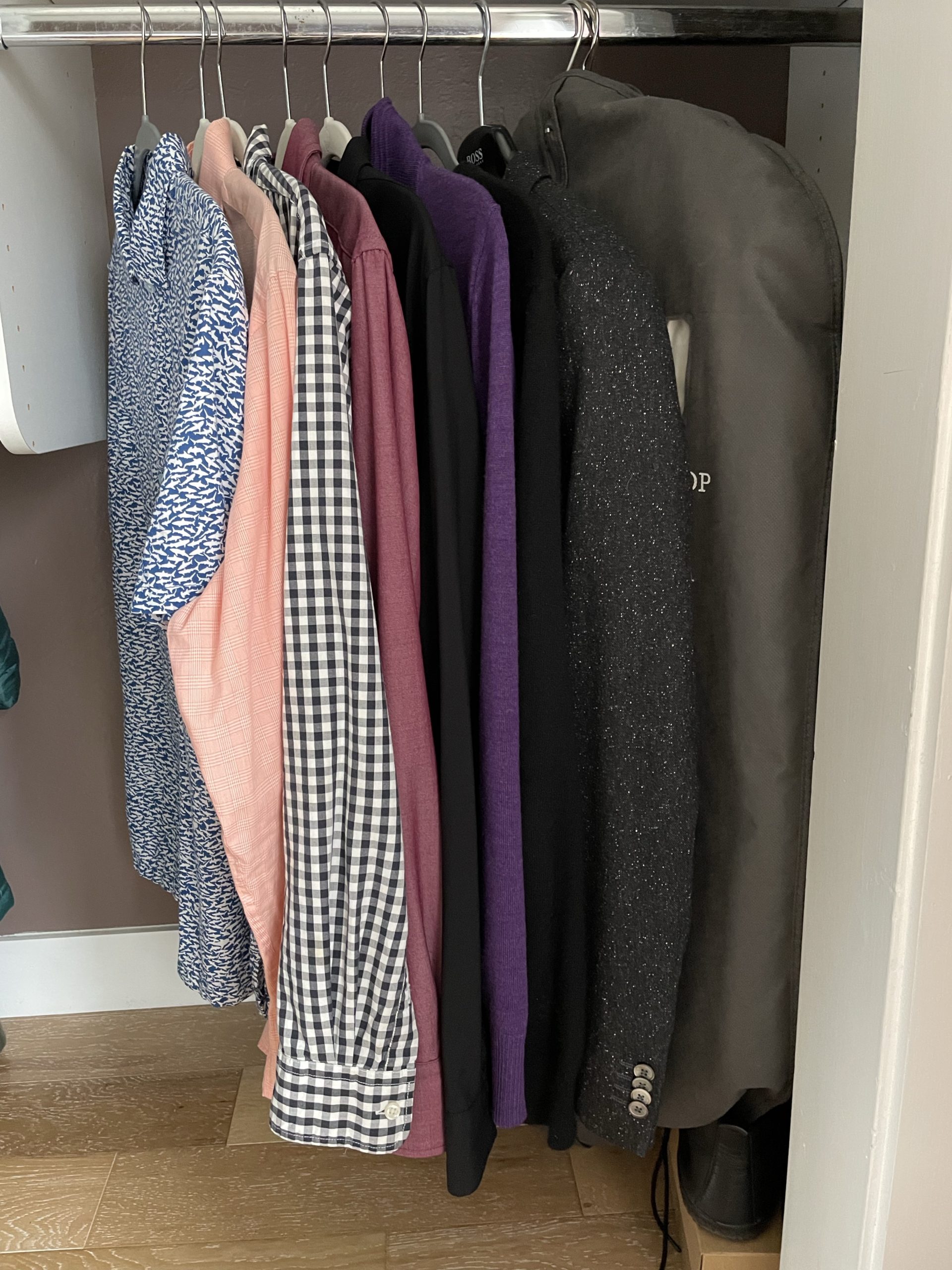 Toni Richards Hawaiian Shirt (2019) Everyone needs at least one shirt for "Hawaiian shirt day" though some might argue that white and blue with sharks rather than flowers isn't very Hawaiian. I find the cotton lawn fabric used by Toni Richards to be one of the best materials when it's hot and humid.
Peach Button Up Shirt* (2014) for a change from a white shirt when we are going out for the evening. Birthday present.
Black/Grey/White Checked Button Up Shirt* (2013) for something that is casual but a bit more dressed up than my tee-shirt or hoody. Gift from Jackie.
Wool and Prince 210wt Burgundy Oxford Shirt* (2020) Slim fit, classic oxford cloth look while being 100% wool. Christmas present.
Grey Cashmere V-neck Sweater* (2019) for fall and winter evenings when I need more warmth than just a shirt and my hoody is too casual. Love cashmere but durability is low, it pills very quickly.
Outlier AMB Merino Wool Button Up Shirt (2019) Very comfortable. It doesn't wrinkle and if I don't spill food on it can be worn many days without washing. Good air permeability, surprisingly comfortable in warmer conditions. Might replace white button-up as my default "dressed up" shirt.
Banana Republic Purple Merino Wool Sweater (2013) for cool days or when some color is called for. Purple is the color of royalty… so it can function as a Christmas or Easter sweater. Gift from Jackie.
Boss Blazer Jacket* (2014) for dressy events in the fall and winter that don't require a formal suit. Christmas present.
Boss Wool Suit (2012) slim/european cut in super 140 wool. Fits me perfectly though not bespoken. First suit that I wear rather than the suit wearing me. Light enough that it's usable in the summer. I use it for weddings, funerals, and special nights out on the town. I won't naturally choose to wear a suit, but sometimes it's appropriate.
Footwear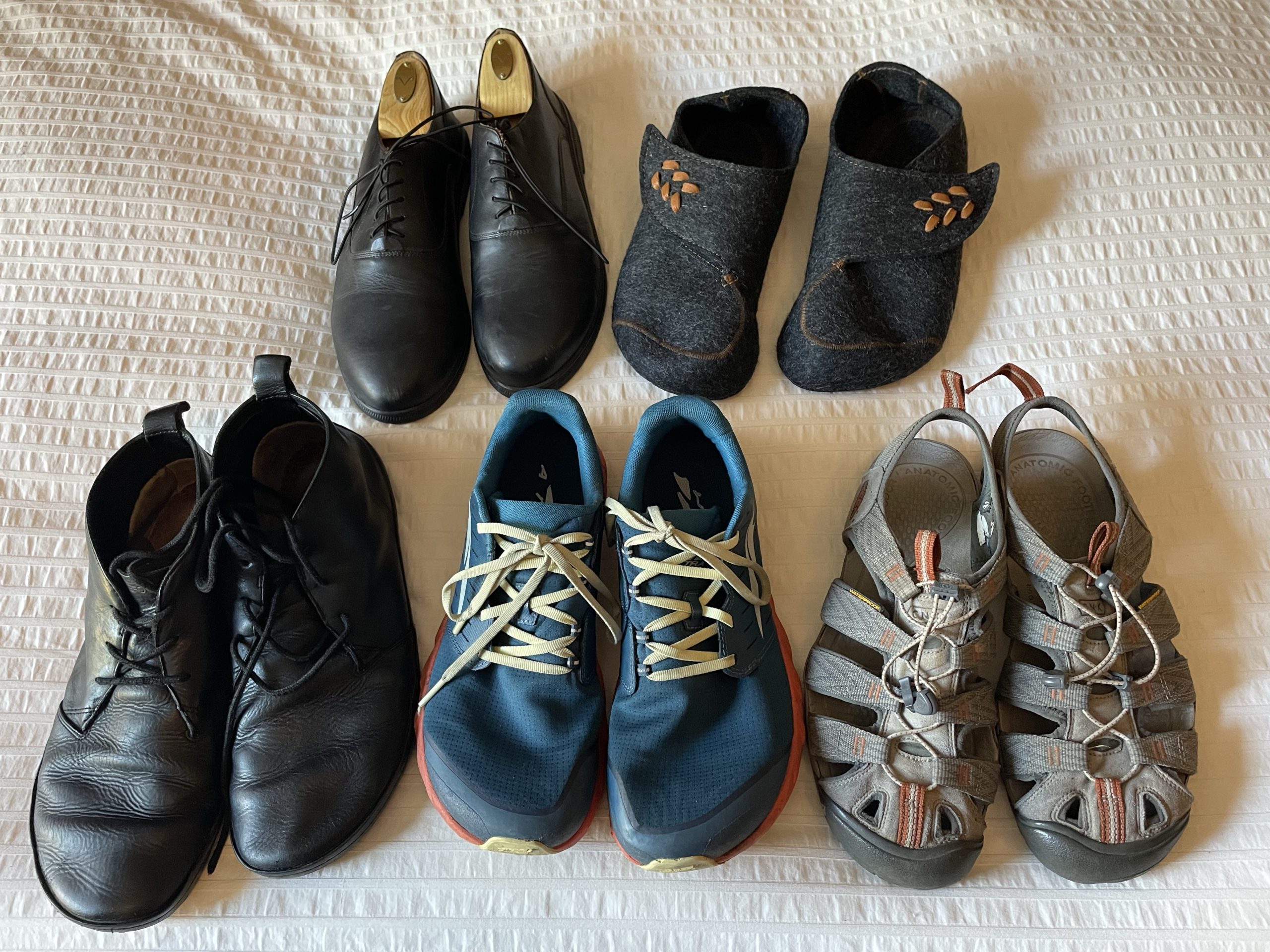 Vivobarefoot Gobi II (2017) are comfort, zero-drop, minimalist ankle boots which are acceptable to wear with casual clothing and when fairly dressed up, though I have been told aren't appropriate when wearing a formal suit. I have even been known to run in them. I have been very pleased with their durability.
Altra Running Superior Trail-runners (2017/2021) zero drop, modest cushion, trail running shoe which are light weight with a fairly grippy sole for mixed trail conditions. Beside wearing them running, they are my primary footwear in the backcountry, and I wear in town when my feet are sore and need some extra cushion. I am on pair 14. Wish I could get more than 400 miles before they wear out.
Keen Clearwater CNX (2014/2018) are the lightest sandals Keen makes. I liked the minimalist sandals made by luna but the toe protection of the Keens makes them a clear winner for me. When worn with gray socks they can "pass" for shoes most of the time. Comfortable in a wide range of conditions. Replaced in 2018 when my first pair wore out.
Carots Shoes* (2017) are formal looking zero drop shoes. These are the only minimalist shoes I have found that looks like traditional dress shoes (heels and and tapered toe) that are sufficiently comfortable for an evening. Going in storage while not living in our home.
Softstar Shoes Merino Moccasin* (2021) Comfortable slippers. Going in storage while not living in our home.
Head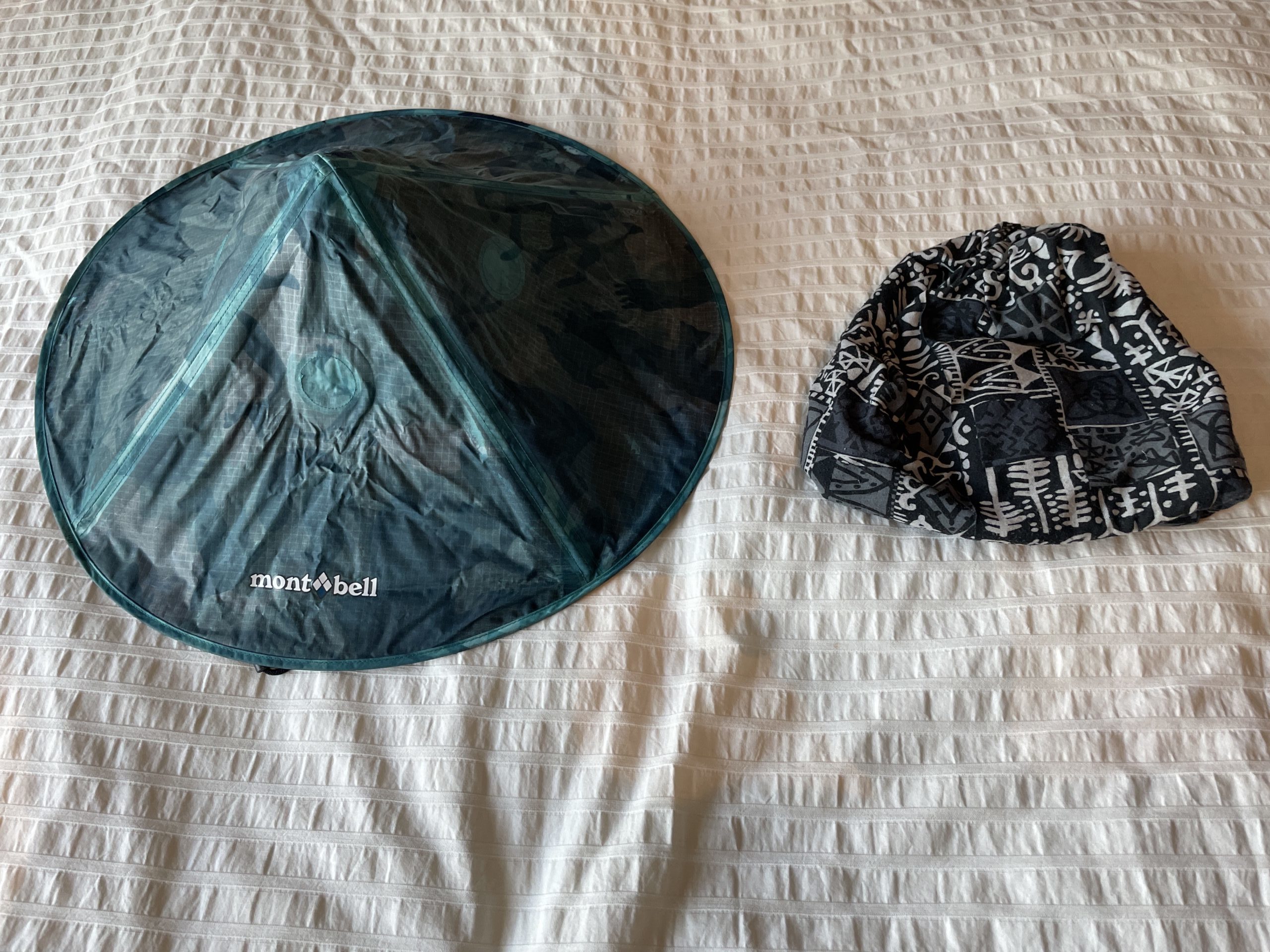 Montbell Unbrero (2021) is a 1.8oz folding hat with a brim which fully shades my face, ears, and neck. It's fully waterproof but still provides the best ventilation of any hat I have used. It deforms but usable in 20mph winds. Montbell says the hat doesn't provide UV protection which I fixed by applying UV absorbing paint on the inside. I think it's silly looking, and sometimes I have had people point and laugh at the hat, but others have said it's pretty cool. There are lots of hat options.
PolarBuff (2003) Generally I use the hoods on my garments, but sometimes I want extra insulation for my neck or head.
Outerwear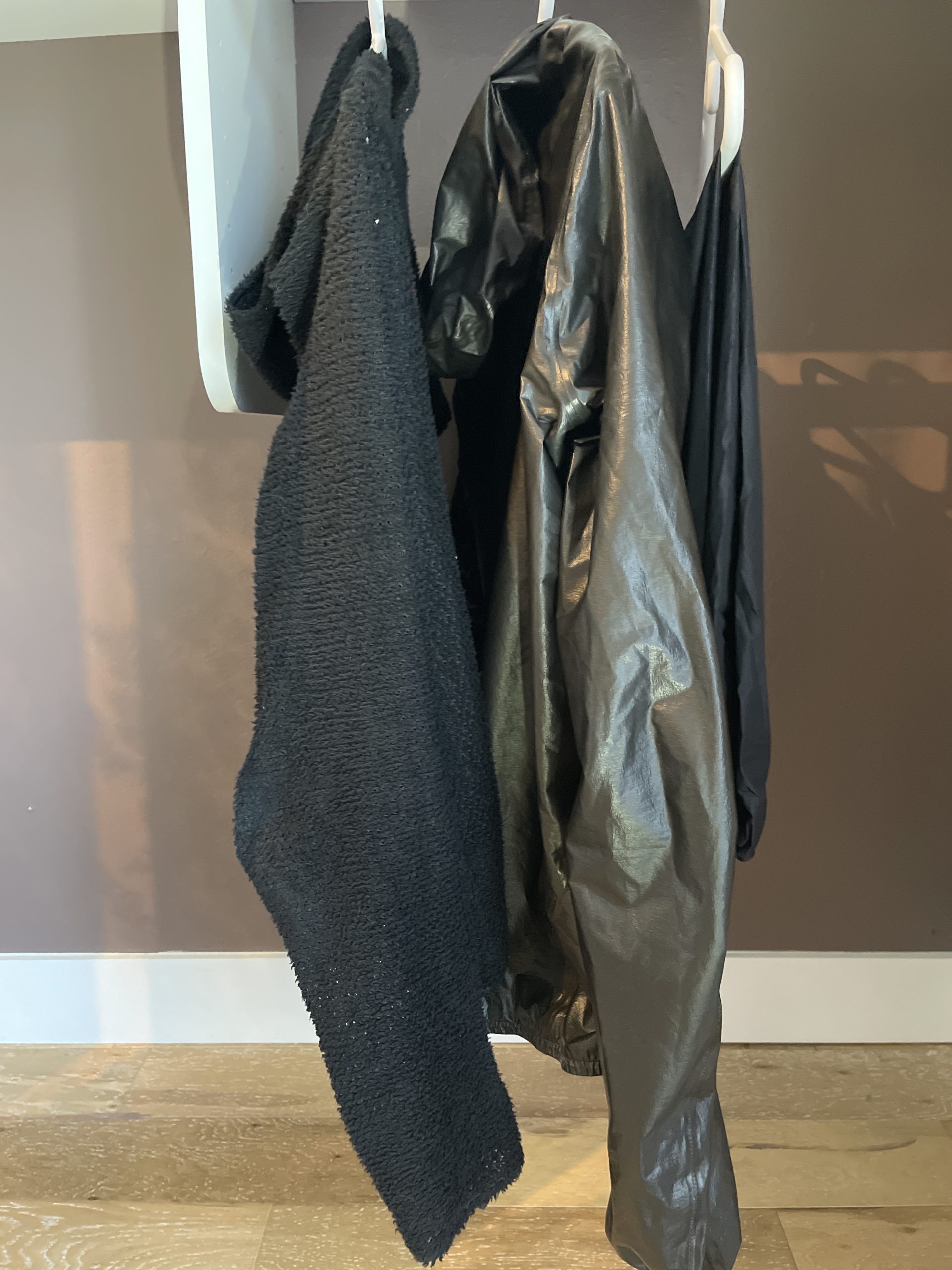 Macpac Nitro Pullover (2021) Made from Polartec Alpha Direct. Highly breathable! Very light insulate without a shell, surprisingly warm under a shell. Great when active in cold conditions. I can feel air flow by walking in still air. Worn whenever my tee-shirt isn't warm enough. I am comfortable down to 40F with a tee-shirt, this pullover and a uninsulated shell doing light work and sitting inside when it's 68F. There are Lots of good options for an insulation layer if you need something warmer.
Gore Gear R7 Shakedry Hooded Rain Jacket (2020) is a compact, ultralight, ultra-breathable rain jacket designed for trail running. I can actually wear it and not be soaked by sweat when active! No other rain jacket has worked as well. I am also using it as a wind shell. Need to be careful not to jam the zipper. Huge downside is that the fabric is fragile. Expect to replace after 1-3 years. I have a a few pinpoint holes in the shoulders but so far they have not impacted performance. Other options are discussed in my post about rain gear.
Zpacks Vertice Rain Pants (2018) are simple, light, breathable, waterproof rain pants. Used when in cool rain when commuting by bike, hiking, or backpacking. After a few years of use I am getting some leaking – maybe through the seams. Will be sealing the seams to see if that fixes the problem.
Outerwear in Car
We carry some warm clothing in the back of the car for those days that the weather was cooler than expected. I rarely need to use these garments but have often loaned them out to friends.
ArcTeryx Squamish Wind Shell (2012) is a 5oz windshirt with an air permeability of ~35 CFM. When combined with an air permeable heavy base or middle layer provide comfort over a huge range of conditions. Comfortable against the skin.
Icebreaker Quattro Hoody (2012) is a medium weight merino wool sweatshirt. After several years of near constant use starting to pill.
Patagonia Micro Puff Hoody (2020) Keeps me comfortable ~25F lower than I would be without the jacket. Provides just the right insulation for me for winter nights in the SF Bay Area and shoulder season backpacking in the sierras. Combined with down vest it's just right for winter trips in the sierras. Reasonably light and compresses well. Has a good hood. Long enough to be worn over suit jackets without looking silly.
Tilley LTM6 Hat (2014) provides good sun protection while offering ok ventilation. If I was going to pick a single hat to own, it would either be this hat, or the LTM8 which offers more ventilation. I used a canvas Tilley hat for more than 20 years, purchasing the LTM6 because I lost my first Tilley on a river trip.
Winter (Outside Bay Area)
Generally not used "at home" because the Bay Area never gets cold enough to need these items, but pulled out when traveling to winter destinations. Lots of good options for an insulation layer.
Montbell Plasma 1000 Down Vest (2021) Incredibly light weight vest which provides moderate insulation for my core. I have the Japanese version which has pockets. When mix/matched with a tee-shirt, Macpac Nitro, and Gore R7 Shell allows me to be comfortable while casually walking to 25F. Combined with Nitro and Micro Puff keeps me warm enough in any winter conditions I am likely to encounter in the next few years. Boxy in cut and the neck doesn't seal well.
Mountain Hardware Grub Gloves (2015/2020) medium weight PowerStretch gloves with a quilted mitten cover which folds away into the back of the glove making it comfortable to wear in a wide variety of conditions. Alas, this model has been discontinued. On my second pair. The PowerStretch palms are starting to wear out on the second pair and they are now discontinued so I won't be able to replace them.
Patagonia Cap 3 Tights (2007): added to my legs when facing continuously below freezing conditions.
Patagonia Capilene Thermal Weight Hoody (2009) for cool/cold weather outdoor activities. Without wind protection the grid weave lets air flow through speeding the release of heat. With a shell it provides some insulation. Comfort down to 30F when running without a shell, below that with a shell. When walking around town keeps me comfortable down to 45F when combined with a wind shirt with hoods up. I am reasonably comfortable engage in high energy activities when it's 65F by fully opening the zipper and pushing the sleeves up to my elbows. Dries amazingly quickly and feels more comfortable than any other shirt I have used when it's wet in cool conditions. Mine was actually called Capilene 4 because it pre-dates the renaming to "thermal weight".
Outdoor Research Meteor Mitts (2004): which have a removable 300wt fleece inner mitt which folds back to let you use your fingers and a durable, waterproof shell. Can use the shells without liner when it's warmer. The magnets on the inner mitt detract from overall comfort. Many people replace the liners. Dries faster than all-in-one handwear.
Traction Devices (2020): Gives trail runners and other shoes grip on snow and ice. Picked up when we were facing icy trails in Grand Canyon. Don't remember the brand and it's not stamped into the chains.
OR Gaiters: (<1988) for keeping snow out of shoes/boots and the lower legs dry.
Beach
When we spend extended time near a tropical beach I pull my "beachwear" out of storage.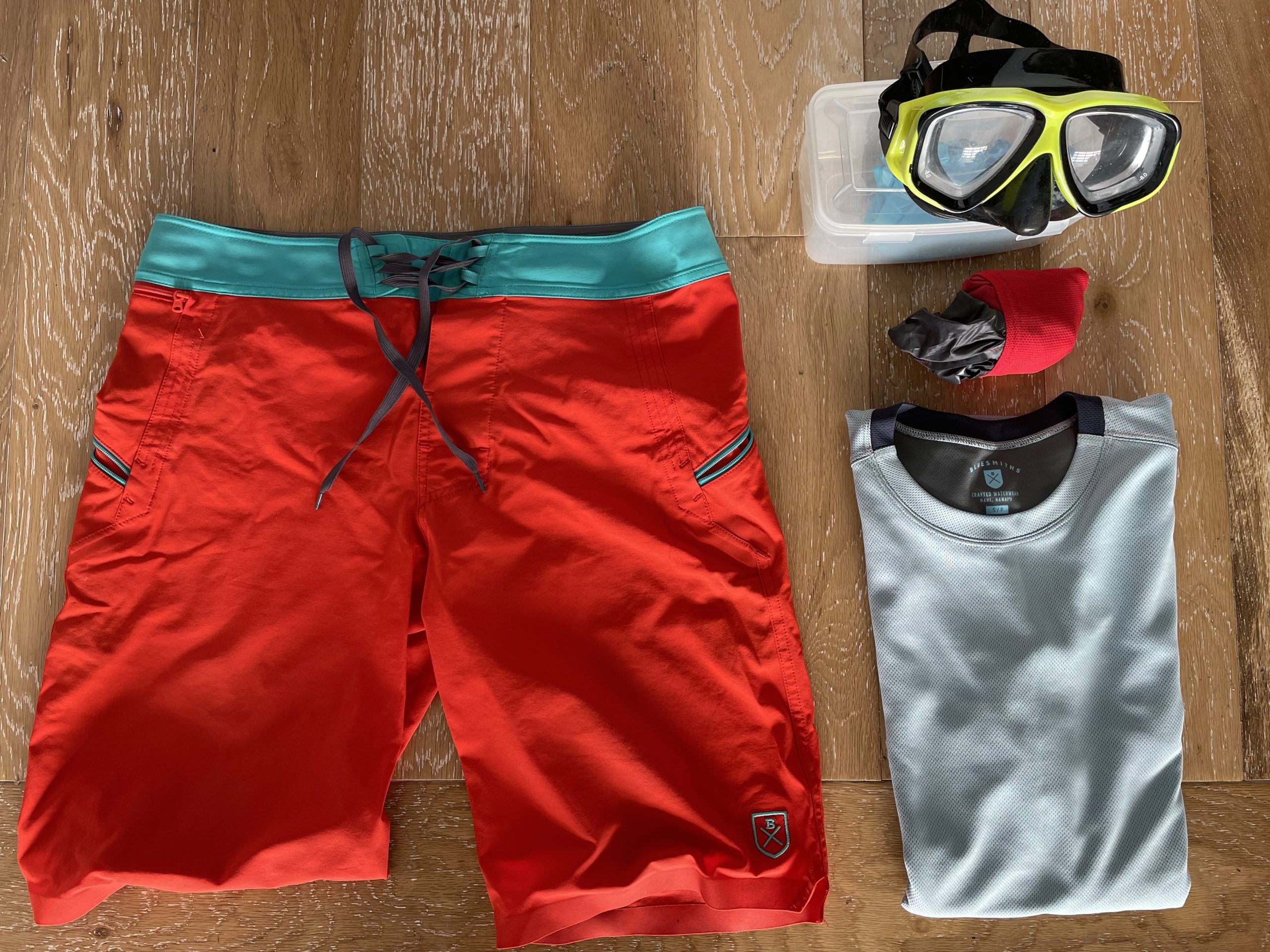 Bluesmith Spartan Board Shorts* (2016) For days that I am living in swimming suit, going in an out of the water. These shorts dry very quickly. Could use my Tri or New Way Shorts if I was trying to minimize more.
Bluesmith Kanaha Shirt* (2021) Hydrophobic treated shirt which protects from the sun and absorbs very little water. Replaced a misplaced "rash guard" shirt. I experimented with it as a general fitness shirt but I don't think it's hydrophobic approach to moisture is better for me that Polartec Delta in hot weather. Downside if not used for water sports is it quickly accumulated body odor, upside is that a quick rinse seems to wash the odor away.
Matador Pocket Blanket* (2019) to sit on when at the beach.
Matador Droplet Wet Bag* (2019) which holds items on the way to the beach, and wet items on the way home.
Yeesam Prescription Snorkeling Mask* (2019) which lets me actually see underwater life when snorkeling rather than just blurs and flashes of color.
Exercise / Active Clothing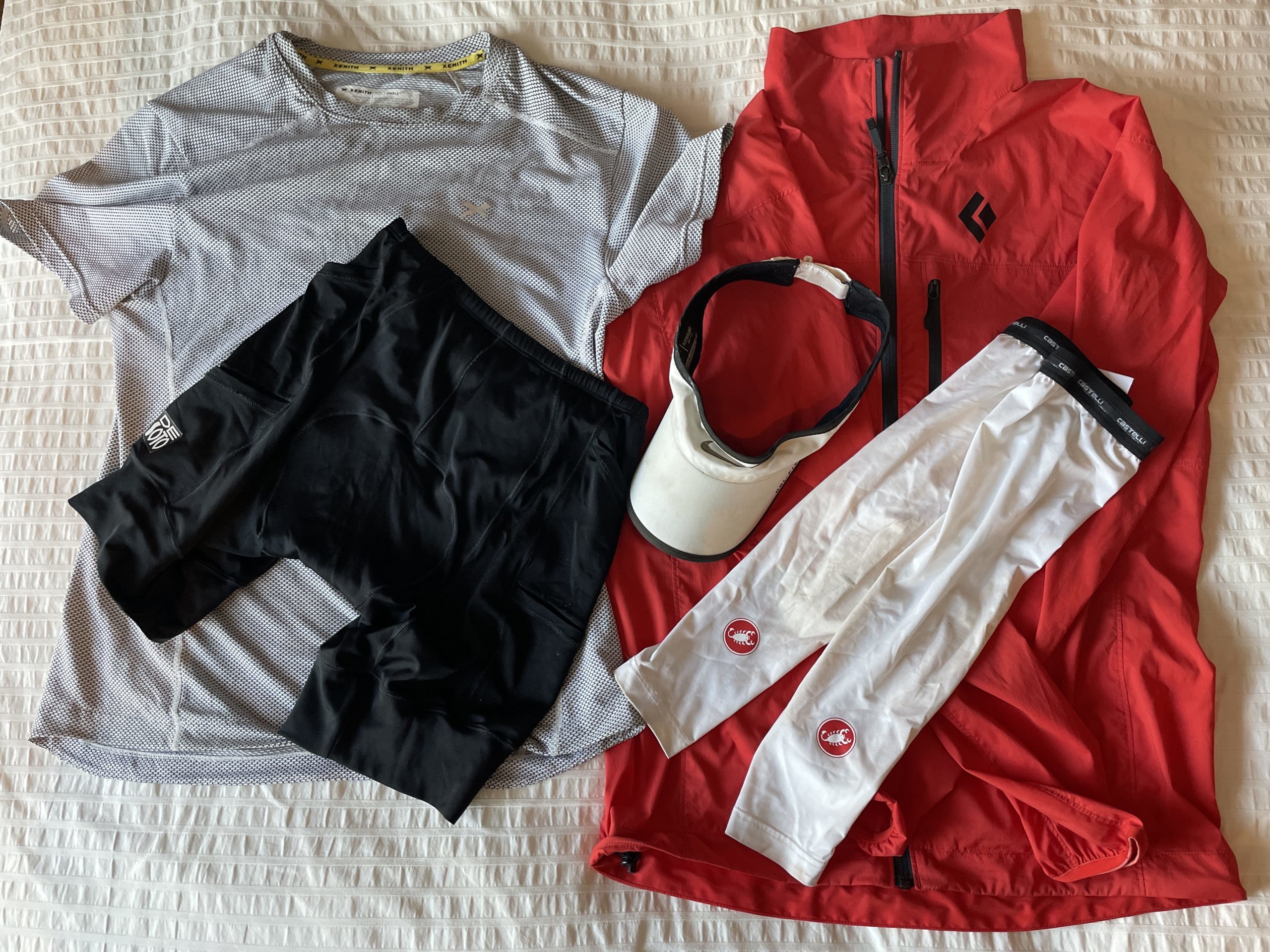 De Soto Mobius Tri Shorts (2018/2021) works well cycling, running, and swimming. I also use them backpacking. They are comfortable for all the activities I engage in when the temperature is above freezing. They have reduced issues with chafing, dry fairly quickly, and are reasonably comfortable when wet. They have side pockets large enough to hold some nutrition and my phone so I don't need to use a special cycling jersey. I never need to think about to wear for vigorous physical activities…. I just grab a pair of Tri Shorts. I get around 1000 hours of use from each pair, around 1 year worth of physical activities.
Xenith Delta Shirt (2021) is the most comfortable shirt I have worn in hot weather, especially when I am exercising. The shirt maintains breathability and doesn't stick when wet. The shirt dries at the perfect rate: faster than wool or cotton, but slower than classic "fast dry" shirts feeling cool against the skin. I have also found that is the most odor resistant synthetic shirt I have tried, though not as good as wool. Replace a shirt that wore out.
Castelli Light Arm Sleeves (2021) combined with Xenith shirt when I don't want to hassle with sunscreen. Arms actually feel a bit cooler than when uncovered in strong sunlight. Stains easily.
Nike Dri-Fit Visor (2012) keep sweat and sun out of my eyes while maximizing air circulation for my head. Worn anytime I go for a run.
Black Diamond Alpine Start (2021) is a 6oz hoodless ultralight soft-shell which is very air permeable and extremely water resistant thanks to the Schoeller NanoSphere treatment. Very comfortable bicycling at pace (~220watts / ~18mph) when it's <55F or doing a zone 2 HR runs when it's <50F. In a light rain find it easier to manage moisture than the R7 because the higher air permeability helps me dump heat (reducing the amount of sweat) while keeping the rain away from me. Normally I like a hood, but the lack of a hood is useful when cycling and running with a hat. Could be eliminated but expect it will prolong the life of the R7 (which is more expensive) and is slightly better adapted for my activities.
---
Exercise Equipment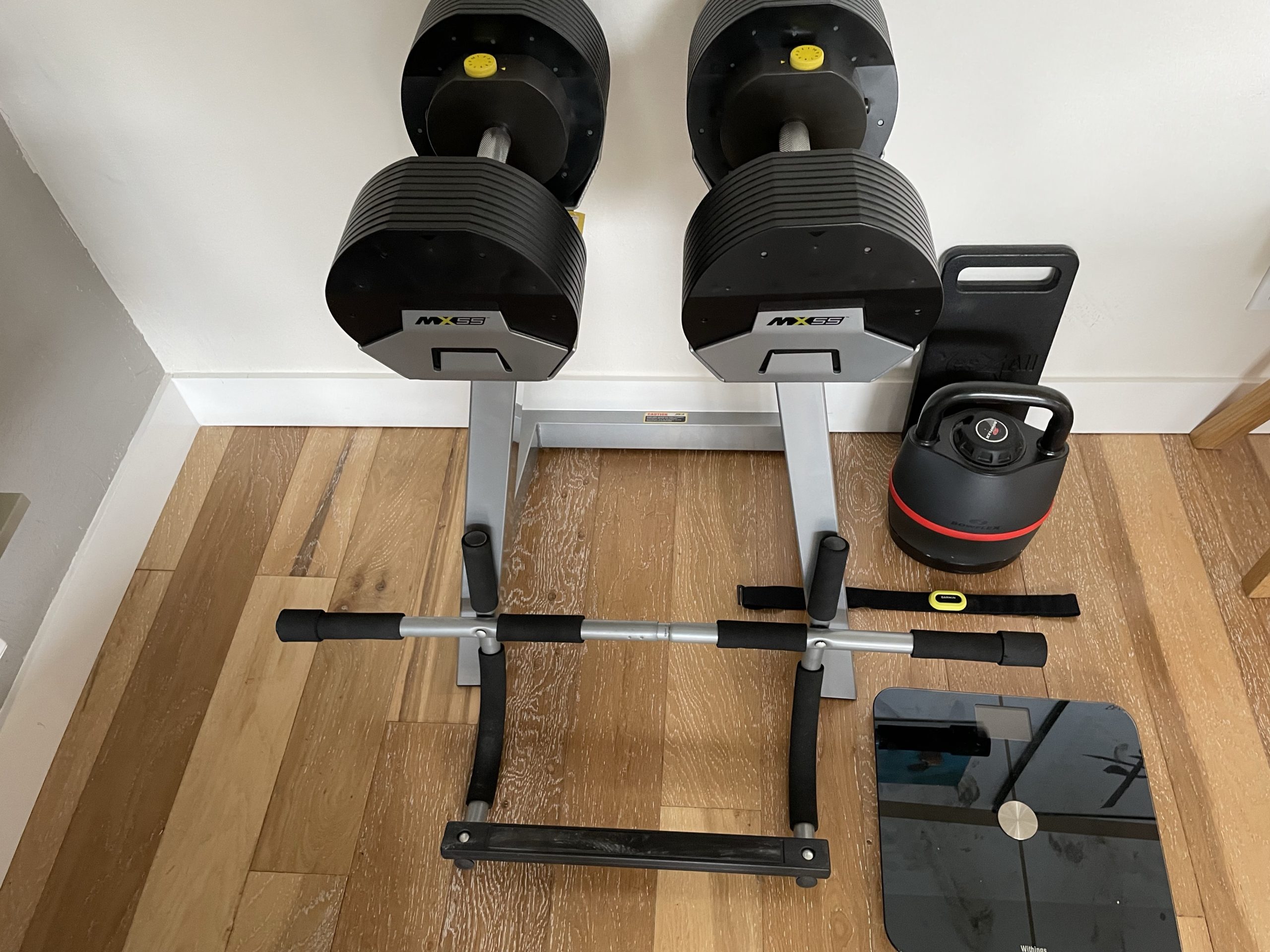 MX Select MX55 Adjustable Dumbbells (2021) 20-55 lb in 5 lb increments. Smooth and fast to change weights. Considered the Bowflex adjustable dumbbells, but local store told me they stopped carrying them due to mechanism failures (they were a service problem).
Pullup Bar (2020) To work upper body without going to gym.
20lb Rucking Plate* (2020) – Held in a backpack and used to add weight to my pull-ups, squats, etc. I have stopped adding it to my daily walks, hikes, etc. It seems the weight continuously on my shoulders is causing pain in other parts of my body when walking on concrete sidewalks.
Bowflex Adjustable Kettlebell (2020) Useful for numerous exercises. Max weight is 40lb, would like it to be 60lb, and there is a 10lb jump between 25-35 lb. Used for several of sets in the Simple Six workout.
Garmin HRM-Pro (2021) because optical heart rate monitors aren't sufficiently accurate for HRV measurements and aren't responsive enough to track interval training. Works when I am heavily sweating and swimming. Does both ANT+ and Bluetooth. Replaced a ANT+ only HRM so I can I could connect it with software running on iPad when using KickR.
Withering Body WiFi Scale (2014) makes it easy to track weight which is well integrated to Garmin, Fitbit, MyFitnessPal, LoseIt, and numerous other health tracking eco-systems.
Entchin Fanny Pack – not shown (2020) Inexpensive fanny pack which is the good size for most of my done in a day activities. Unfortunately, it is cheaply made, the main bucket broke after just six months of use. I was able to repair it, it broke a second time, and I repaired it again. Can hold a headlamp, water bottle, a protein bar, and small volume jacket. I switched to a fanny pack because the strain of a courier bag or sling on a single shoulder was painful after several hours.
Precision Xtra Ketone and Blood Glucose Meter* – not shown (2017) for times I am fasting or engaged in a new diet and want some objective data.
Bicycling Stuff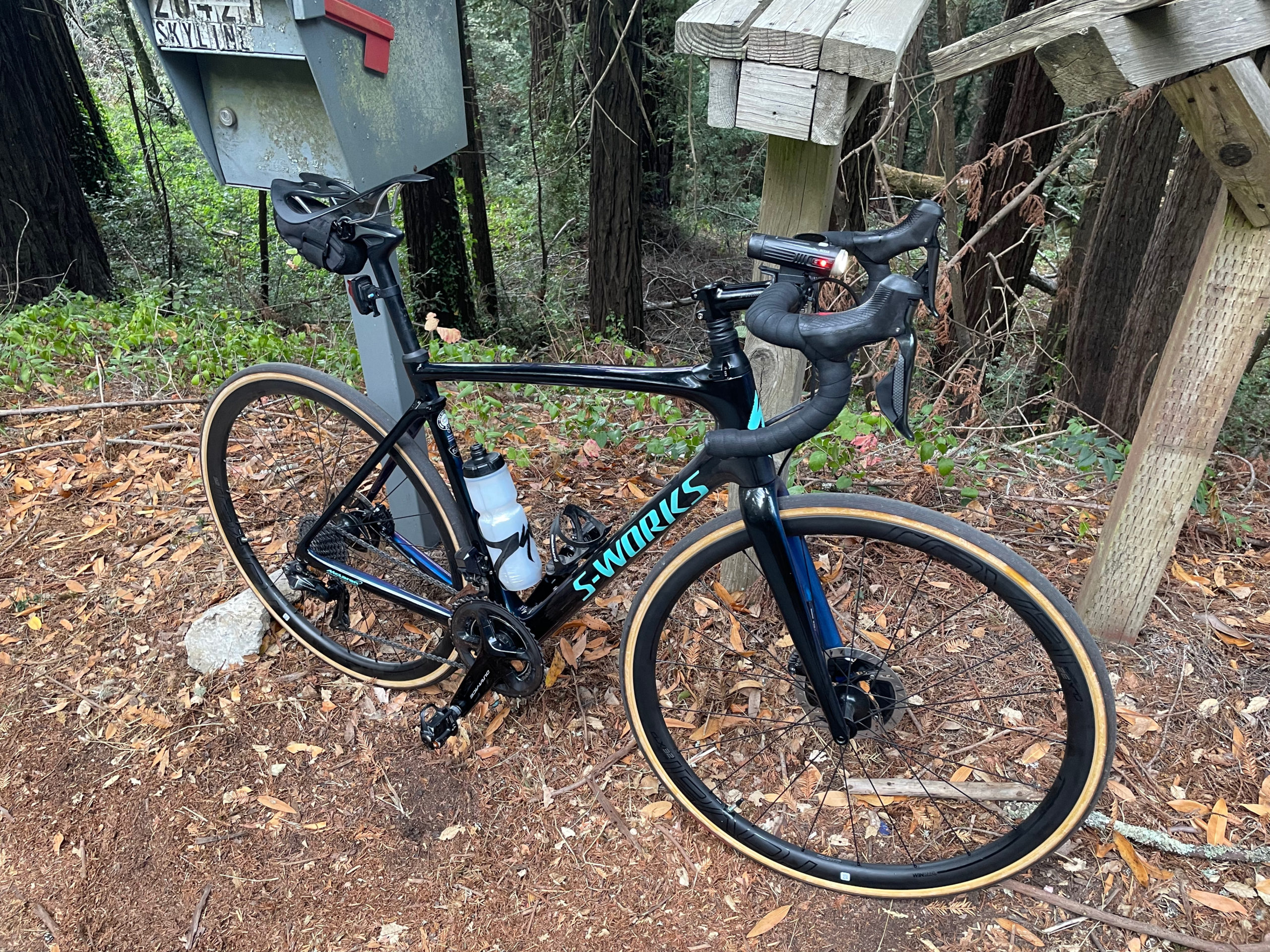 Specialized S-works 2019 Roubaix (2021) an endurance bike with a responsiveness that approaches a race bike while smoothing out the road making it easy to be confident on less than ideal road surfaces. This is a older model that I purchased on sale when my R3 drivetrain wore out and was going to take months to repair due to supply chain issues. I found this version of the Roubaix approach the handling on the current generation Cervelo R-series, and was significantly better than the Cervelo Calidonia-5. A huge improvement from the 2013 version of the Roubaix. Fitted with an Infinity Seat (weird looking but the most comfortable seat I have used), 2 water bottle cages, and a small seat bag which holds a pump, inter-tube, bike tool, and 2 tire levers.
Felix BC21R Bike Headlamp and Cygolite Hotshot Pro 150 (2019) which was purchase when my Expilion 850 and an original Hotshot were stolen. The BC21R uses a removable 18650 rechargeable battery. I think I slightly preferred the quality of light from the Expilion, but the BC21R works well enough to stick with it, and I do appreciate that the battery can be charged outside light housing.
Power Tap P1 Pedals (2015) because I like objective measures about how my physically condition is changing. The Garmin Vector 2 pedals integrate better into the Garmin eco-system, use standard Keto cleats, and are lighter / more streamlined at about the same price point.
Bicycling Shoes (2013) with Cleat for PowerTap peddles.
Giro Air Attack Shield Helmet (2013/2016) provides protection, good ventilation while having a streamlined aerodynamic profile. Has snap on optical shield. On my second Air Attack helmet due to a crash which broke the helmet but protected my head. If you ride a bicycle, wear a helmet!! I have been able to walk away from at least two accidents thanks to the protection of a helmet. Helmets don't lead to more injuries due to a false sense of security. These days there are helmets which are more aerodynamic than mine, and also cheaper while providing equivalent protection.
Rudy Project Ketyum Frames with Transitions DriveWear manufactured by Sports Optical* (2021) provides excellent protection for my eyes while cycling and any other daytime activity. Ketyum is one of the few wrap around frames that can handle a prescription as strong as mine. The lens are thick but not too heavy. Transition lens work well during daylight but are a bit too strong at dusk.
Pearl Izumi P.R.O. Barrier WxB Cycling Gloves (2021) Keep hands comfortable on winter rides when it is wet and/or cold. Cheapest gloves I could find (thanks sierra.com) to slow down wearing out the palms on my Grub Gloves.
Cervelo R3* (2013/2015 replaced stolen R3). Pricy but amazing road bicycle. Comfortable enough for an endurance ride, responsive like a race bike, great for climbing. Drive train has been mostly replaced… still looking for Rotor chain rings which are fairly worn. Now my "spare bike" which I use if my Roubaix is needing service and on Kickr when "riding" indoors.
Wahoo Fitness Kickr* (2013) is a trainer for when I don't want to hit the road. Integrated power meter and variable resistance which can be controlled via ANT+ or BlueTooth. Wahoo built the Kickr with an open API so there are numerous companies which have applications which can control the Kickr. At the beginning of 2020 I was thinking about selling it, but once shelter in place started, I found having a way to exercise at home was useful and held on to the Kickr.
Hiking / Backpacking
I have a 3-season packing list which makes use of a number of the items on this list and has several items which are specific for backpacking. In addition to the items on my backpacking list, I have several items which come out when I am heading to the mountains and expect snow. I have not taken pictures of any of these items. They are stored in a plastic bin which holds my backpacking gear. One item which was on my clothing list last year but is purely used backpacking is an Outlier Air Forged Oxford Shirt which I use to protect my upper body from sun and mosquitos.
Travel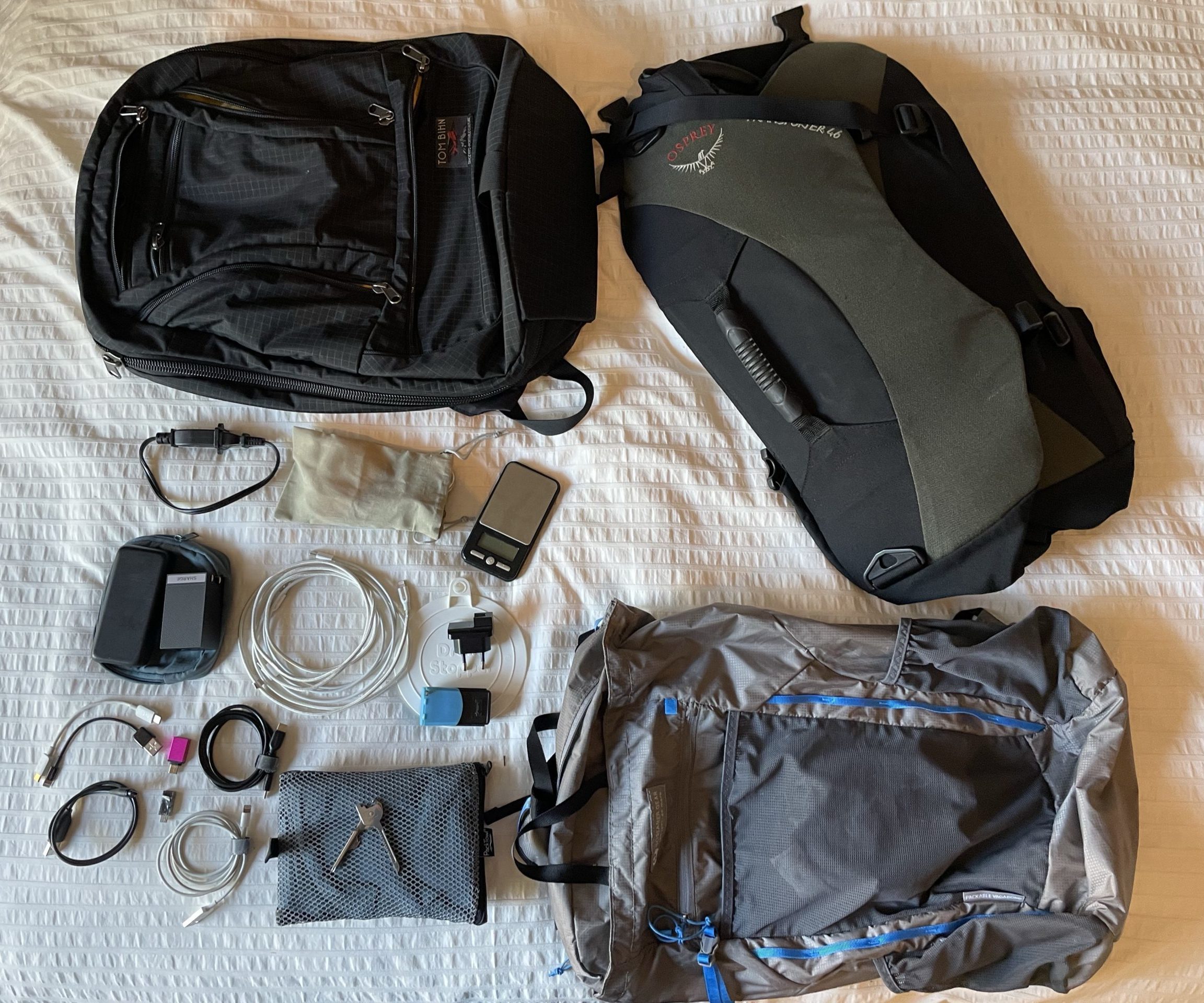 Tom Bihn Synik 30 Backpack (2020) is my luggage for most trips. Wonderfully designed with just the right amount of organizational features. Large enough for every trip I have taken, while small enough that it fits under seat and is not viewed as "luggage" by transportation operators. Replaced a Tom Bihn Synapse 25 purchased in 2014 which worked for 80% of my trips but on trips that I needed to have a suit, warm outdoor clothing and beach wear was too small. Have notes about other travel packs.
Osprey Transporter 46L (2004) very similar to the current Osprey Porter 46. Used for 10 years as my primary travel bag until I downsized to a Tom Bihn bag 8 years ago. It is large enough to hold all my core clothing and possessions not in "storage". It's coming out of storage because we will be living a semi nomadic in the next year and I might want to carry more than my typical onebag packing list. Specifically I might want to carry items for our kitchen and some exercise equipment.
Gossamer Gear Vagabond Packable (2021) Comfortable to carry. Use it around town to bring groceries home (carry handles are useful) and for done in a day outdoor activities. I have used it for as my primary bag on some multi-week long trips. Have a Osprey Ultralight Drysack which can be used as a liner when expecting particularly wet conditions.
Tech "Survival Kit" is stored in a small pouch from Muji. RAVpower 10K battery with USB-A&C outlets, Sharge 3-power USB charger which is small, can put out 65W across 2 USB-C and 1 USB-A ports. [No longer made? The Anker 735 is a good alternative.] Cables slightly different from picture. 2 6" USB-C cables, 4ft USB-C cable, 1 3ft USB-A and Lighting cable (use in cars), with adaptor tips from USB-C to (A, micro, Lighting, Garmin)
6ft USB-C Charging Cable
Micro International power adapter (2018). For people doing a lot of travel, the Unidap 61w Universal Adaptor combines an adapter with USB power supply.
AWS AC-650 Digital Pocket Scale (2012) a small scale which makes it easy to weight food on the go. Going into storage, because we will bring our full size kitchen scale with us.
PackTowel Ultralight (2009) Bodysize/XL – dries amazingly quickly, is compact, and is very effective. The XL is large enough that I can wrap it around my waist like a small sarong. For awhile I used a medium/face size which packs in a tiny space. I found the face size sufficient for me to dry myself after a swim or shower, but I am willing to carry a larger towel for the added versatility and ease of use. If continue to use it only on beach trips will store with those items.
Westone 5ES custom In-ear-monitors – not shown (2012) with excellent sound quality and comfortable enough to wear on 14 hour flights. They reduce noise by 35db which makes travel much less fatiguing. They are more effective at blocking noise while providing high audio quality than active noise canceling headphones. I short flights I might leave behind and just use Apple AirPod Pros which reduce noise a bit, are more versatile, and less hassle.
Sentimental
There are a several items I have kept as a specific way to honor people I love.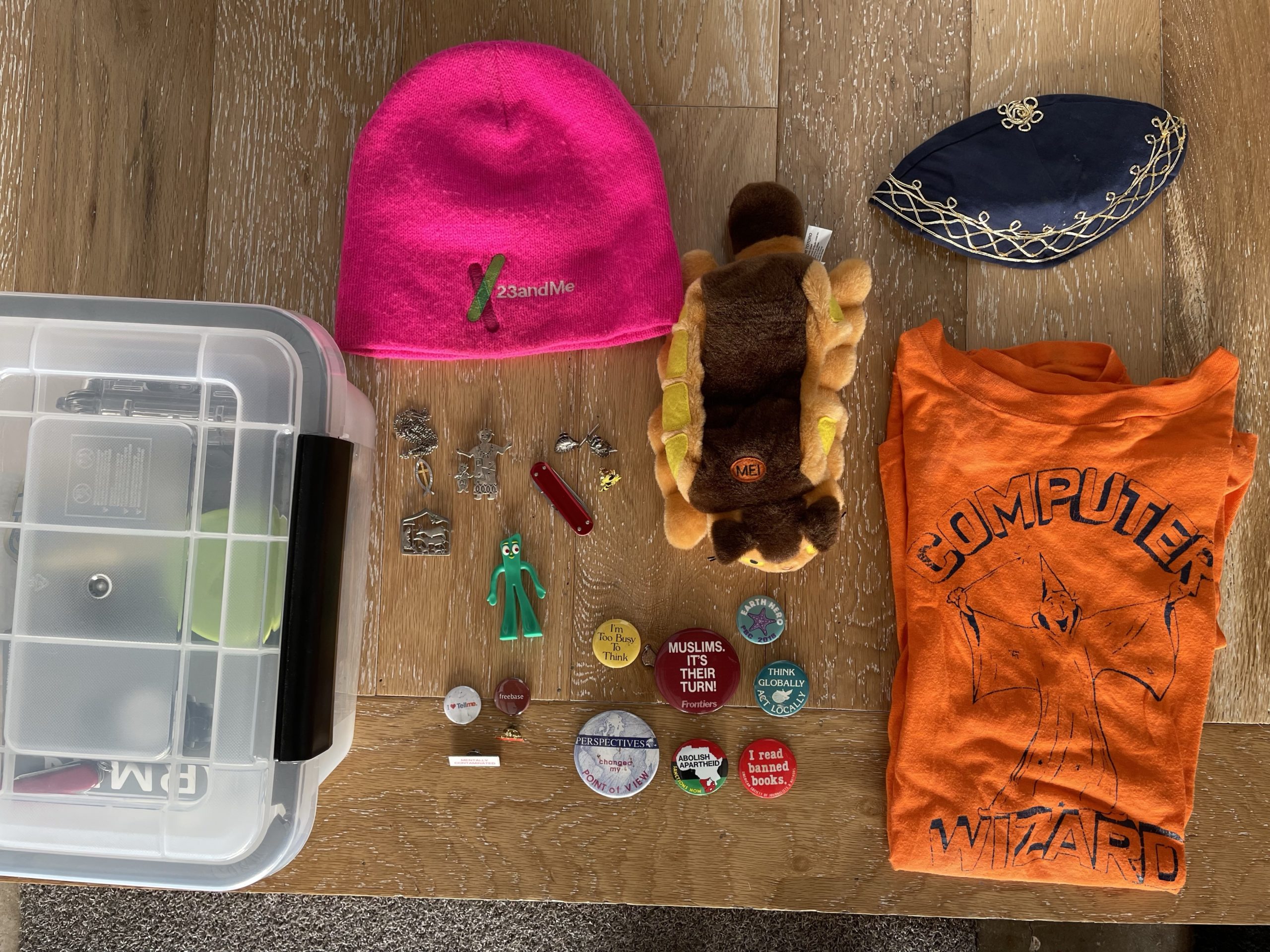 Box which I store these things, my spare glasses, some old documents, etc.
Various buttons collected over the years related to projects or movements that were important to me.
Libby's pins (<2000) of a nativity scene, a mother and child. Originally worn by Libby on special occasions, they became daily decorations on the hats she wore during chemotherapy during the last months of her life. They remind me of Libby's courage and the two things most important to Libby, family and Jesus.
Gumby (2011) which was given as a reminder that when life is difficult, we need to be flexible.
Dad's (<1980) tie tacks and Alox Swiss Army Knife which remind me of his love of the outdoors and his care for his students.
Knit Cap with 23andme logo (2016) Used to wear to show company spirit. Not used regularly because my jackets have hoods, and I try to show my Hashicorp spirit rather than 23andme.
CatBus Plushy (2018) given to me my Jackie because it reminds me of the gentle film My Neighbor Totoro which has delighted my family. I wanted a real CatBus, but no one can find one for me 🙂
Computer Wizard's Tee Shirt (1977) from high school group club… still fits.
Grandpa's Yamaka (<1980)
In Storage / Maybe Retire
These items, and my sentimental items have been stored away a box while we move between a variety of locations.
Small combination lock (2012) for use at the gym. Not using locker room in the gym right now.
TYR Corrective Optical Performance Goggles (2012) so that I can actually see when I am swimming. Not currently going to swimming pools.
RunScribe Plus* (2020) to get information about running form. They have been a bit troublesome to use due slow sync times. So far I am not getting particularly actionable insight but provides more data on running form that Stryd. In the future might work with a coach which using data from these.
Immersion Water Heater* (2019) carried primarily for Jackie when taking trips to cold destinations where the hotel rooms don't have any way to heat water. We generally stay places that it's not needed.
Magic Keyboard* for iPad (2021) Works much better than the Folio Keyboard, decent feel, can actually be used sitting on my lap, and the keys are lighted which is handy in the evening. Alas, the weight of this keyboard + the iPad is as heavy as a real laptop and I am primarily using an iPad for display so I don't need a good keyboard..
Kindle Oasis* (2019) Lets me carry the majority of my library and every book can be displayed with large print for my aging eyes. Love being able to quickly search for notes / highlighted passages. I miss physical books and I know knowledge retention is better when reading paper books, but the convenience of the ebooks outweighs this for me. The Oasis ergonomics allows reading with a single hand and I like the warm backlight in the evening. I was tempted by e-paper Android tablet such as those made by Boox which are a more versatile devices. If I lost the Oasis I would not replace it and just use my other devices to access my Kindle "library".
Ultrafino Santa Fe Hat* (2021) is "Panama" straw hat. It isn't a durable or packable as a Tilley, but much nicer looking. In the past I found straw hats feel cooler in hot weather, but this hat's weave is so tight that the ventilation is minimal.
REI eVENT Rain Hat* (2013) a discontinued ball cap made from waterproof / breathable eVENT. Used when hiking or running when I know it's going to be raining. Keeps rain off of my face and glasses.
Matador Freerain24 2.0 (2017/2020) The waterproof zipper on my first, a v1 wore out after 2 years which included a daily run to 6+ miles to/from work with my laptop. Weights only 5.5oz, carries well. easily folds into a small stuff sack, and keeps contents dry in the worst rain. Likely being replaced by a Gossamer Gear Vagabond which is more comfortable to carry, a bit more versatile for daily use, and almost as good in the rain when used with a waterproof liner.
Radsome EarStudio ES100 (2018) bluetooth/DAC/headphone amplifier allows me to use Westone IEM (or other wired headphones) with devices missing a headphone jack. Can also function as a USB DAC. The ES100 is tiny, with good sound quality (though Chord Mojo is better) and can even drive Sennheiser HD800 to reasonable sound levels. I have written about other DAC and Players. Retiring because AirFly Pro can do an adequate job and is usable to transmit and receive.
I have "extra" clothing in storage for when my existing clothing wears out. Most of the extra clothing were purchased on sale, lightly used, or I had been wearing and decided to drop the number of items I have in a weekly rotation. I currently have 2 pairs of outlier slim dungarees, 2 outlier new way shorts, 1 western rise evolution pants, 4 tee shirts, 4 pairs of briefs, 4 pairs of socks, Macpac Nitro hoodie, delta tee-shirt, tri shorts, and a Montbell Peak Shakedry jacket. These cloths will be pulled out when my current clothing wears out. It's useful to have have an unused items purchased at the same time as one which is in "heavy rotation" to see how much wear and tear accumulates over time.
Stolen 🙁 So Now "Retired"
We were sad to have our car burglarized twice. The first time items that would keep people warm, bags to hold things, and flashlights were taken. The second visit took everything else. A few days later the thief put warranty paperwork, a checkbook, and gym membership card in our mailbox but kept the owner manual and my wife's prescription eye glasses?! We hope that the thief was someone who was homeless and needed warm clothing more than we do. Items from my "gear list" that was lost:
Wool Blanket originally owned by my grandfather from his service in WWI. It has been on countless fishing and camping trips and to virtually every picnic and outdoor concert I have ever attended. Everytime I see the blanket I think of my dad and many wonderful moments. This was the biggest / saddest loss.
Montbell Chameece Inner Jacket (2004/2013) is a very light weight fleece. About the same warmth as a sweater but much more convenient to put on and take off.
Uniqlo Ultralight Down Vest (2012) is decent quality, low price down vest. Combined with a fleece and a shell keeps me warm enough in the coldest weather I encounter in the SF Bay area.
Patagonia Down Sweater with 23andMe Logo (2016). Swag from work. It was too warm for me to use in the Bay Area, but it has often been used by family and friends.
Water Bottle Sling (2004) which Nancy brought back from South America.
Retired
Timbuk2 Classic Messenger (2001/2019) The small size is just the right size for my daily needs. My first bag was used from 2001-2017 and was still usable (gave it to someone in need) when I switched to a backpack when I was primarily running to work. I purchased a new Timbuk2 when my commute switched from running to biking. I prefer courier style bags over backpacks because they are easier to access on the go and leave my back with ventilation. I appreciate the water resistant fabric and that the fabric is heavy enough to retain it's shape, but light enough not to be a burden. It's been retired because it's highly unlikely I will commute by bike in the future. I think Hashicorp is the last company I will work for, and my company is remote first.
Drain-stopper (1996) to make sure sink can fill with water to wash clothing. Haven't used in years even though carried on many of my trips.
Montbell Trekking Umbrella (2012) has the best balance I have found between small/light and useful canopy size. It has survived 40mph wind/rain storms but one of the ribs has broken (and then repaired). In warm to hot weather much more comfortable than wearing a rain jacket but doesn't adequately protect my legs in a hard rain. Lost.
Stryd Footpad power meter (2015) to capture run's intensity better than using pace or heart rate. Replaced with RunScribe which should provide better information about run form. Easier to use than RunScribe and fits better into the Garmin eco-system. The Garmin Running Dynamics Pod is a cheaper way to get running power metrics. Not adding that much value today because my runs are mostly on level ground. Gave it to a neighbor who is trail running in the hills.
Garmin Swim Heart Rate Monitor (2019) replaced with HRM-Pro which has BlueTooth support allowing me to use it with software that controls my Kickr. Gifted to a friend who wanted to replace his HRM which just broke.
Xero Terraflex (2020) are zero drop trail shoes with has a sole reported to survive 5000 miles, rather than the <600 most trail runners. After wearing them for several weeks they seemed to contributed to my development of plantar fasciitis.
Merrill Vapor Glove 4 (2019/2020): are the most minimalist running shoes I have found that fits me, "like a glove". Great for travel because it packs into a very small space. Sole last around 400 miles for street running. Downside is that any moisture (rain, wet grass, etc) goes right through the uppers. For people who need more cushion and a wide toe-box I would recommend Alta Running & Topo, or if you need extreme cushioning Hoka OneOne. Worn out and replaced 7 pair. After I recovered from plantar fasciitis they were still comfortable running, but would sometimes have pain while walking.
Montane Prism Booties (2020) keeps my feet warm around the house on particularly cold days. Replaced with slip ons that have a sole I can wear outdoors.
Flower Print Short Sleeve Shirt (2019) gift, not worn much, prefer my sharks shirt when I want to wear a fun, casual shirt.
Wool and Prince 130wt Blue Oxford Shirt (2014) Slim fit, crisp look while still having all the advantages of 100% wool. Very business casual. Did need business casual for several years and it was a bit tight in the shoulders.
Columbia/Montrail Titan Trailrunning Shirt (2018) After an bike accident a hole and somewhat stained. Replaced with a Xenith Polartec Delta technical tee which is more comfortable in hot weather and more odor resistant, though the Titan shirt is slightly lighter and dries more quickly.
Vissla All-time Surf Tee Shirt (2019) Rash guard shirt to protect my skin from the sun while engaged in water sports. Body hugging without being overly tight. Misplaced.
Patagonia Down Shirt with 23andMe logo (2015). I now work for Hashicorp! Away with the old, in with the new. Gave to someone who needed a jacket. Micro Puff is a better match for the conditions I regularly encounter.
GoLite Snow Cap (2002): polarguard insulated bomber style hat which can be layered over other hats. Fairly windproof, warm, and light weight. Not needed due to Micro Puff hood.
DIY Facemask & Under Armor Sportmask (2020) Now that N95 can be purchased switched to have a more effective mask.
Lacrosse Ball (2021) – Purchased at recommendation of several people to help roll out sore muscles. I haven't found it that useful.
Grip Strengthen (2020) to build my hand strength. No longer gaining strength.
Refurbished Google Chromebook Pixel LS (2020) – Tired of Apple prices, the time it takes for OS updates to run / machine to restart, and increasing security threat. Given that most of my work is web based these days seeing if I can make do with an Chromebook as I make a hard separation between work and personal use. Purchased refurb unit for $100 to run the experiment. Used March 2020 – Dec 2021. While I prefer a MacBook, I found I could largely live on a Chromebook, and could use Chrome Desktop Remote to family Mac Mini when I needed a "real" computer. Just wish was a bit lighter and have biometric unlock. The last OS update was May 2021 :(.
Google Pixel2 Phone on Google-Fi (2020): Android 10 fixed most of the issues I had with audio out being routed to the "right" device. Notification management is better than iOS. Normally left deactivated, but brought out when traveling internationally. Purchased refurbished for less than $100 + a month of Google Fi is cheaper than international roaming on Verizon, and more convenient than purchasing local SIMs in each country. Alas, just after I purchased it our plans for a lengthy international trip was canceled due to COVID and Google stopped doing OS updates. Replaced by using Airalo Esim for my iPhone when traveling internationally
Sony RX100 VI Camera (2020). Great quality image capture in daylight, so/so performance in low light situations, with a 200mm optical zoom that fits into my pocket. The features on the VII didn't justify the extra cost compared to the VI. Geotagging mostly works through Sony's smartphone ImagingEdgeMobile app. Computational photography in current iPhone is good enough for my needs.
Original Joby GorillaPod (2012) for when I need more stability for the Sony RX100… which I no longer own.
Apple AirPods (2017/2020) have decent sound quality while letting in ambiance noise providing situational awareness, stays in place during exercise, no wires to get tangled, has good user interface with iOS, so/so with Android. They aren't rated for water resistance, but after more than four years of using them while sweating heavily, rides and runs in the rain they continue to function. In 2020, after three years the battery life was poor, so I paid $98 for Battery Service (which is really a replacement). I used to love the AirPods, but recently the microphone is not always connecting to the phone when receiving phone calls. This is happening with both Android and iOS and I have heard other people complaining about the same things. What's going on?! After less than a year of use the right AirPod doesn't always charge, and has a run time of around 1 hour.
Mikikin Fan* not shown (2020) Gift from my wife for hot days I need some air circulation. It's too noisy for the amount of air that it moves.
Portable File Case (2002) Has been used to hold paperwork / office supplies. Switched to Patagonia briefcase because it is more transportable.
Purchased in 2022
Twelve South AirFly Pro BlueTooth transmitter and receiver used on long flights to listen to audio. I am sure there are cheaper options but this was available quickly.
MagSafe Charger a charging puck which makes use of an existing USB-C cable. Hard to remove material accumulates in my iPhone's lighting port resulting in unreliable charging.
Portable 14″ 4K Monitor so I have enough screen real-estate for remote work which stays reliably connection which wasn't the case using an iPad Air + slide car. Not nearly as effective as a large 4K monitor, but good enough. A better solution might have been xebec since the screen is attached to the laptop rather than sitting to the side.
Biosense ketosis breath meter to simplify measuring ketosis when experimenting with diets and fasting
Lactate Plus Meter for determine my zone 2 and zone 5 thresholds to optimize training.
TB Smart Alec Backpack I had an opportunity to get this excellent but discontinued pack. Perfect size for trips to grocery store and Costco when on my bicycle. Very durable, so perverse the life of my Gossamer Gear Packable Vagabond which has been discontinued and will wear out in a couple of years if used every day.
Western Rise Unlimited Button Down blue merino / polyester blend button down shirt. My wife tells me it also looks like it was just ironed as it comes out of the my luggage. My new default "nice" shirt. Reported to be UPF 40. Fairly air permeable, resists odor, adequate comfort in hot weather.
Solbari Weekend Shirt for UPF 50 protection because I learned that my existing shirts aren't providing enough protection. The most comfortable shirt I have tried that is >=UPF 50 when >80F. Resists stink for a few days, formal looking.
Patagonia R0 Rashguard Shirt for UPF 50 protection during water sports and to replace a shirt Jackie really doesn't like the style.
ArcTeryx Cormac Zip Neck Shirt for UPF 50 protection. In hot weather about as comfort as my merino wool tee, but not as good as Polartec Delta. Resists stink / feeling "icky" for a couple of days .
arcteryx incendo trail running pants for cold weather outdoor exercise that's lower intensity than running (like tai chi in the park)
Luna Venado Sandals because I really missed the light and dynamic feel and the Keen's feel "dead".
Xoskin Toe Socks which last way longer than merino toe socks, stink a lot less than coolmax socks, and have completely eliminated blisters between my toes.
o2trainer to improve breathing strength
Do not lay up for yourselves treasures on earth, where moth and rust destroy and where thieves break in and steal, but lay up for yourselves treasures in heaven, where neither moth nor rust destroys and where thieves do not break in and steal. For where your treasure is, there your heart will be also

Matthew 6:19-21