Several items on my personal gear list were used by the whole family, and thus, this page was born. I have excluded our furniture. We keep only those items that are useful and/or are enjoyed which allows our family to focus on doing things that we find rewarding rather than devoting ourselves to managing stuff. When we needed to move, it took less than 10 hours to pack which started with acquiring boxes and included breaks to eat. We were able to unpack even more quickly. By the end of a weekend we were not just out of one place, but fully moved into the new with boxes put away and pictures hung on the walls. Items in bold are particularly great, and those with "*" I am not sure we would replace if they were lost or damaged. The (year) indicates when the item was acquired.
Outdoor Gear
In our garage we have a baker's rack which holds most of the outdoor gear we use.
Hiking pole hanging.
Bin with Xmas decorations. Outdoor in the sense that there is lighting for the front yard, but also has decorations for inside.
Enlightened Gear Accomplice Double Quilts (2014), Montbell Down Hugger Super Stretch #3 (2005) and NuntakUSA Ghost Down Blanket/Quilt (2002). Notes about Sleeping Bag & Quilt
Therm-a-Rest XTherm Air Mattress (2012) Big Agnes Q-Core SLX Sleeping Pad (2019). Notes about Sleeping Pads
10×13 SIL Tarp (2005), Big Agnes Copper Spur 2 Person Tent (2012) and a MSR Carbon Reflect 3 person Tent (2012). Notes about Shelters.
A plastic bin which holds misc outdoor gear, including a Bearikade Weekender Bear Canister (2002), Works Sharpener Ken Onion Edition (2021), and most of Jackie and Amber's backpacking specific gear.
Duffel bag 50L described below in "Camping Supplies" which has gear for car camping, disasters, and cookware for group backpack trips.
A few packs and a foldable cooler.
Coleman Portable Stove/Grill (2000) with one burner on the right side, and the left can be used as a grill or with a large non-stick griddle.
Coca Cola Crates – 3 (1950) which have a steel frame and cardboard sides holding a number of items
Coke Box 1: Mark's bicycling: repair / replacement items such as inter tubes, patch kit, CO2 cartridges, second water bottle, chain lube, charger for Di2, crank wrench, bike lock
Coke Box 2: Mark's 3 season backpacking and winter gear.
Coke Box 3: Picnic and Emergency supplies
SteadyRack not shown (2021) to store bikes in the garage.
Topeak JoeBlow Bike Pump (1997)
Camping Supplies
Northface basecamp duffel small – 50L (1987) holds all the contents described below and also some TP, extra fuel canisters, plastic bags and aluminum foil.
Platypus Water Containers, Gravity Filter (2018) because we are sometimes places that don't have safe drinking water.
Plastic tub (2000) Used to wash dishes and pots when car camping. Use the case for the dinner set for rinsing. Pack Towel (1988), sponge (2002/2021), nylon pots scraper (2002), Dr Bronner's Soap (1972/2020)
Work Gloves (2008)
Gear "Repair Kit" (2009) zippers, grommets, rope, safety pins, etc. Supplemented with various other small repair items and single use superglue (2014)
Leatherman (2000), Fallkniven F1 fixed blade knife (2002). There are numerous other good knives I would recommend.
REI Dinnerware Set for 4 (2012) including wash basin, drying rack, and cutting board
Misc items for kitchen most of which are stored in a ziplock bag. Durable items from 1992, consumables refreshed as needed Long Lighter, Cooking oil, Hot Sauce, Salt/Pepper, matches/lighter, paring knife, tongs
1.3L Evernew Ti Pot (2001), Snowpeak GigiPower Stove (2001), Fuel Canister, Silicon Cup/Bowl (2010), and MSR folding Foon (2010). This kit is used when we do family backpacking trips. We used to have a set of pots and pans for car camping but got rid of them when we realized that we typically used grill and skillet built in to our Coleman stove. We really only needed one pot for heating up water. On car camping trips the Snowpeak stove is typically not used.
N95 Masks (2021)
Whistle
Rite in Rain Pad and Pen
Trip Tease Cord. So many uses of rope. Stringing up a tarp, a line to dry clothing, etc.
Black Diamond Apollo Lantern (2018) which is a perfect size and amount of light for car camping or emergency lighting in a house in the case of a power outage. Built in rechargeable battery with the ability to use three AA batteries if the internal battery has been fully discharged and you need light.
Zebralight H600 Headlamp, which uses a 18650 battery. A bit heavy, but very bright and long run times. H51 Headlamp (2010) and H52W flashlight (2012). These lights are compact, surprisingly long runtimes due to excellent regulation, and use a single AA that is easy to acquire. There are several other flashlights and headlights I recommend.
GoalZero Power Sherpa 100* (2020) High versatile power system. Has been used during power outage to keep our Internet connection up, as a portable power outlet for small appliances and to charge devices on extended trips without access to car or wall power. Not shown are a few USB cables to be used to charge a variety of devices and an Olight Universal Magnetic Battery Charger (2018) which charges pretty much any size battery including 1.5V NiHM, 3.6 & 3.7V LI batteries
Lijiani Weather Radio – not shown (2022) Had the best reception on AM/FM/Weather bands of 6 radios I tried and happens to be the least expensive. Fairly intuitive user interface when performing basic functions. Downsides are that it feels cheap, power is exclusively 2 AA batteries, and the speaker is mediocre.
Picnicking/Emergency
Arctic Zone 36-can Folding Cooler (2011) is a good size for long weekend car camping trips. Not super insulating, but ice keeps contents cool for 2 days, and dry ice works for 4 days.
Wine Tote (2016) which is a good size for wine and cheese in a park: holds up to two bottles, some snacks, and a couple of glasses, with a small cutting board, bottle opener, small knife.
Alife Mayfly Chair* (2010) is a low slung folding chair which works on any surface and doesn't have legs so it can be used at Shoreline amphitheater.
GoChair – 2 (2018) which we funding via indiegogo which deploys very quickly.
Pentax S 8×42 Binoculars (1994) Nitrogen filled, excellent visual quality in a moderately compact body.
60w Solar Charger* to provide power off grid over an extended period of time (2020). When people were purchasing excess TP at the beginning of COVID I was beefing up my disaster kit.
"Emergency" Food (not shown) – The box also has some freeze dried food and food I commonly take backpacking but don't eat a lot of home such as cous cous. We also have durable bag to collect food from our pantry in the event of a disaster. We keep a week worth of food in our pantry that won't spoil and is easy to cook.
Tools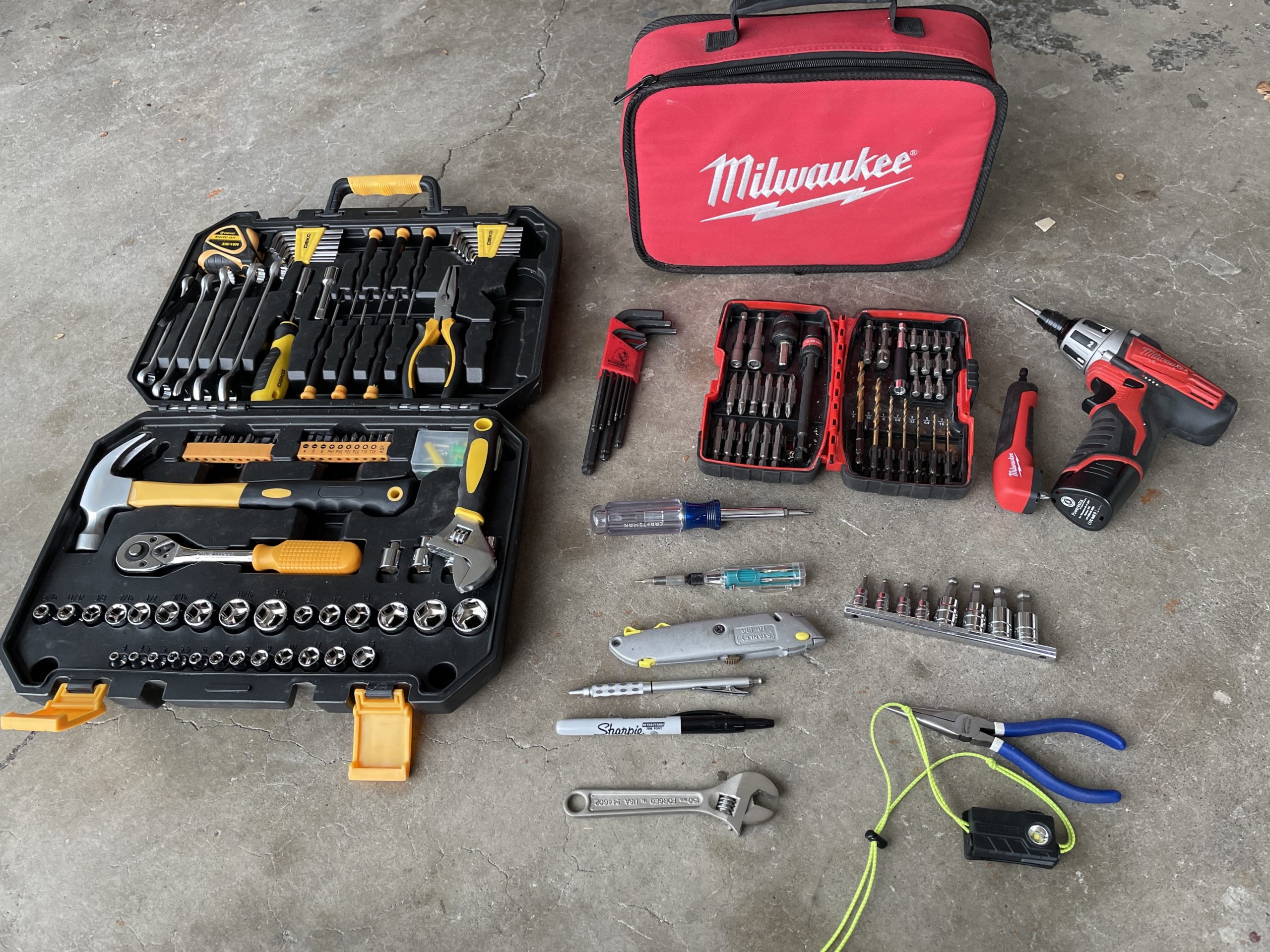 Dekopro 126 piece Toolbox convient box with most of the tools I need. Quality isn't want I have been used to, but mostly good enough. Originally purchased when renting out a house so there would be some on-site tools. Many of my tools (Snapon and Craftsman) were stolen a few years ago and decided to see if I could make do with the Dekopro set. So far it's been ok.
Milwaukee Hex Electric Screwdriver with right angle adaptor and multiple bits. It is mostly powerful enough to use as a light duty drill.
Additional tools that live the the Milwaukee case (avoiding pulling out the Dekopro case): metric hex wrench, screwdriver, precision screwdriver with multiple bits, box cutter, pencil, sharpie, cresent wrench, hex wrench bits, precision needle nose pliers, nitecore nu20 headlamp
Misc other tools not shown: Fluke IR Temp. Meter, Fluke Multimeter, Soldering Iron, Clamps, Calipers, Level, Micro screwdrivers
Electronics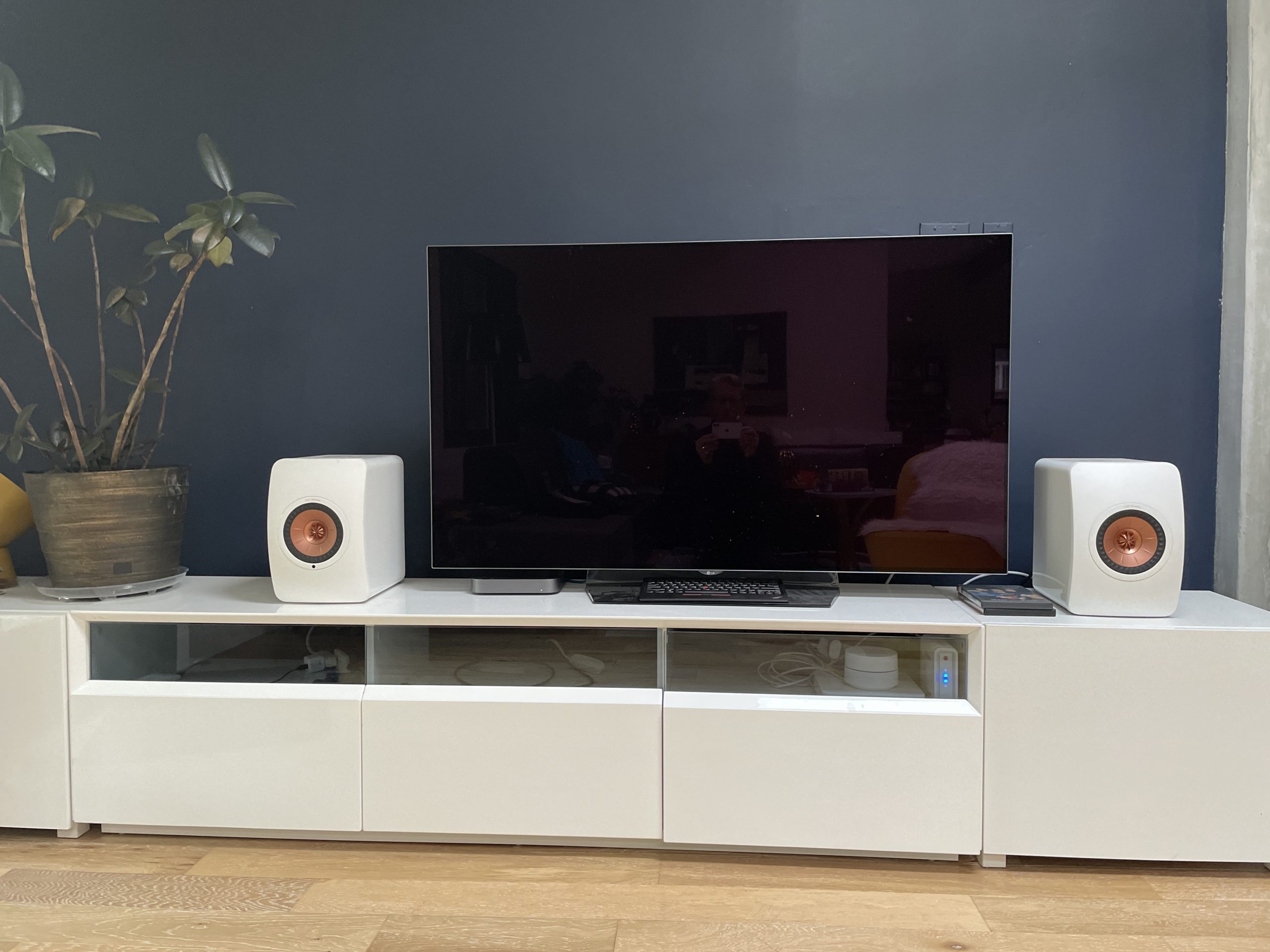 LG OLED55B6P SmartTV (2017) for family / friends movie night and other group activities that use a screen. I would be content using the screen on my laptop or even iPhone for the occasional video streaming I watch. That said, the picture quality is amazing and the webOS based controls work well. Also sometimes used as a display for Macintosh. 4k works nicely when trying to see a lot of pictures using Adobe Lightroom.
LG HU80KA Projector and Elite Screens Yard Master Portable Screen – not shown (2021) to host backyard "movie nights" during COVID.
Apple Mac mini* (2017) The Mini is compact, low noise, with a good collection of ports, has enough CPU, memory, and disk for our family needs, and plays well in the Apple eco-system which we am committed to until our next refresh in a few years. It is overpriced compared to non-Apple hardware. Used primarily as a media server. Roon for audio, Lightroom for photos, various programs for video / streaming. Retired in early 2022 after Mark got a new MacBook Pro.
KEF LS50 wireless monitor speakers (2017) with a built in DAC and amplifier designed for the speakers. Good quality sound that fills a room, excellent for near field use in a nicely designed, compact package. Can take TOSlink, USB, Bluetooth, analog, and several IP based streaming protocols inputs over ethernet or WiFi. Roon can stream directly to it over the network, but it's not Roon-Ready so can't be synchronized with other Roon-Ready systems. The iOS remote application is poor. I drive the LS50 via USB on a Mac Mini running Roon which remove the need for the KEF remote and the speakers can be synchronized with other Roon Ready end-points giving me whole house music. I still prefer the sound quality of electrostatic speakers with audiophile grade full electronics, but I am happy that I downsized our stereo so we can focus on other things.
BlueSound Node Audio Streamer (2021) to remove dependency on Roon for multi-room audio playback. Lets me connect Plus Flex speakers with our KEF LS50s through the house for Spotify or as an AirPlay2 endpoint.
Pulse Flex Wireless Speaker not shown (2017 & 2022) allows us to have synchronized whole house music and plays nicely with other BlueSound products. We have the original Flex speaker and the updated Flex 2i. It also supports inputs via USB, Bluetooth, AUX, a number of streaming services like Spotify, and many free sites via URIs. Has a iOS and Android remote control app which works but has a somewhat awkward UI. Controls on the top let you select one of 5 user-defined "channels" without using the remote. I have the optional battery pack so it can be used in our backyard. It can be used away from it's home, but you have to reconfigure it's WiFi settings which is a pain. Sound quality is significantly less than KEF LS50. For people who aren't using Roon, I would recommend Sonos: for it's lower price point, better streaming options, and slightly more processed sound quality which everyone but audio purists like me typically prefer. Even cheaper are products from Audio Pro.
Google WiFi Mesh (2017) network access points easily install and just work when you have an area than a single WiFi router isn't sufficient. There may be faster / more featureful options out there, but the Google devices work flawlessly and are visually appealing. We are using ATT fibre which so far as been a big improvement over Comcast for slightly less money.
Brother MFC-J880W not shown (2017) Multifunction Printer, Scanner, Fax, Copier has been a reliable device for us unlike several other multi-function devices which failed within a year. WiFi enabled, supports AirPrint, Google Print, and several other standards. Connected to a Obi device which lets us Fax over Google Voice.
Small Appliances
Vornado 660 Fan (2008) air ciculation in the garage or living room
Vornado Panel Fan (2014) pulls cooler outside air into bedroom to avoid using air conditioner most of the summer
Conway Air Purifier / HEPA Filter (2020) Was a lifesaver during the summer time fires summer of 2020. Took air quality from over 200 down to 25 in our study.
Dyson V10 Cordless Vacuum (2019) Expensive. There are cheaper options but works very well but the battery life is slowly dropping.
Breville BOV800XL Smart Oven (2020) is used for nearly all our baking, broiling and toasting needs. We have a full size, built in oven, but this unit heats up more quickly, seems to heat more evenly, and is the perfect size for almost everything we make.
Oxo 11lb Scale (2014) Easy to use, accurate, the display can be separated to enable viewing when weighting oversized objects.
Soda Stream (2017) To avoid purchasing bottled bubble water. Cheaper, cuts down plastic waste, don't have to haul water back from costco.
Rival RC101 5-Cup Rice Cooker (2017) Simple to use and faster than a rice cookers with fuzzy logic and other advanced features.
Panasonic Electric Water Boiler (2019) Holds 3.2quarts of water. Insulated to minimize energy usage and allows hot water to be used for a couple of hours when power is not available.
Zojirushi Electric "Hot Pot" (2005) Hot pot is one of our favorite ways to celebrate holiday or when having a small dinner party with friends.
Waffle Maker* (2005)
Amazon 6 sheet Paper Shredder (2020)
Pulse SpO2 Meter* (2020) Purchased primarily for better insight in the face of COVID19. my wife sometimes uses to get a read of pulse rate when doing HIIT.
Baking and Mixing
Silicone Oven Mitts not shown (2014) with inner, removable terrycloth liners. Effective, waterproof, durable.
Pampered Chef Mixing Bowls (2007) Light weight, rubber on the bottom keeps them from sliding around. Useful size. Often use the larger as a salad bowl. Have well sealing lids which aren't shown.
Electric Hand Mixer (2017) Christmas gift for Amber who loves to bake. Used to have a Kitchenaid but got rid of it because it's ease of use compared to the hand mixer was overshadows by the hassle of pulling it out of the garage.
Measuring Cups
Rolling Pin
Hand whisk (not shown)
Strainer, Collapsing Silicon Funnel
KitchenAid Immersion Blender (2014) for many mixing, blending, and whisking tasks. There are better models on the market, but this one is good enough for our needs. Has several attachments.
Pots and Pans
T-fal 10″ frying pan (2014/2019) replaced in 2019 when first was warped. Modest price. Anti-stick works well and is durable.
Dutch Oven
Pots
Wok
Cooking Utensils
Oxo Silicon Spatula (2012)
Plastic Spatula (2008)
Metal Spatula (2014)
Lavatools Instant Read Thermometer (2017) Replaced a Thermopen which was lost. The Thermopen is more "instant", but works well enough
Tongs (2014)
Basting Brush (2007)
Pampered Chef Mix and Scraper (2014)
Silicone Spatula/Spoon
Silicone Spatula/Spoon
Slotted Spoon
Laddle
Paste Ladle*
Cutting
Apple Chopper* (2005)
Hand Grater with multiple blades
Lemon Squeezer* (2000)
Scoop and Sectioner (2000)
Flexible Cutting Board (2012) and small plastic board (2005)
Knife Sharpener (2010)
Kitchen Sheers (2012)
Bread Knife (1985)
New West Knifeworks Santoku 7″ Knife (2020) Form and function. Made from good steel, beautiful craftsmanship.
Victorinox Chef Knife (2012)
Peeler* (2007)
Victorinox Paring Knife (2012)
Steak Knives* (1985)
Serve and Store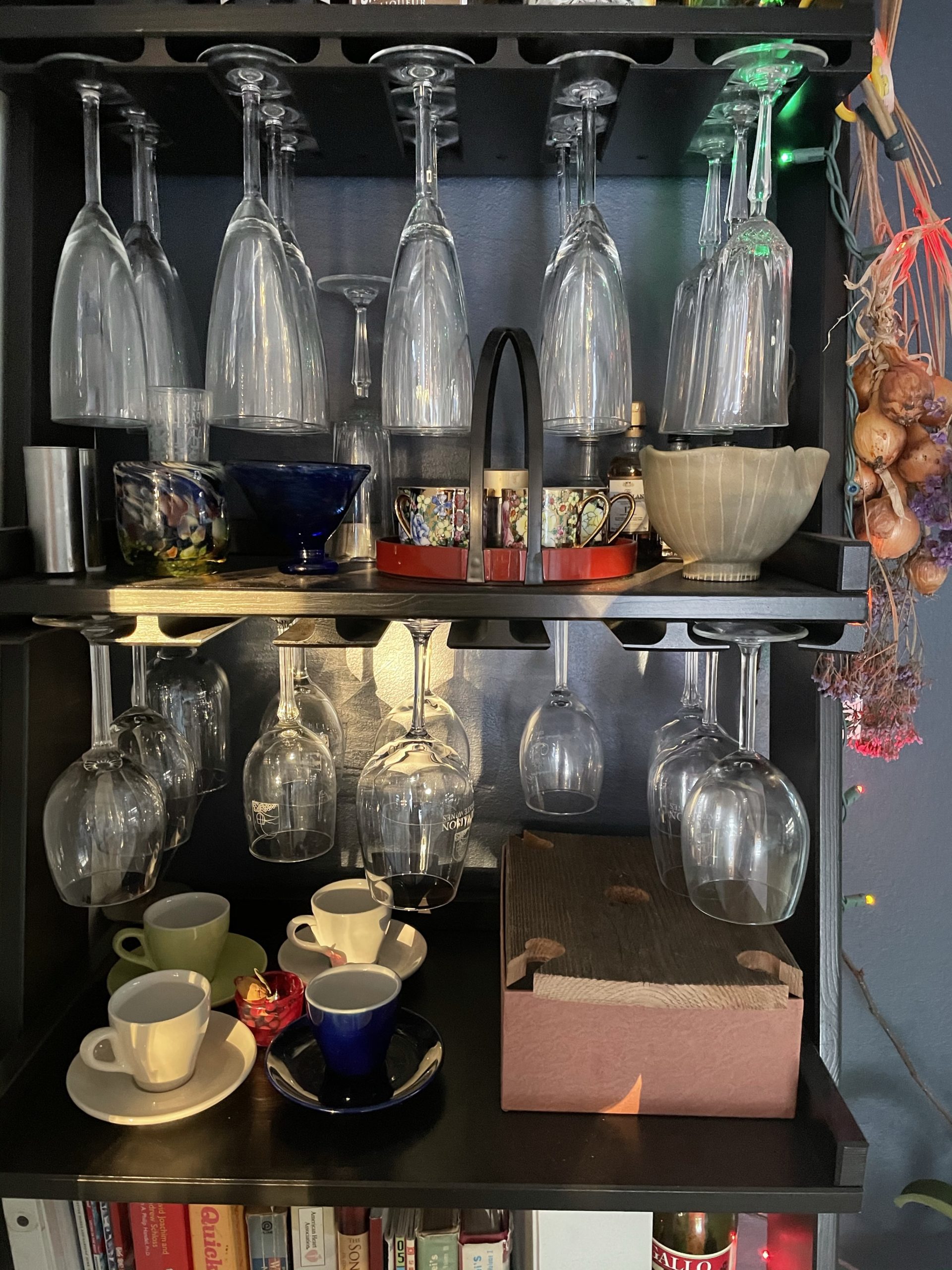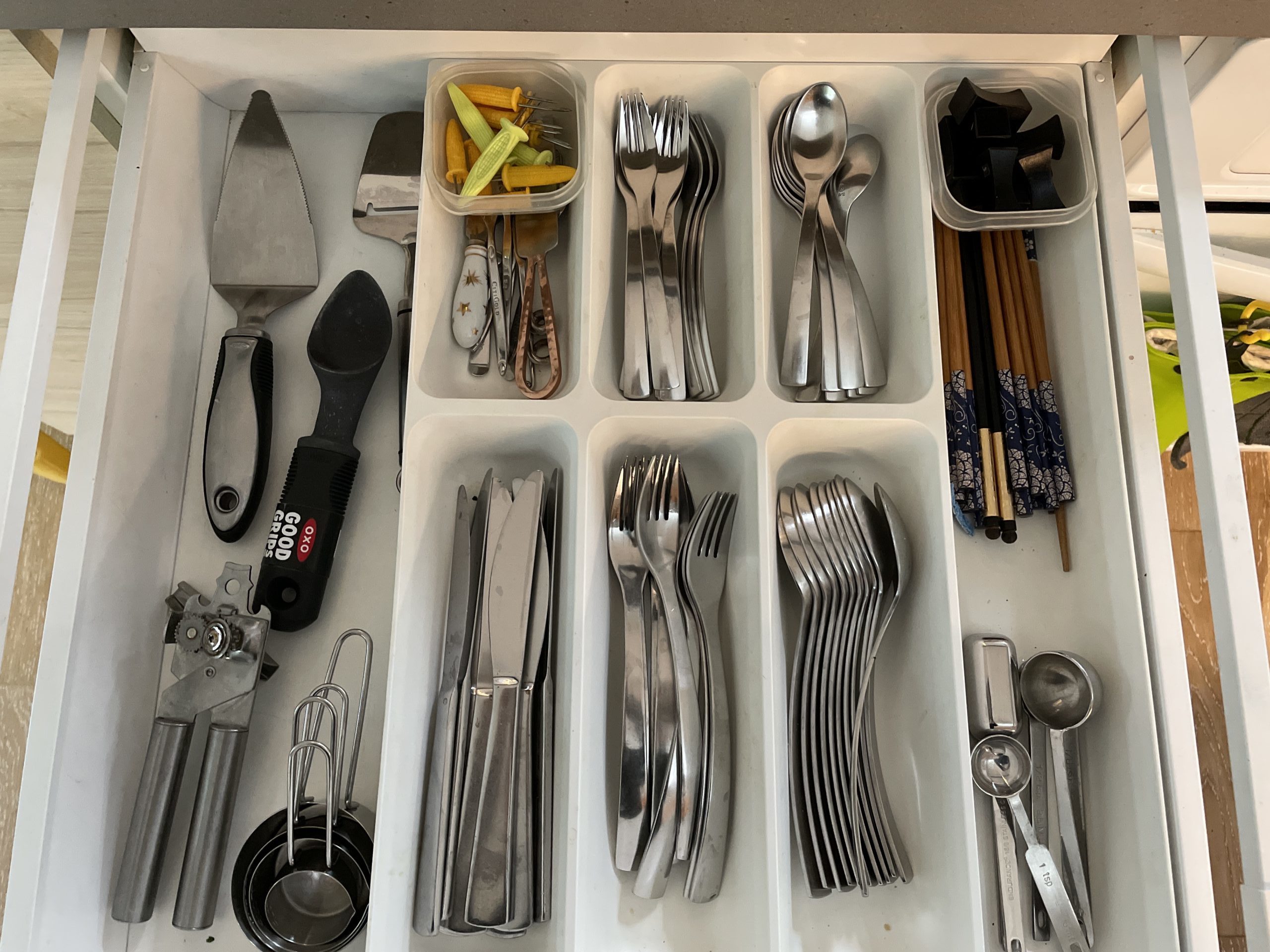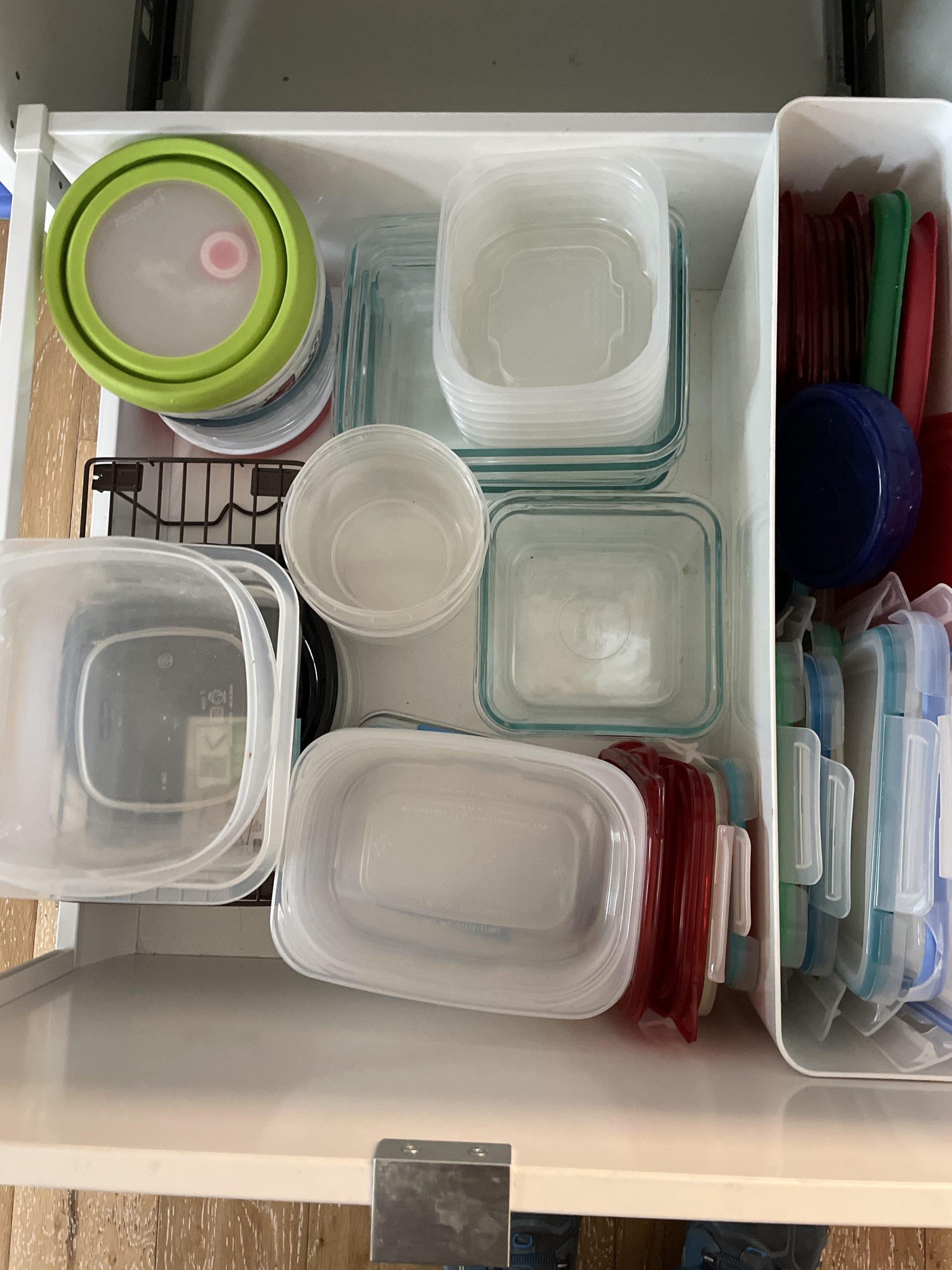 Art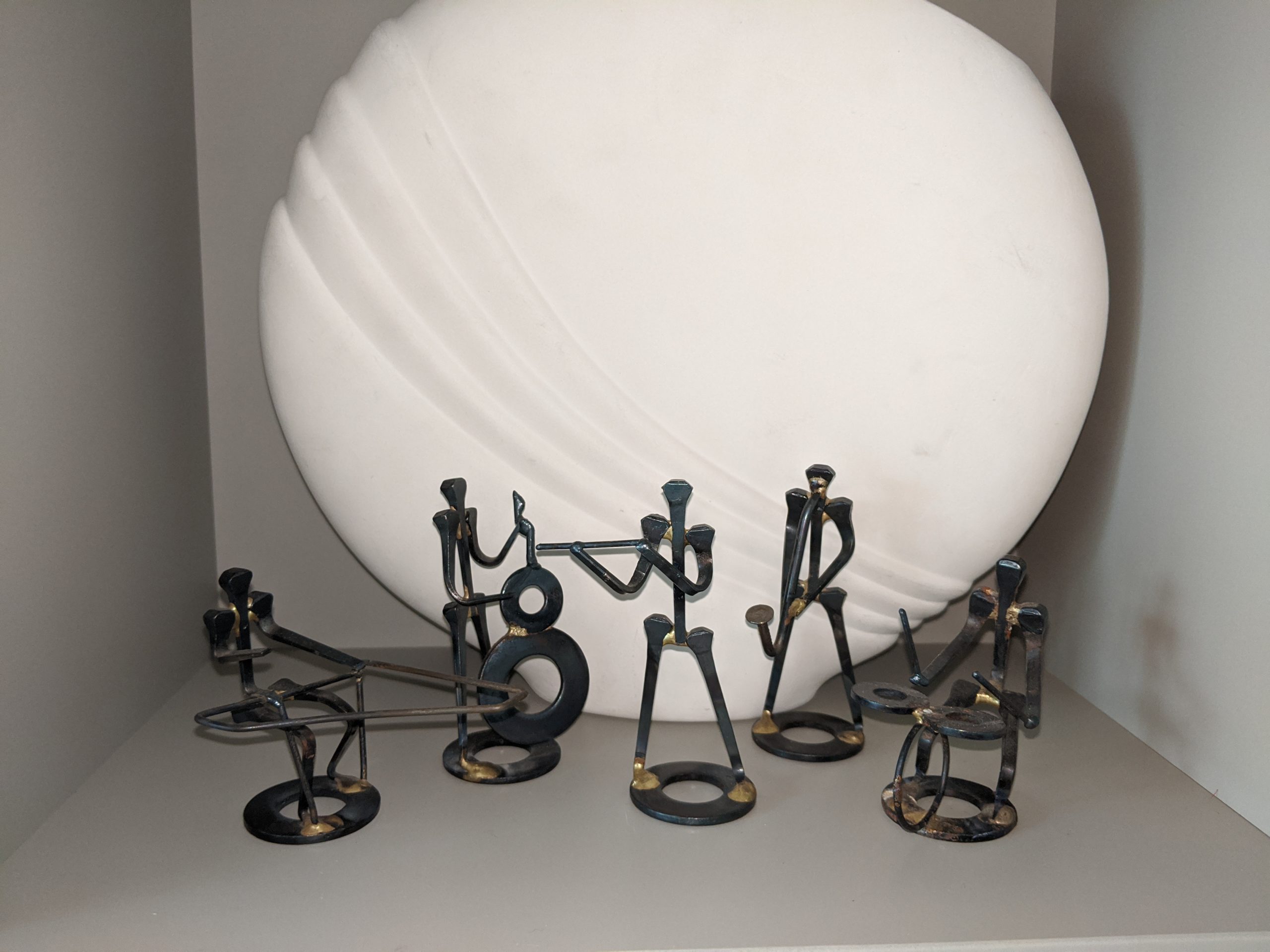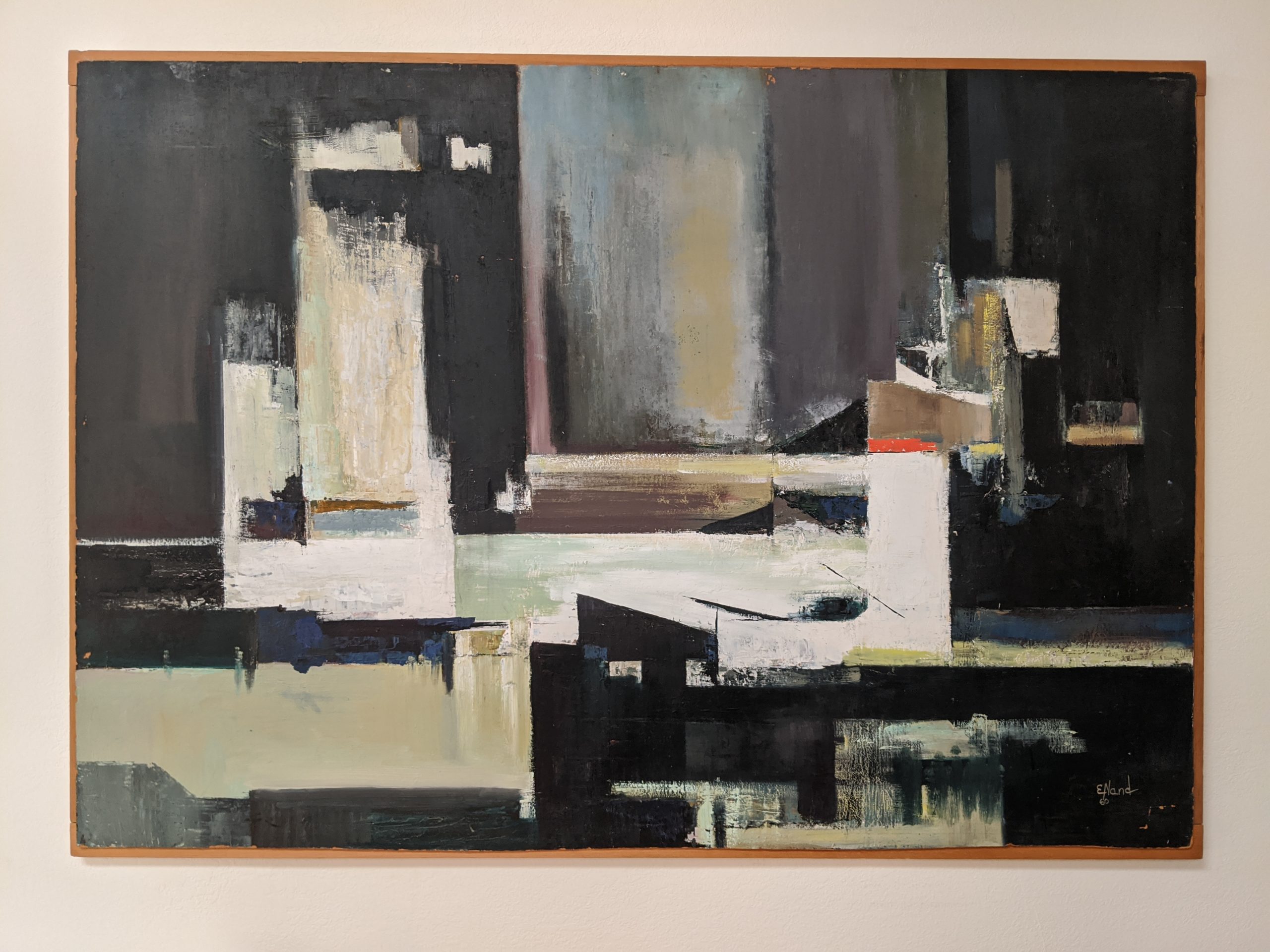 Not Cataloged
Holiday and party decorations
Candles
Gardening equipment and supplies
Mini Cooper S (2013)
Changes in 2021
Zebralight H51 flood (2009) moved to kitchen, SC600 Flashlight (2014) moved to car
Big First Aid Kit moved to car
Menu Wine Decanter (2021)
Snake Blocks (2021) for a fun and a bit of color on the table.
Keith Titanium Double Walled 150ml Tea Cups (2021)
Retired in 2021
Yeti Hopper "Personal" Cooler (2018) – too small
Zojirushi Mr Bento Lunch Jar* (2014) for hot and cold lunch, snack, dinners when we are doing a fun / special "picnic". Great for personal lunch but unnecessary.
Zojirushi Bottle* (2005) which holds 51 ounces and can keep beverages warm for almost 24 hours. Nice pouring spout with a lid which functions as an insulated cup. Haven't used for several years.
Propane Hose* (2020) that allows Coleman grill to run from a full size propane tank rather than the smaller disposable tanks. Not really needed.
MSR Duralite Cookset* (2003) Typically cook over grill or use griddle. Evenew backpacking pot is adequate for boiling water for drinks and is easier to pour.
Eton Microlink FR160 Emergency Radio (2009) Internal rechargeable batteries (3 AA batteries in special packaging) can only charged by the crank or poor quality solar cells on top. Should allow to changing via USB or other external power source. AM/FM weather band, but not weather alert.
18650 Battery Charger (2018) and GoalZero AA Charger (2004). Both double as a USB power supply. Not the most efficient charger or power pack, but works. Hasn't been used for several years. La Crosse Battery Charger – 2 (2007) which does a great job charging any combination of 1-4 AA or AAA NiNH or NiCad batteries. All replaced by a single Nitecore UMS4 charger which does both NiNH and Lithium batteries with more informative display and is powered by a USB-micro jack.
Roon software (2017) isn't really an item, but it effected many of my decisions related to audio playback. Roon integrates my iTunes library which is made up of CDs ripped using ALAC codex with the TIDAL streaming service to provide loseless audio to multiple speakers around the house. In the last couple of years I found bugs in Roon and in the Roon endpoint of the first generation BlueSound Flex speaker. Today I am using the native BlueSound grouping for multi-room, and doing lossless streaming from Apple Music and from Spotify. If I didn't care so much about sound quality the family would use Sonos speakers combined with Spotify for whole house music.
Added in 2022
Nitecore UMS4 (2022). Versatile charger powered by micro-USB. Supports most battery formulations and sizes with informative display which describes state of batteries and charging process. A bit larger than I would like but it has to accommodate large batteries. We generally use Eneloop Pro Batteries. Reasonable power density and power retention when stored.
Dimmer for String Lights (2022) Allows use to schedule changes which can include sunset or sunrise as triggers.
ReoLink Outdoor Camera