I have an updated gear list.
I used pretty much the same gear in 2019 as previous years and will continue to use the same items with minor changes in 2020. My current list is now available. Several years ago minimalism led me to simplify my stuff, keeping just the items that are regularly used and give me joy. My traveling list is a subset of the items in this post.
Items in bold are exceptionally great… I regularly finding myself telling people about them. I am happily use items marked with "*", but they won't be replaced if lost.
Everyday Carry Items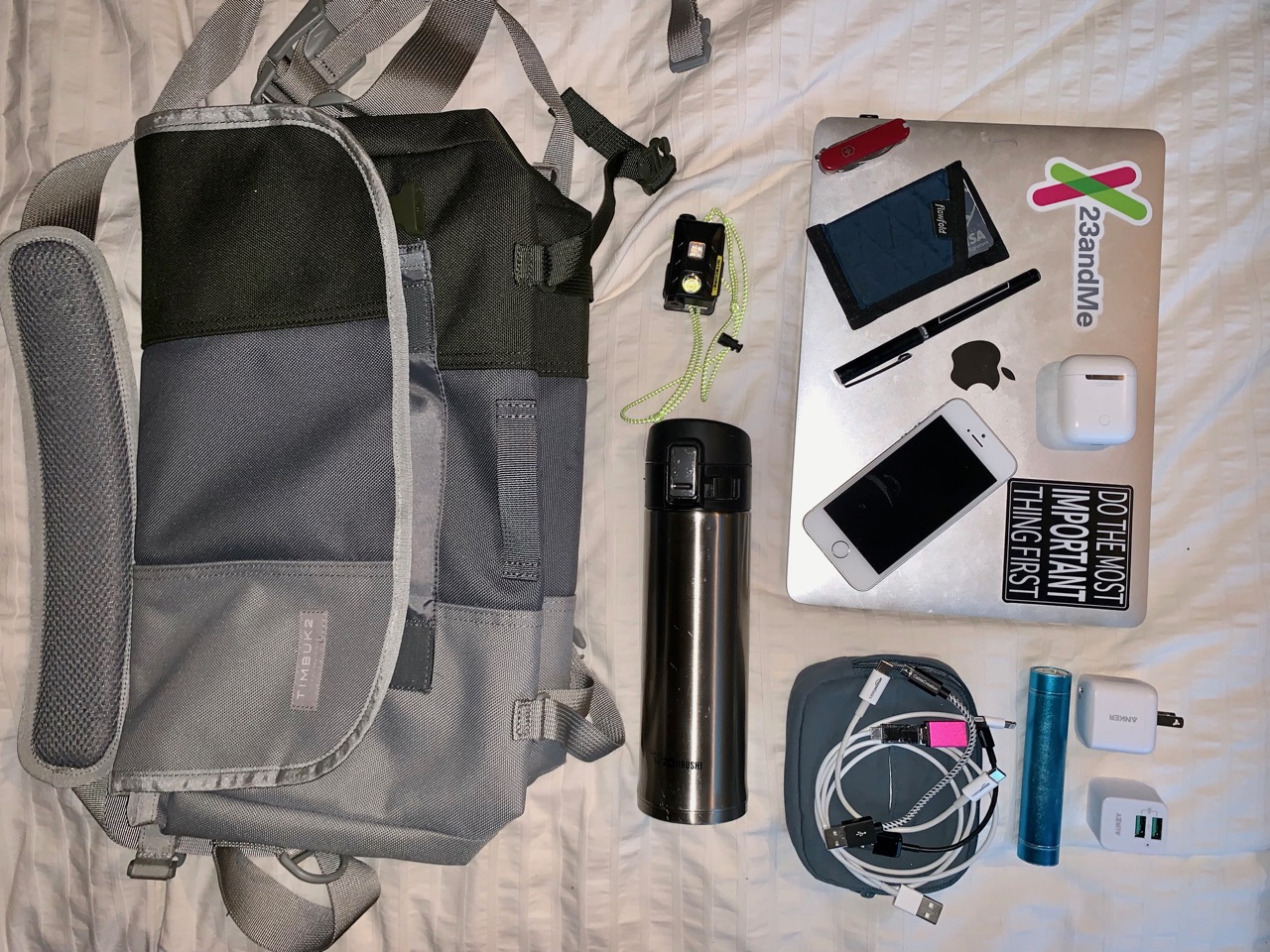 Flexon (not shown) eyeglass frames with Zeiss high index progressive lens (not shown). Eyeglasses which let me see clearly are an incredible blessing. I used to break frames within a year of getting them. Flexon last me several years. My current pair was purchased in 2018. My previous pair was worn daily 2010-2018 and is now my backup pair.
Garmin 935 Watch (not shown) is a do everything fitness watch which is light enough that I don't mind wearing it everyday. It has adequate integration with my phone and provides every fitness and activity tracking feature I want with better accuracy than most other smart watches. I appreciate the alert on the watch when it loses bluetooth connection with it's paired phone that reduces the likelihood of leaving the phone behind. The charging cables for Garmin have a tendency to not stay connected, the NexGadget Garmin Charging Puck seems to work better than most. There are a number of other sport watches I would recommend.
Timbuk2 Classic Messenger (Small) is just the right size for my day to day needs with just the right amount of organizational pockets. I used an almost identical bag from 2001-2018. It was still functional but looked pretty tired when retired. After a couple of years trying daypacks I am back to this bag. I prefer courier style bags over backpacks because they are easier to access on the go and leave my back with more ventilation. I appreciate the water resistant fabric and that the fabric is heavy enough to retain it's shape, but light enough not to be a burden.
Nicore NU25 rechargeable headlamp* Very light-weight when the headband is replaced with cords. Good regulation, bright enough for trail running, a decent electronic lock so it doesn't turn on accidently. I have a post about other good flashlights. Use it for when I am running in the dark and it has been a backup for when I forgot to recharge my bike light. This was a spurge purchase… my faithful ZebraLight H51 was fine, just a bit heavy / bulky.
Flowfold Minimalist Wallet which holds my IDs, 2 credit cards, and a few bills taking up minimal space. The Nomatic Wallet is another good minimalist wallet.
Pilot Precise V5 Extra Fine Pens with it's smooth rolling extra fine lines and Post-It Notes for jotted down ideas until I can get them into an electronic system. Alas, the V5 leaks after pressure changes in commercial airlines. When traveling I switch to a Uniball Roller which doesn't come in black nor as smooth rolling as the Pilot but doesn't leak.
Victorinox Rambler Pocket Knife is the smallest, most usable tool I have found with a phillips head & flat screwdriver, scissors, knife, bottle opener, and nail file. When flying I switch to a Swiss+Tech Utili-Key which is not as usable as the Rambler, but for years has made it through TSA checkpoints without being confiscated. I have notes on other knife options.
Apple iPhone SE on Verizon. Last year I was using a Xs, but was just too big to hold comfortably. I "upgraded" to a SE. While the screen and especially the camera on the SE isn't up to the Xs standards, there are several advantages besides size: battery life, a headphone jack, and the touch unlock works better than the face unlock.
Apple AirPods have decent sound quality while letting in ambiance noise providing situational awareness, stays in place during exercise, no wires to get tangled, has good user interface. They aren't rated for water resistance, but after more than three years of using them while sweating heavily, rides and runs in the rain they continue to function. Originally the ear buds ran 5 hour, fully recharges in 20 minutes, with a carry case which can recharge them 4-5 times. After three years of daily use, the right bud lasted last than an hour until I paid $98 for Battery Service (which is really a replacement).
Macbook 13″ Pro Laptop. I have tried using tablets but still find myself prefering a real laptop. I would love to find a lighter and more compact laptop, but I like 13" screens, and am still pretty much committed to OSX because it has the applications I use and the good integration with iOS devices.
Tech "Survival Kit" which is stored in a small pouch from muji. RAVpower Portable Charger/Flashlight is small enough to fit in my pocket while proving power to recharge my phone. Aukey Ultra Compact USB Charger is one of the smallest chargers with two slots and up to 2.4A amps. Anker 30w GaN USB-C charger which isn't fast but sufficiently powerful to recharge my laptop while I sleep and power it while I work. 6" USB Lightning, USB micro, and USB-C cables with some adaptor tips which let me connect pretty much any two USB devices.
Zojirushi Double Walled Mug (1 + 1*) can easily be used one handed, locks so it doesn't open accidentally, pours at the perfect speed, the mouth is wide enough for ice cubes, and best of all does a better job insulating than any other double walled mug. I have a Deep Cherry color mug which I picked up after misplacing my silver mug at work. The striking color make it easy to spot when I forget it in a conference room. My silver mug which I eventually found I use everywhere else. When flying you can fill the Zojirushi with ice (no water) and get through TSA security. Once through, add water and you can have icy cold water for your flight. Zojirushi makes a number of other excellent styles of mug and Snowpeak makes a beautiful Titanium double walled mug.
AWS AC-650 Digital Pocket Scale (not shown) is a small scale which makes it easy to weight food on the go.
Bathroom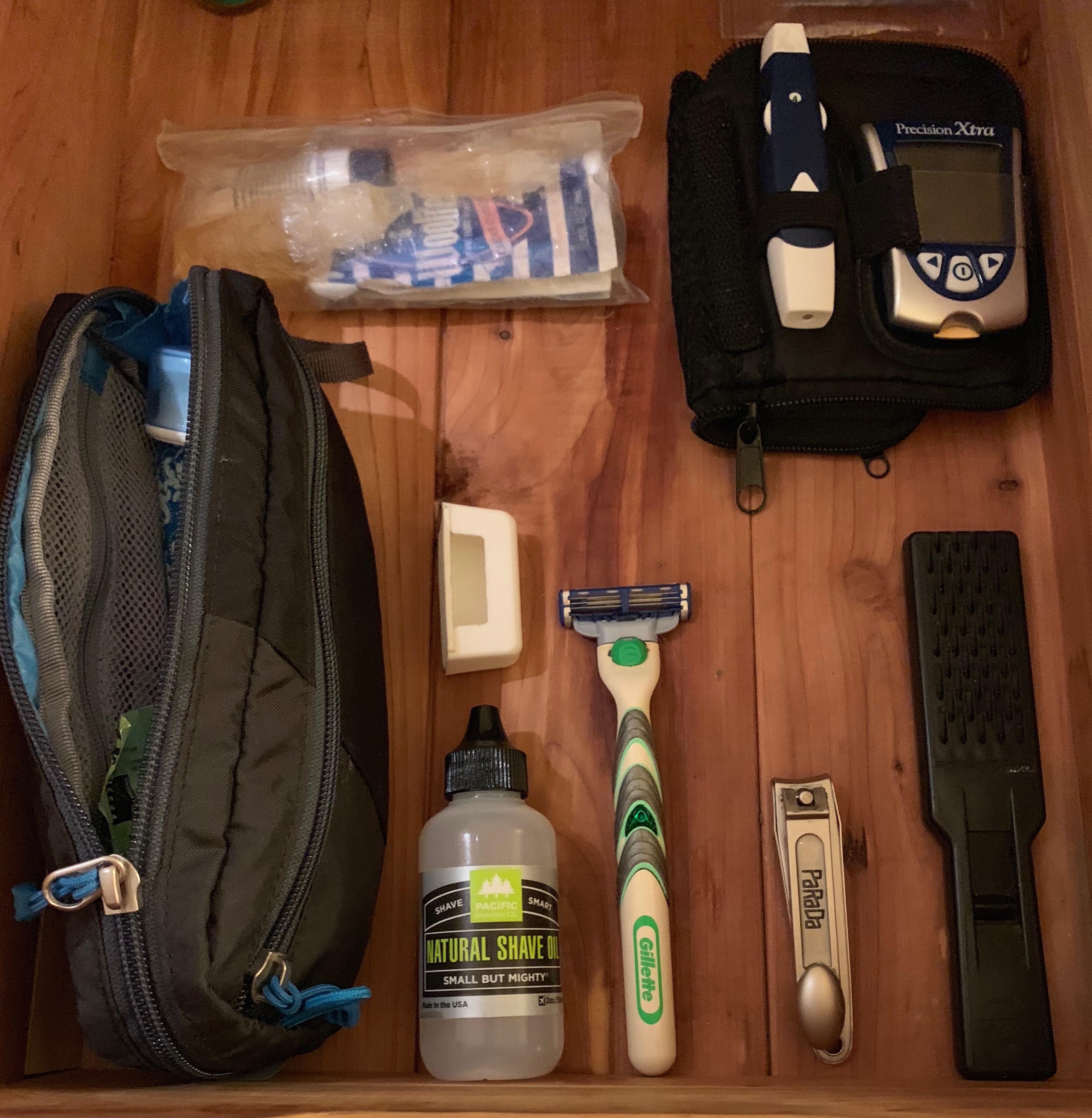 REI Micro Shower Bag is the perfect size for my toiletry kit while providing just enough organizational features to make it easy for me to find everything quickly. Holds all bathroom items when traveling. Inside has first aid kit which includes waterproof Band-Aids, antiseptic wipes, anti biotic cream, superglue, a couple of safety pins. Small size HumanGear GoTubb to store aleve and a few nyquil caplets and a Violife Slim Sonic toothbrush.
Ziplock bag with two weeks work of supplies: dropper bottles filled with Dr Bronner Soap, Shaving Oil, shampoo, skin lotion, and a few single use woolite packets
Listerine Floss (not shown) is the most effective dental floss I have used. Gentle to the gums while still getting plague and food wedged between teeth out.
Gillette Mach-3 Razor + Pacific Natural Shaving Oil. I am sure there are better razors and many people would suggest that shaving oil is a prep step which should be followed by shaving cream… but I have found this combination effective, reasonable cost effective, and compact when traveling.
PaRaDa Nail clipper with a trimmings catcher to make cleanup easy.
Retractable Bristle Hairbrush which is compact but effective.
Precision Xtra Ketone and Blood Glucose Meter* for times I am fasting or engaged in a new diet and want some objective data.
Withering Body WiFi Scale (Not shown) makes it easy to track weight which is well integrated to Garmin, Fitbit, MyFitnessPal, LoseIt, and numerous other health tracking eco-systems.
Oral-B/Braun 6000 Electric toothbrush (Not shown). Oral-B and Sonicare both make excellent toothbrushes which are significantly more effective than using a manual toothbrush. Replaced a model 4000 whose batteries were dying.
Bucky 40 winks Sleep Mask (not shown) which lets me get an extra hour of sleep in the morning because the sun coming up doesn't immediately wake me.
Sports & Travel
Tom Bihn Synapse-25 Backpack (shown below) is my luggage when traveling. Wonderfully designed with just the right amount of organizational features. Large enough for nearly every trip I have taken, while small enough that it fits under every seat I have used and has never been viewed as "luggage" by transportation operators. The laptop cache works brillantly. Have notes about other travel packs.
Patagonia Ultralight 15L Courier Bag (not shown) is perfect size for day use and compact enough that I can pack it away in my backpack when moving between towns. Easy access without taking it off, in hot weather maximized ventilation, and can be used at the same time that I am carrying a backpack.
Matador Freerain24 2.0* (not shown) replaced v1 which wore out after 2 years of nearly everyday use. Weights only 5.5oz, carries well. easily folds into it's own pocket, and keeps contents dry even in the worst rain. Used for done in a day activities and for when I run rather than bike to work.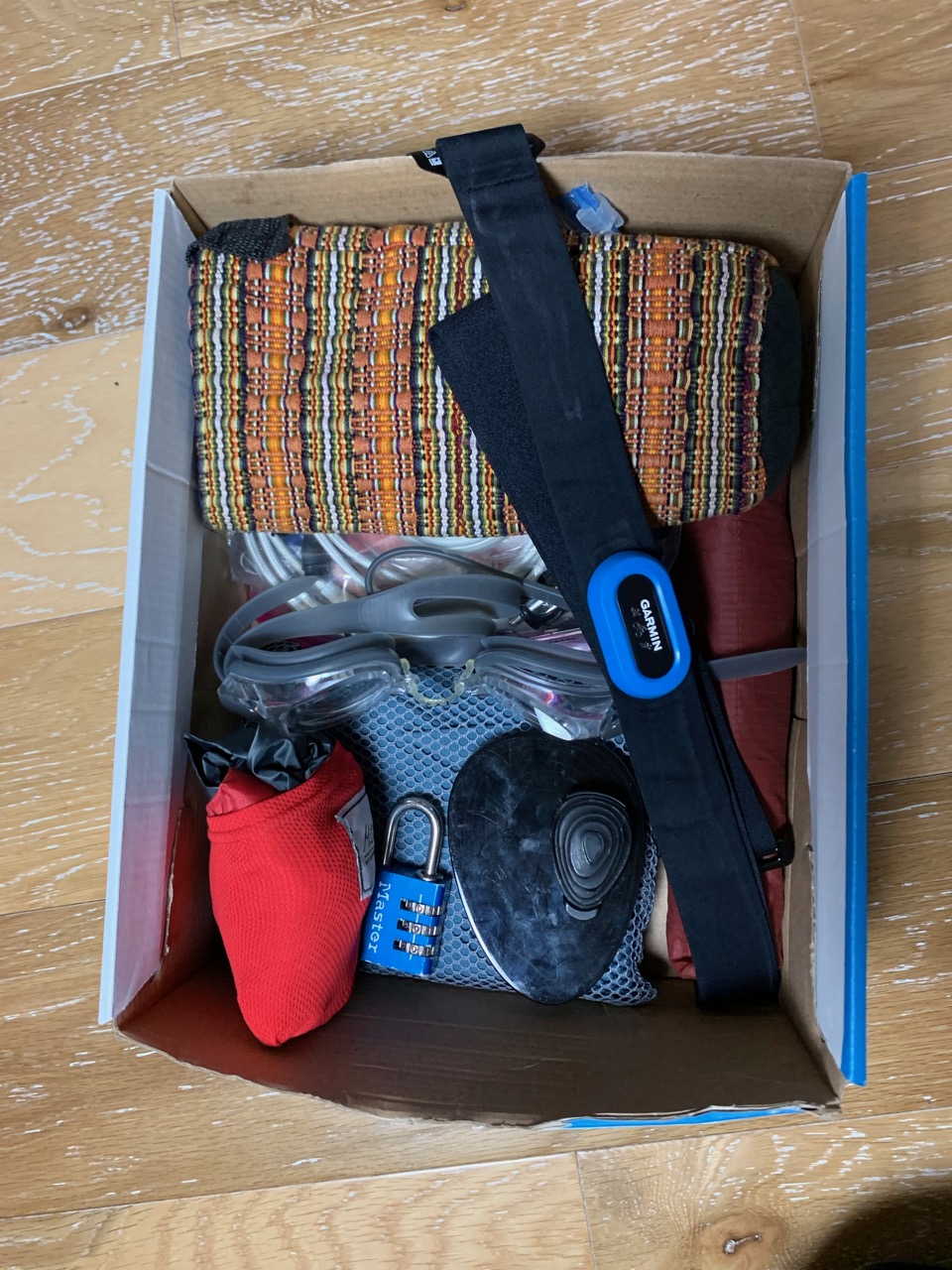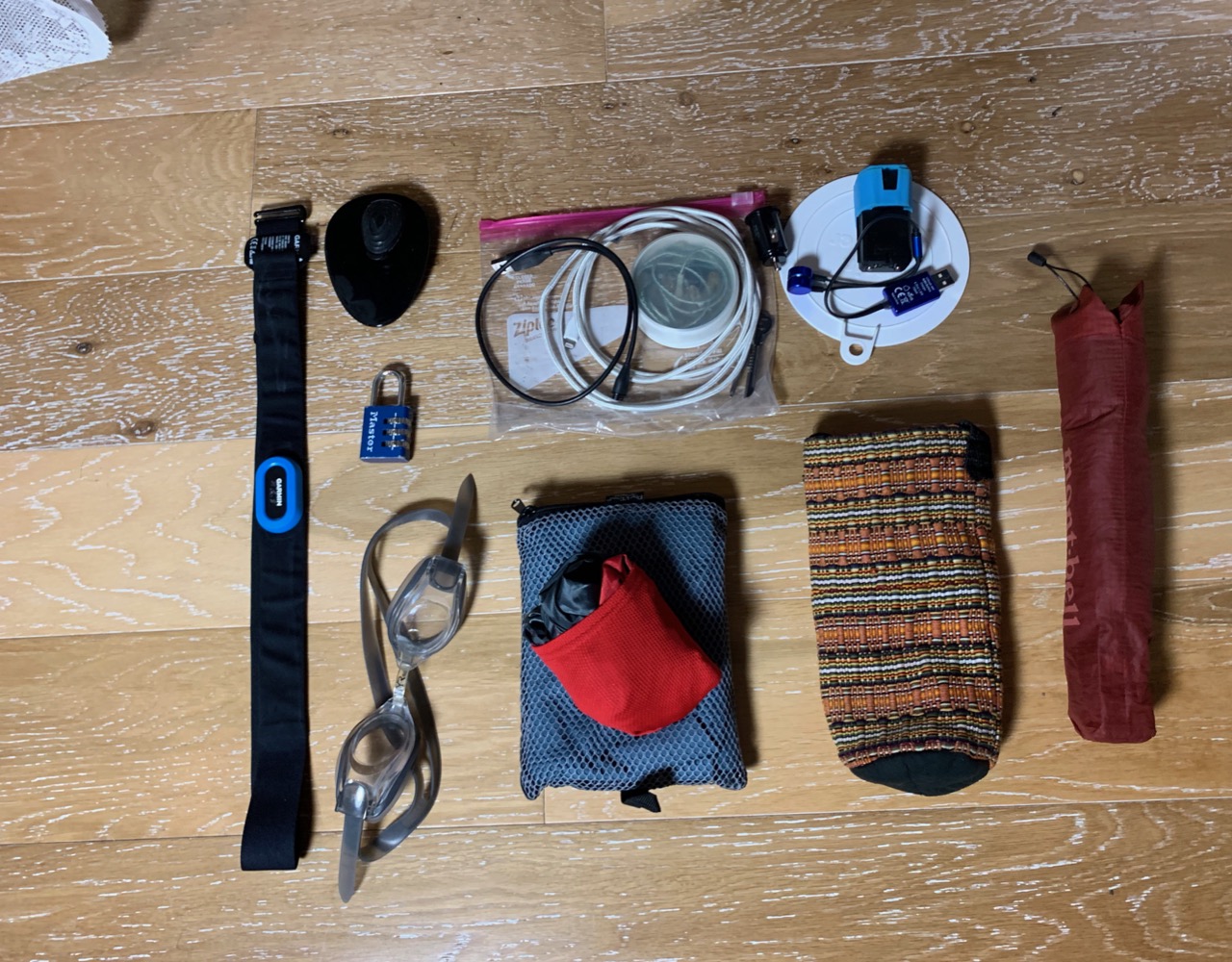 Garmin Swim Heart Rate Monitor strap because optical heart rate monitors aren't sufficiently accurate for HRV measurements and aren't responsive enough to track interval training. Switched from Wahoo Fitness TickrX because it became inaccurate for me after a hour of heavy sweating and I can use it swimming. Most people would find the Tickr adequate, and there are plenty of other good HRM including Viiiva which can be used to bridge other sensors between BlueTooth and ANT+.
Stryd Footpad* captures run's intensity better than using pace or heart rate. The Garmin Running Dynamics Pod might be a cheaper way to get the same sort of data. The RunScribe Plus now syncs to Garmin and other eco-systems and might provide more actionable insights about running form that other running power meters.
Small combination lock for use at the gym
TYR Corrective Optical Performance Goggles so that I can actually see when I am swimming.
PackTowel Ultralight (Bodysize/XL) dries amazingly quickly, is compact, and is very effective. The XL is large enough that I can wrap it around my waist like a small sarong. For awhile I used a medium/face size which packs in a tiny space. I found the face size sufficient for me to dry myself after a swim or shower, but I am willing to carry a larger towel for the added versatility and ease of use.
Matador Pocket Blanket* for trips to the beach.
Westone 5ES custom In-ear-monitors (IEM) with excellent sound quality and comfortable enough to wear on 14 hour flights. They reduce noise by 35db which makes travel much less fatiguing while being much smaller and having better sound quality than active noise canceling headphones. Stored in a medium size HumanGear GoTubb with adapters.
Extra Charging Cables, sink stopper, Micro International power adapter. If I was doing more international travel, I would drop my power adapter and swap my every day USB power supplies for the Card Travel Adapter which looks really nice and was recommended by Tynan in 2020.
Olight Universal Magnetic Battery Charger powered by USB, and can be used with pretty much any size battery, and charges both 1.5V NiHM, 3.6 & 3.7V LI batteries for trips when I need to recharge batteries.
Water Bottle Sling Nancy brought back from South America. Great for days I just need water and nothing else. Sometimes borrow Jackie's (my wife) Chico Water Bottle Sling because it can hold water bottle + umbrella or windbreaker.
Montbell Trekking Umbrella has the best balance I have found between small/light and canopy size. It has survived 40mph wind/rain storms but eventually one of the ribs has broken. In warm to hot weather much more comfortable than wearing a rain jacket but doesn't adequately protect my legs in a hard rain.
Yeesam Prescription Snorkeling Mask* (not shown) which lets me actually see underwater life when snorkling rather than just blurs.
Clothing
I have notes about selecting clothing for an active life which goes in detail about how to select clothing for a wide range of activities and conditions.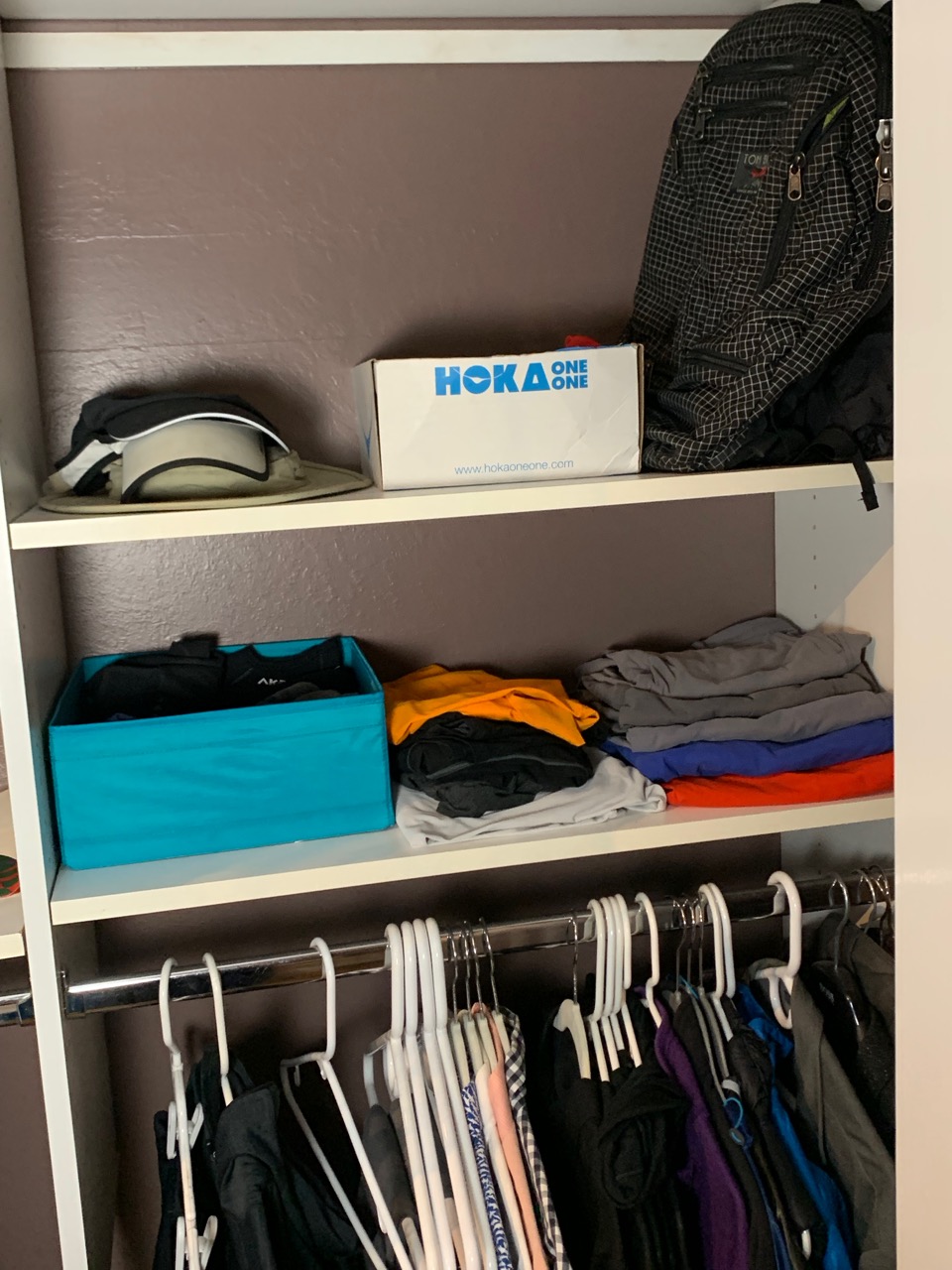 Tilley LTM6 Hat provides good sun protection while offering decent ventilation. I think it's one of the more stylish hats which provides good sun protection. Jackie says I am wrong… that the OR SunRunner I used before was better looking. I have a list of other hats that you might prefer.
REI eVENT Rain Hat: a discontinued ball cap made from waterproof / breathable eVENT. Used when hiking or running when I know it's going to be raining.
Visor: keep sweat and sun out of my eyes while maximizing cool my head on runs.
Mountain Hardware Grub Gloves (not shown) medium weight PowerStretch gloves with a quilted mitten cover which folds away into the back of the glove making it comfortable to wear in a wide variety of conditions.
Columbia/Montrail Titan Trailrunning Shirt: Omni-Freeze fabric that helps cool when working out in moderate to hot conditions. Super light weight and breathable. Anti-stink is reasonable.
Icebreaker Anatomica Tee-shirt (4) merino wool with just a bit of lycra for a body hugging fit. This tee-shirt fits me perfectly, looks good, is super comfortable, doesn't smell after several days of wear on the road, and dries fairly quickly. There are two downside. First, they are pricy. Second, they don't work as well as synthetics when engaged in high energy activities where you are sweating a lot. There are a number of other good merino wool shirts from Smartwool, Outlier, and Wool&Price.
White Rashguard Long Sleeve Shirt to protect my skin from sunburn when swimming and snorkelling.
Outlier New Way Shorts (4) are nice looking shorts which fit me perfectly, don't have cargo pockets, are durable and dry reasonably quickly. They are pricy but I haven't found any shorts I like as much.
Bluesmith Spartan Board Shorts* for trips where we are spending all day by the ocean. The Ripcurl Global Entry might be a great alternative.
De Soto Mobius Tri Shorts (not shown) works well cycling, running, and swimming. They are comfortable for all the activities I engage in, in a wide range of conditions. They have reduced issues with chaffing, dry fairly quickly, and are reasonably comfortable when wet. They have side pockets large enough to hold some nutrition and my phone so I don't need to use a special cycling jersey. I never need to think about what shorts to wear for vigorous physical activities…. I just grab my pair of Tri Shorts. Replaces a pair of Zoot Tri Shorts which wore out.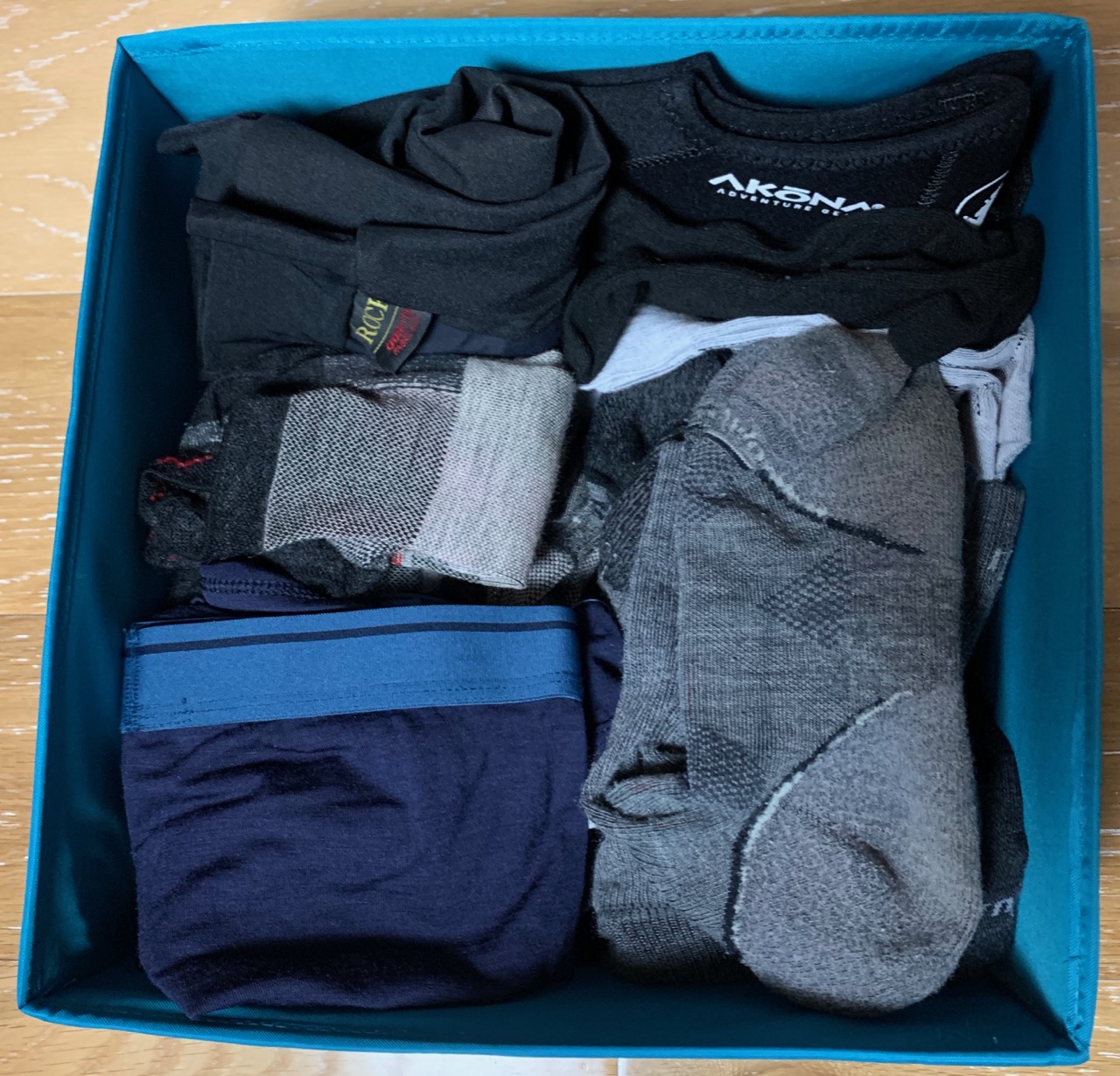 Icebreaker Anatomica Briefs (7) the most comfortable underwear I have worn. Earlier version developed holes after around 100 days of wear… the newest pair which has a bit of nylon with the wool has so far made it 150 days of use without holes. Some people prefer boxer style but I see no reason to have extra fabric on my thighs. Good alternatives are the synthetic travel oriented briefs from Ex Offico and the comfortable but expensive underwear from Saxx.
Darn Tough Socks (8) are unsurprisingly durable since they come with a lifetime warranty. I found they fit and perform very well and come in a wide variety of thicknesses, lengths, and colors. I like the endurance light socks. Icebreaker and the Smartwool PhD line are good alternatives.
Injinji Ultralight Toe Socks (2) for long distance runs / hikes. Generally I prefer wool, but I found wool toe socks get holes very quickly so I use the CoolMax, original weight version.
Rocky Gore-Tex Socks are the best way I have found to keep my feet reasonably clean, dry and warm in messy back country conditions. Often worn with Keen sandals to maximum breathability and speed drying once they are out of the water.
Akona 2mm Neoprene Socks which protect my feet when using flippers or with Keens if I am on a trip which is constantly going in and out of water.
Alta Running Supreme 3* trail running shoe which are light weight with a fairly grippy sole for mixed trail conditions. Generally I use my Vapor Glove unless I am expecting to need more than normal traction. Alas, Alta is following New Balance playbook… changing shoes so quickly that you had better buy 10 of whatever shoe you like, because they might spoil what you like in the next generation :(.
Merrill Vapor Glove 4: are the most minimalist running shoes I have found that fits me, "like a glove". Sole works on road and on many trails. For people who need some cushion check out Alta Running, Topo, or if you need extreme cushioning Hoka OneOne.
Keen Clearwater CNX are the lightest sandals Keen makes. I liked the minimalist sandals made by luna and Xero Shoes but the toe protection of the Keens makes them a clear winner for me. If worn with gray socks they can "pass" for shoes. Comfortable in a wide range of conditions.
Vivobarefoot Gobi II are comfort, light weight, zero-drop, minimalist ankle boots which can be worn with casual clothing and Jackie tells me they are acceptable to wear with a sport jacket, but not a full suit).
Carots Shoes are formal looking zero drop shoes. These are the only minimalist shoes I have found that looks like traditional dress shoes (heels and and tapered toe) that are sufficiently comfortable for day long wear.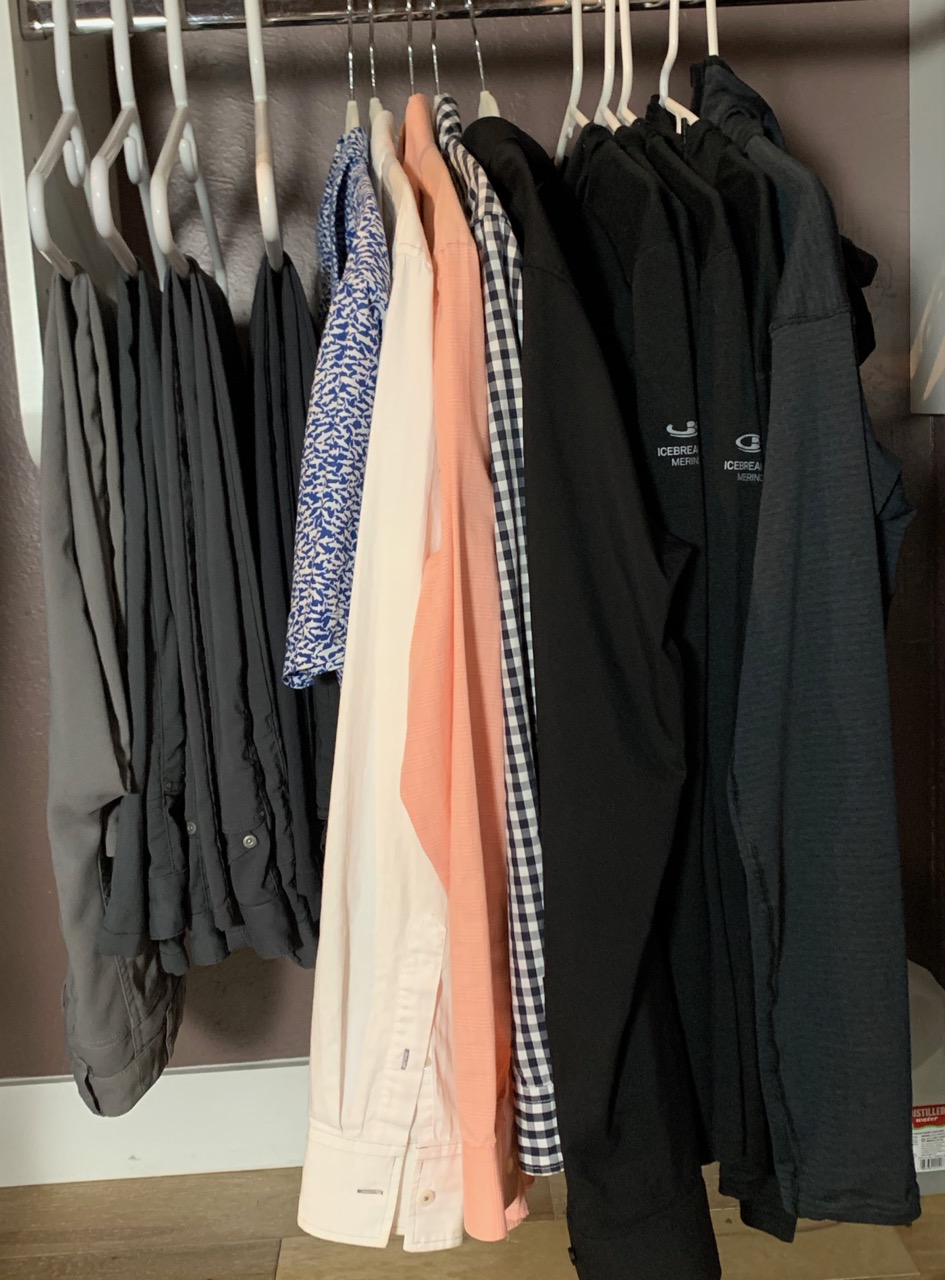 Outlier Slim Dungarees (4) Soft shell pants in the style of jeans. Wonderful fit, looks good, excellent mobility. Thanks to the NanoSphere treatment very stain and water resistant. They are perfect except when it's >80F and I am active. They seem pricy, but the per day cost of wearing is about the same as denim jeans. Maker&Rider and Wool&Prince makes a nice alternative.
Toni Richards Hawaiian Shirt because everyone needs at least one shirt for "Hawaiian shirt day". I find the cotton lawn fabric used by Toni Richards is more comfortable than other materials when it's hot and humid.
White Dress Shirt for when I need to be dressed up.
Peach Button Up Shirt* for when Jackie wants me to wear something at is a bit different than normal.
Black/Grey/White Checked Button Up Shirt* for when Jackie wants me to wear something different.
Outlier AMB Merino Wool Button Up Shirt for when I want something a bit more dressy than a tee-shirt or hoodie but don't need to wear a suit.
Icebreaker Wool Hoodie: (4) Oasis 200wt merio wool hoodie with 1/4 length zipper. Worn when it gets too cool to wear just a tee-shirt. Icebreaker has discontinued this model. Also have 3 in storage which will come out when these wear out.
Patagonia Capilene Thermal Weight Hoody for cool/cold weather outdoor activities. Without wind protection the grid weave lets air flow through letting heat vent out. With a shell it insulates well. Comfort down to 30F when running without a shell, below that with a shell. When walking around town keeps me comfortable down to 40F when combined with a wind shirt. I am reasonably comfortable engage in high energy activities when it's 65F by fully opening the zipper and pushing the sleeves up to my elbows. Dries amazingly quickly and feels more comfortable than any other shirt I have used when it's wet.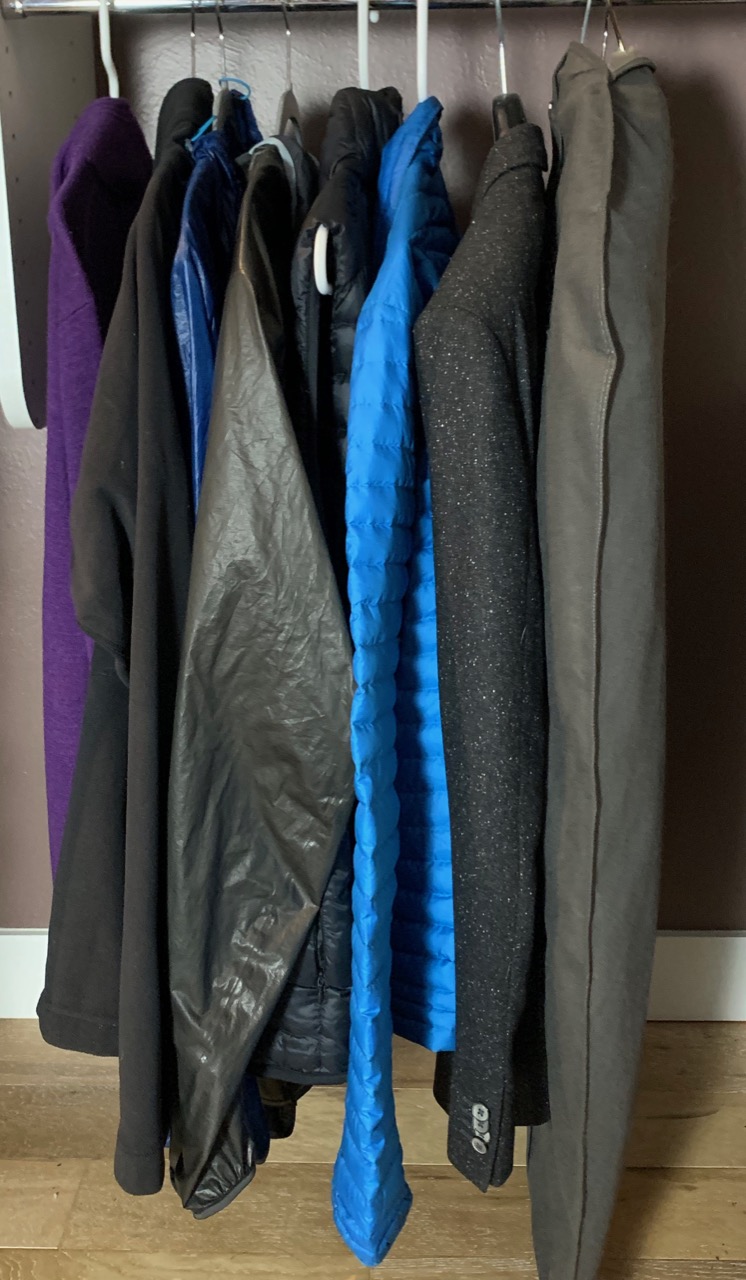 Mid-Weight, Purple Merino Wool Sweater* for cool days or when I want to wear something that isn't black.
Montbell Chameece Inner Jacket is a very light weight fleece. About the same warmth as my sweaters but much more convenient to put on and take off.
Montbell Tachyon Windshirt a 1.8 ounce wind shirt that can be compressed into something slightly larger than a cliff bar. Windshirts, especially when combined with a air permeable middle layer provide comfort over a huge range of conditions. Maybe should list in my "Everyday Carry" section since I alway have it with me.
ArcTeryx Norvan SL (2019 model). Ultralight and ultra-breathable rain jacket designed for trail running. The most breathable jacket I have used. Previous model had a problem with the zipper leaking. ArcTeryx upgraded me to the current model free of change. Other options are discussed in my post about rain gear.
Zpacks Vertice Rain Pants (not shown) are simple, light, breathable, waterproof rain pants. Used when commuting by bike, hiking, or backpacking in the rain.
Uniqlo Ultralight Down Vest is decent quality, low price, with just the right amount of insulation for me. Combined with my sweater and a shell keeps me warm enough in the coldest weather I encounter in the SF Bay area.
Patagonia Down Shirt* with 23andMe logo. A jacket which provides adequate insulation for around the town use in the SF Bay Area. Allows me to show my company spirit and Jackie thinks it looks better than the combination of the above items. The Patagonia Micro Puff Hoody using PlumaFill insulation would be better for back country use thanks to it's superior water resistance. The Montbell inner down jacket continues to be the price performance champ, and Uniqlo's down jacket is a good alternative for someone on a tight budget. The ArcTeryx Photon LT looks like a great alternative for cool weather, active insulation.
Boss Blazer Jacket used when going out and it's appropriate to be wearing something more dressy than a hoodie, but a full suit is too formal. On cool evenings I sometimes wear the blazer over my shirt rather than taking a more traditional "outdoor" jacket.
Boss Wool Suit slim/european cut. Fits me perfectly though not bespoken. First suit that I wear rather than the suit wearing me. Light enough that it's usable in the summer. I use it anytime I need to be dressed up: weddings, funerals, special nights out on the town. Have two ties… one that is "serious" and one that is "fun"
Backpacking / Winter Clothing
I have a 3-season packing list which makes use of a number of the items on this list and has several items which are specific for backpacking. In addition to the items on my backpacking list, I have several items which come out when I am heading to the mountains and expect snow.
Patagonia Cap 3 Tights: which go under normal pants and/or rain pants when facing below freezing conditions.
GoLite Snow Cap: polarguard insulated bomber style hat which can be layered over other hats. Fairly windproof, warm, and light weight.
Outdoor Research Meteor Mitts: which have a removable 300wt fleece inner mitt which folds back to let you use your fingers and a durable, waterproof shell.
Gaiters: for keeping snow out of shoes/boots and the lower legs dry.
Bicycling Stuff
Cervelo R3: pricy but amazing road bicycle. Comfortable enough for an endurance ride, but responsive like a race bike. Fitted with an Infinity Seat, and a small seat bag which holds a pump, inter-tube, bike tool, and 2 tire levers. Moots makes some great Titanium bikes but you have to special order them.
Giro Air Attack Shield Helmet provides protection, good ventilation while having a very streamlined aerodynamic profile. Has snap on optical shield which is great because with my eye prescription, it's hard to find sports oriented sunglasses. If you ride a bicycle, wear a helmet!! I am alive today because I was wearing a helmet when I was in an accident. Giro has newer models which have better ventilation and aerodynamic profile and also cheaper models that will protect your head just as well for less money.
Felix BC21R Bike Headlamp which was purchase when my Expilion 850 was stolen. The BC21R uses a removable 18650 rechargeable battery. I think I slightly preferred the quality of light from the Expilion, but the BC21R works well enough to stick with it, and I do appreciate that the battery can be charged outside light housing.
Power Tap P1 Pedals because I like objective measures about how my physically condition is changing. The Garmin Vector 2 pedals integrate better into the Garmin eco-system, use standard Keto cleats, and are lighter / more streamlined at about the same price point.
Bicycling Shoes with Cleat for PowerTap peddles.
Wahoo Fitness Kickr* is a trainer for when I don't want to hit the road. Integrated power meter and variable resistance which can be controls via ANT+ or BlueTooth. Wahoo built the Kickr with an open API so there are numerous companies which have applications which can control the Kickr.
Electronics
Several items that used to be on my list has been moved to our family list.
Nekteck 4-port 72W USB C Charger with 1 USB-C and 3 traditional USB ports which allows me to charge every device I use on a daily basis from a single power brick, including the 13" MacBook Pro from work. When the MacBook Pro isn't being charged can rapidly charge all my devices.
Kindle Oasis lets me carry the majority of my library with me and every book can be displayed with large print for my aging eyes. Love being able to quickly search for notes / hi-lighted passages. I miss physical books and knowledge retention with paper books is still better than when using an e-reader, but the connivence of the Kindle outweighs this for me. Replaced a PaperWhite because the Oasis ergonomics allows reading with a single hand.
RAVpower 6700Mah USB Charger for when I need to power devices for a couple of days or for long flights without USB power in the seat.
Radsome EarStudio ES100 bluetooth/DAC/headphone amplifier allows me to use Westone IEM (or other wired headphones) with devices missing a headphone jack. The ES100 is tiny, with good sound quality (though Chord Mojo is noticeably better) and can even drive Sennheiser HD800 to reasonable sound levels.
Sennheiser HD800 Headphones* for when I want very high quality sound and don't want to bother others too much (sound does leak). These are the second best sounding pair of headphones I have ever used, at 1/3 the cost of the best (Stax SR-009). I have a headphones post with additional information.
Chord Mojo DAC* offers a nice design, good quality sound, good price / performance ratio, portability, has enough power to happily drive Sennheiser HD 800, and has an internal battery which enables it be driven via USB from phones and portable DAPs. I have written about other DACs.
Sentimental
There are a several items I have kept as a specific way to honor people I love.
Libby's pins of a nativity scene and of a mother and child. Originally worn by Libby on special occasions they became daily decorations for the hats she wore during chemotherapy. They remind me of Libby's courage and the two things most important to Libby, family and Jesus.
Carl's Rolex Oyster Watch to remember his craftsmanship, love of teaching, and ironically his frugality.
Jules' sculptures of musicians made from nails because he passed on a love for music and art.
Wool Blanket (not shown) Originally owned by Carl or maybe even my grandfather. It has been on countless fishing and camping trips and to virtually every picnic and outdoor concert I have ever attended. Everytime I see the blanket I think of my dad and many wonderful moments.
CatBus Plushy (not shown) given to me my Jackie because it reminds me of the gentle film My Neighbor Totoro which has delighted my family. I wanted a real CatBus, but no one can find one for me 🙂
Potentially Retired
The following items weren't used in the second half of 2019. I have put them aside, to see if they get pulled back out.
Wool and Prince Blue Oxford Shirt Slim fit, crisp look while still having all the advantages of 100% wool. I haven't really needed a light blue color shirt (e.g. I do casual or dressy, never business casual).
Outlier Air Forged Oxford Shirt Fits me well, made from durable nylon weave so it dries quickly and doesn't wrinkle when traveling while looking nicer than many "travel" shirts. Hasn't been used because I live in wool tees or hoody when traveling.
Grey Cashmere V-neck Sweater* for fall and winter evenings that when I should wear something a bit more dressed up than my wool hoody and/or want more insulation.
Smartwool Full Zipper Wool Fleece* with 23andMe logo. Team swag. Very nice, but I prefer the mobility of my 23andme Down Sweater which is approx the same warmth
Westcomb Focus LT Shell made with 2.5 layer eVENT DVT. The most breathable shell I had focus which was durable enough for backpacking. Been using on and off since 2012. Largely been replaced by Norvan SL which is more breathable but fragile.