Items that I removed from my personal gear list because we have them for the general family. This list is incomplete. Will be updated later.
Electronics
Roon software isn't really an item, but it effected many of my decisions related to audio playback. Roon integrates my iTunes library which is made up of CDs ripped using ALAC codex with the TIDAL streaming service to provide loseless audio to multiple speakers around the house. Roon would be perfect if the remote clients supported off-line caching of music so playlists and favorite music was accessible when out of the house. I carry music on my phone by exporting play lists from Roon to TIDAL, and then use the Tidal client on my iPhone to do offline playback. If I didn't care so much about sound quality the family would use Sonos speakers combined with Spotify for whole house music.
Pulse Flex Wireless Speaker allows me to have syncronized whole house music since it's Roon Ready. It also supports inputs via USB, Bluetooth, AUX, a number of streaming services like Spotify, and many free sites via URIs.  Has a decent iOS and Android remote control app. Controls on the top let you select one of 5 user-defined "channels" without using the remote. I have the optional battery pack so it can be used in our backyard. It can be used away from it's home, but you have to reconfigure it's WiFi settlings which is a pain. Sound quality is significantly less than KEF LS50. For people who aren't using Roon, I would recommend Sonos: for it's lower price point, better streaming options, and slightly more processed sound quality which everyone but audio purists like me typically prefer.
JBL Pulse Bluetooth Speaker for when we want music for a group and we away from home.
La Crosse Battery Charger which does a great job charging any combination of 1-4 AA or AAA batteries. Eneloop Pro Batteries are the best rechargeable batteries I have found. Near maximum capacity for the form factor while retaining most of their charge for months.
Brother MFC-J880W Multifunction Printer, Scanner, Fax, Copier has been a reliable device for me unlike several other multi-function devices which failed within a year. WiFi enabled, supports AirPrint, Google Print, and several other standards.
LG OLED55B6P SmartTV for family / friends movie night and other group activities that use a screen. I would be content using the screen on my laptop or even iPhone for the occational video streaming I watch. That said, the picture quality is amazing and the webOS based controls work well.
Outdoor / Car Camping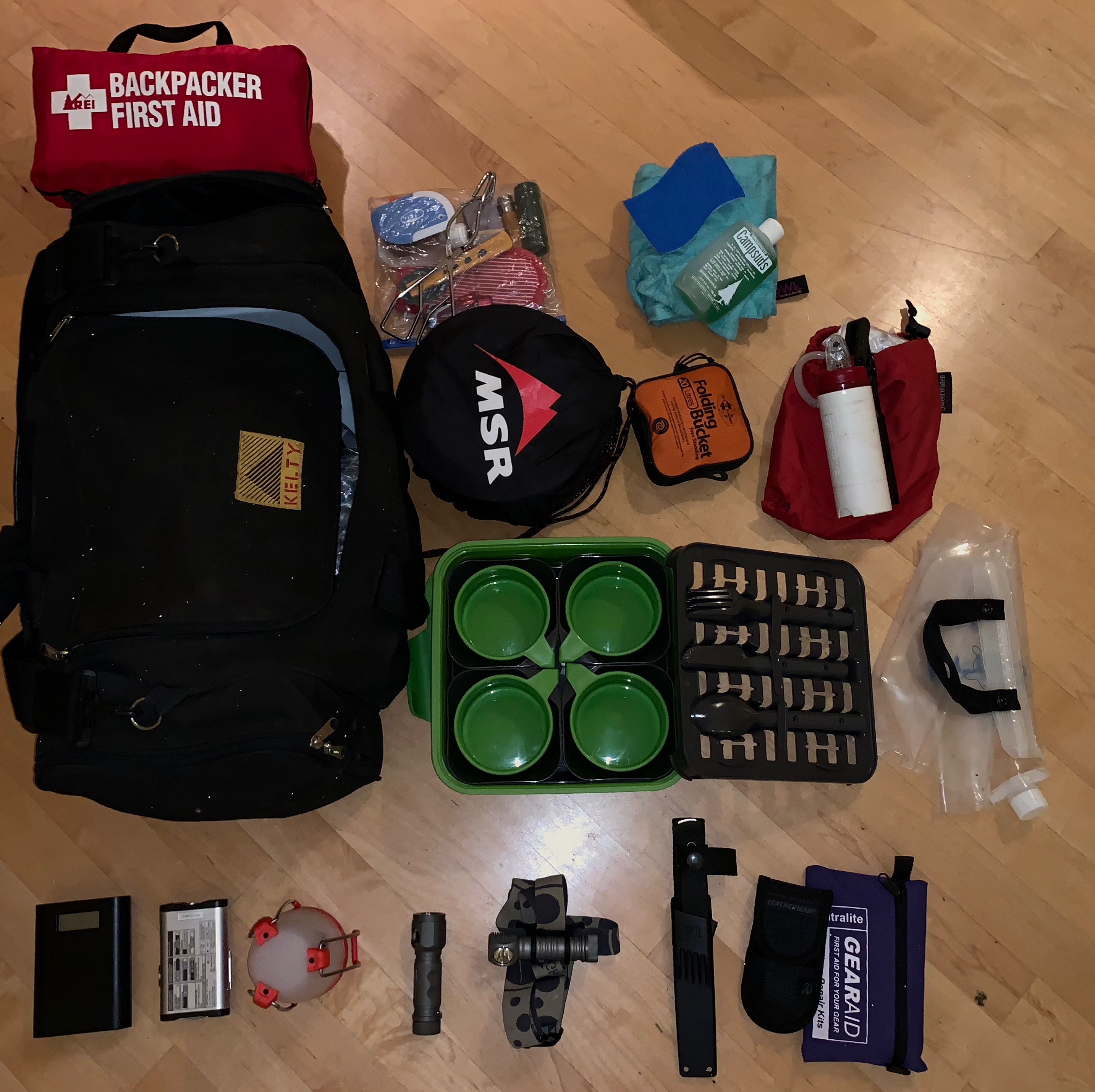 Duffel Bag with three compartments which I use for first aid supplies, my "outdoor kitchen" + water treatment/holding, and finally lighting / repairs. Items held in the duffel listed below:
Misc utensils for kitchen: matches/lighter, mixing spoon, strainer, can opener, pot holder, etc
Packtowel, Scrubbing spong, Campsuds
MSR Duralite Cookset. Inside also my cookset for group backpacking trips: 1.3L Evernew Ti Pop, Snowpeak GigiPower Stove, Fuel Canister, Silicon Bowl/Cup, and MSR folding Foon.
Foldable Water Bucket, Water Filter, Playtus Water Containers
REI Dinnerware Set for 4 including wash basin, drying rack, and cutting board
Plastic Dish tub (not shown)
Trashbags, Foil (not shown)
18650 Batteries in Charger which doubles as USB power supply. AA Batteries in a Charger which doubles as a USB power supply
Zebralight SC600 Flashlight, and H600 Headlamp which use 18650 batteries. There are several other flashlights and headlights I recommend.
Black Diamond Apollo Lantern which is a perfect size and amount of light for car camping or emergency lighting in a house in the case of a power outage. Built in rechargeable battery with the ability to use three AA batteries if the internal battery has been fully discharged and you need light.

Fallkniven F1 fixed blade knife and a Leatherman. There are numerous other good knives I would recommend.

Gear "Repair Kit" with zippers, glue, grommets, rope, safety pins, etc.

Insulated Wine Tote (not shown) which is a good size for a bottle of wine, some snacks, and a couple of glasses for two person picnics in the park.
Zojirushi Mr Bento Lunch Jar for hot and cold lunch, snack, dinners on the go.
Kitchen
KitchenAid Immersion Blender for many mixing, blending, and whisking tasks. There are better models on the market, but this one is good enough for my needs.