Throughout his career, Carl M. Verber, professor emeritus in ECE, was one of the international giants in the field of optics and photonics. On Monday, October 7, 2002, this field lost one of its great minds, when Dr. Verber died of heart failure at Select Specialty Hospital. He was 67 years old.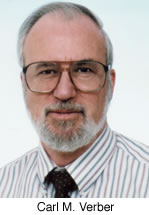 Born on May 20, 1935 in New York City, N.Y., Dr. Verber earned all of his degrees in physics, with his Ph.D. from the University of Colorado at Boulder in 1961, his M.S. from the University of Rochester in 1958, and his B.S. from Yale University in 1955. Because Dr. Verber was in an advanced program in high school, he actually started his undergraduate program at Yale without ever receiving his high school diploma.
Before coming to Georgia Tech, Dr. Verber was a physicist at Battelle Columbus Laboratory in Columbus, Ohio from 1961-72 and was then named a senior research leader for the organization, a capacity in which he served from 1972-86. According to his longtime colleague, ECE Professor Emeritus Richard P. Kenan, Dr. Verber was the first person to achieve the rank of senior research leader, which is the highest research position that a person can attain at Battelle.
Together with Dr. Kenan, Dr. Verber pioneered some fundamental techniques in integrated optic structures and applications and with making some of the first electro-optic computing devices. Dr. Verber was very innovative in devising novel integrated optical concepts to perform specific and useful functions, according to Dr. Kenan, and led Battelle into this area in the early 1970s. He pioneered the development of components for optical computing, including the use of electro-optic gratings to perform systolic processing functions. The very first integrated optical circuit that performed a complex signal function was developed for NASA in the group that Dr. Verber founded, the Optical Sciences Group, at Battelle.
"Carl was an exceptionally generous, patient, and considerate colleague, and his mind was finely attuned to what was important and was doable," Dr. Kenan said. "He would often come into my office with a problem that he thought we could solve and begin to discuss possibilities. Eventually, he would solve the problem, and we would have a new idea or device for which he always shared credit."
In 1986, both Drs. Verber and Kenan joined Georgia Tech's School of ECE, and about a year after his arrival, he was named the Byers Eminent Scholar Professor, a title he held from 1987 through his retirement in 2000. During his tenure at Georgia Tech, Dr. Verber led the development of the Ultrafast Optical Communications Laboratory, an idea that began as a sketch on a napkin during lunch, said John A. Buck, an associate professor in ECE. "This lab started with a simple idea for a demultiplexer," Dr. Buck said. "He made this idea the focus of a project that involved a consortium of companies and many graduate students, which progressed successfully for many years."
In collaboration with John P. Uyemura, professor in ECE, Dr. Verber developed the Fiber Optics Instructional Laboratory from scratch and acquired current, cutting-edge equipment from companies such as BellSouth, AT&T, and Nortel. "Carl was very dedicated to getting state-of-the-art equipment for the students to use in the laboratory," Dr. Uyemura said. "He and I team-taught it for four years, and he would push students to the limit. The lab is still evolving, but the instructors continue to incorporate his notes."
A Fellow of the Optical Society of America, Dr. Verber also collaborated closely with the Georgia Tech Research Institute Senior Technical Guidance Council, where he helped to identify important new technological thrust areas for Georgia Tech. Though he was world-renowned for his scientific abilities, he was just as highly regarded for his senses of fairness and honesty. "Carl was a great leader that was able to make tough decisions, and you always knew where he stood on every issue," Dr. Buck said. "If he understood a physical phenomenon, you knew it–and if he didn't understand something–he made sure that you knew it, so that you could either teach it to him, or tell him how to find out about it. He engendered a deep sense of trust–that you knew you could rely on his words and his judgment."
Besides being an internationally respected physicist, Dr. Verber cherished time travelling, bird watching, and enjoying good food with friends and family either at his home that was cooked by him or at the many Atlanta restaurants that he loved to frequent. "He was a brilliant man who loved his work, colleagues, and family," said Dr. Uyemura.
A memorial service was held on October 10, 2002 at Callanwolde Fine Arts Center. Dr. Verber is survived by his wife, Nancy, of Atlanta; his daughter, Marilyn, of Columbus, Ohio; his son, Mark, of Mountain View, Calif.; his sister, Carolyn Falk, of Morristown, N.J.; and three grandchildren.