Gossamer Gear Spinnshelter Review
Name: Mark Verber
Age: 42
Gender: Male
Height: 5'10" (1.8 m)
Weight: 180 lb (81 kg)
Email:


Region: San Francisco Bay Area, CA
Date: June 03, 2005 [Minor Updates March 23, 2008]
Item
Review Item: Gossamer Gear Spinnshelter
Manufacturer URL: http://www.gossamergear.com/
Manufacture Year: 2004
Listed weight: Tarp before seam sealing 8.7oz + Stuff Sack 0.2 oz
Weight as delivered: tarp 8.9oz (255g) + stuff sack .4oz (12g) + guylines .1oz (3g)
MSRP: US$174.95
Summary
The Spinnshelter is a great, minimalist shelter which is quite storm worthy. I believe that the Spinnshelter is the second lightest shelter made today which can be used in a storm without a bivy sack, and is 1/2 the cost of the lightest shelter. For several years the Spinnshelter was part of a 13 oz (370 g) shelter system which includes the Spinnshelter, guylines, a Gossamer Gear Polycryo Ground Cloth, and 8 stakes. In bug season I add the 6oz (170 gram) A16 bug bivy. The combination of my shelter and a Rainshield O2 Jacket weights less than my former system: a triple use Tarp/Poncho/Pack cover + water resistant bivy sack that I needed to carry for protection when facing wind blown rain. The Spinnshelter was my primary solo shelter (expect for winter snow trips) 2004-2008.
Things that I liked::
Super-light weight
Very storm-proof when pitched in full lock down mode, eliminating the need for a bivy.
It's possible to get a very taut pitch which doesn't require tinkering to maintain.
Good size for solo hiker
Nice design with pretty lines
Things I don't like:
Not as much headroom as I'd like in full lock down.
Not as quick and easy pitch when compared to a a number of ultra light shelters like the Tarptent Squall.
Description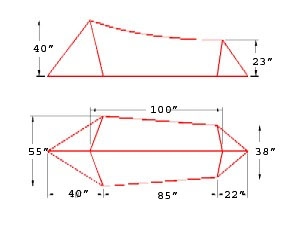 For my complete description of the Spinnshelter, see my Gossamer Gear Spinnshelter Initial Review. To cover the highlights, the Spinnshelter is a shaped tarp designed for a solo user made of a spinnaker cloth which is dull translucent white. The measurements from the manufacturer are accurate. I found that the tarp was a good size for my 5'10" (178 cm). I expect anyone significantly taller than 6 ft (183 cm) might have troubles staying protected from rain without shutting the doors. On paper this is not a large tarp, but I was a bit surprised how long this tarp seemed to be with the vestibules deployed. The vestibule has two sections of hook and loop ties which let the vestibule seal when the poles placed directly into the grommets, or placed further out to give more room. I notice that there is a tendency for the space between the hook and loop ties to have a small gap. I did not notice any spray entering through this gap when facing moderate rain, and very little water leaking into the vestibule area during a heavy rain.
Field Conditions
My original field experience with the Spinnshelter has been at 4000ft ( 1220 m) by Rancheria Falls in Yosemite, below 2000 ft (600 m) in Ventana Wilderness, in the Santa Cruz mountains between 1000-2000 ft (300-600 m), and just above sea level along the Lost Coast in the King's Range. Night-time low temperatures have ranged from between 37-50 F (3-10 C). Wind has varied from dead calm to a constant blow of 20 mph (32 km/h) with gusts which were at least 35 mph (56 km/h). A little less than half the nights had humidity in excess of 90%. Nearly half the night had rain which varied from a light drizzle to a full fledged thunderstorm. In all cases I used my Leki's Nordic Walking Sticks as poles for the tarp and was sleeping under a Nunatak Ghost down blanket. Since I wrote the original review I have continued to use the Spinnshelter for the fast majority of my solo trips, up to elevations of over 14K feet (4260m), in winds up to 50 mph (80 km/h), rain, sleet, and light snow, temperatures down to 10 F (-12 C). I have used the Gossamer Gear aluminum poles on a few trips that I didn't take my walking sticks. I didn't find them sufficiently stiff to allow me to pitch the tarp as taut as I like, but the where sufficient to get a decent pitch when facing moderate conditions.
Performance
The Lost Coast provided the good test the Spinnshelter's ability to stand up to incident conditions. On my first day it started to drizzle around 1pm. The drizzle switched to moderately hard rain around 5pm, a bit before I decided to stop and set up the Spinnshelter. The rain continued until 4am the following morning. It was below dew point from 7pm on. Wind was consistently blowing between 10-20 mph (16-32 km/h) with gusts I was able to measure exceeding 35 mph (56 km/h). Temperatures were in the lower 50s F (10s C) during in the afternoon, dropping to a nighttime low of 39 F (3.8 C). Given the wind I used a full lock down pitch. It took me nine minutes to pitch the tarp largely due to the gusting wind. When I got under the Spinnshelter I was pretty wet since my wind shirt which had provided enough protection against the drizzle had wetted out in the harder rain. Once the Spinnshelter was set up and I put all my gear in, rolled out my poly groundsheet, pulled out my down quilt, and got under it to warm up and dry my damp clothing with body heat. To give a sense of the conditions, my hair was still wet two hours after I got under the tarp. It took another hour for my hair to dry after I put on my GoLite Snow Cap. With the vestibules closed I found that there was enough room for myself, all my gear, and to manage camp life while staying dry thanks to the extra space provided by the vestibules. I had enough room if I was very careful to move without bumping into the sidewalls. With care, I was able to cook my meal under the vestibule over an alcohol stove which was pretty stupid in retrospect. Note: I would not recommend cooking this way... there isn't a lot of clearance, spinnaker is flammable, and many alcohol stoves flare up. Not surprisingly, there was a heavy condensation on the tarp walls as the night proceeded. Periodically a large drop would fall. This was a minor annoyance and did not impact my comfort or the performance of my down quilt which does not have a particularly good DWR shell. I noticed that the Spinnshelter had less than two inches of side deflection during the 35 mph (56 km/h) gusts, so the usable space under the Spinnshelter stays nearly constant. Pictured above is tarp with a 20 mph (32 km/h) wind blowing left to right across the picture. If you expect to face extreme weather conditions in soft soil, I would recommend bringing extra stakes (or improvising with local materials) and make use of the extra stake loops. A couple of evenings I had stakes pull out of the ground.
Ease of Setup
The first time I tried to set up the Spinnshelter it took me twenty minutes. Nearly half that time was spent try to work with the slippery guylines. After some practice I could set up the Spinnshelter in five minutes in my backyard, and normally less than six minutes in the field. I found the originally supplied guylines to be the biggest barrier to ease of use when comparing the Spinnshelter to any other tarp I have used. The original guylines require using fixed rather than slip knots. This meant that getting a taut pitch required a number of fixed locations to be suitable for stakes. In many locations this proved to be a challenge. This issue was eliminated by switching to more traditional guylines material which can be used with slip knots to easily vary the length of the guylines. Gossamer Gear is now shipping a more traditional guyline cords.
I found that there were three configurations which suited most of my needs, each of which could be performed in 5-10 minutes in all field conditions. I found each of these configurations were easier to execute with Spinnshelter than a traditional flat tarp:
Full lockdown with the doors shut - used in the midst of nasty storms
Full lockdown with the doors open - used when I expect the night to turn really nasty but the weather wasn't bad yet.
Foot staked to the ground, front raised 2-4 inches (5-10 cm) with the doors open - used when I didn't expect a serious storm and didn't need protection from the wind.
I tried a number of other configurations, including a lean-to. I found than most pitches other than the three above seemed harder with the Spinnshelter then when I was using a flat tarp.
Condensation
I found that the combination of weather conditions and the pitch I used allowed me to fairly accurately prediction of how much condensation I experience using the Spinnshelter. My rough experience was:
No condensation: Bone dry at the end of a night. On a number of trips I experienced no condensation. On a couple of occasions I had pitched the Spinnshelter to the ground with the doors open in a moderate breeze. In a few other cases I had pitched the Spinnshelter with the front slightly raised, doors open, in mostly still air.
Light Condensation: A light sheen of water is visible, with at most a few beads of water visible. When the water does bead up, it mostly rolled down the sidewall to the ground. I experienced this sort of condensation when the tarp was pitched to the ground with the doors partially closed, or pitched to the ground in high humidity conditions and little or no breeze.
Heavy Condensation: Water beaded up and mostly rolled down the walls, but some fell on the occupant of the tarp. I always experienced this sort of condensation when the temperature was below dew point and/or Spinnshelter pitched in full lockdown mode with the doors shut.
In my experience, even the worse condensation is very manageable provided the shelter provides adequate clearance from the sidewalls and there is someplace for the water to go when it falls. I found this to be the case with the Spinnshelter for three reasons. First, I found that once I got used to the dimensions, I could manage myself without bumping against the walls. Second, the living space didn't decrease due to wind deflection or the material stretching. Finally, most of the condensation rolled down the sidewalls and soaked into the ground rather than getting trapped by an attached floor.
Rain Protection
In a full lockdown pitch with the doors closed I found that I was complete protected from anything but standing water. No side blown rain. No leaks, no light mist from especially hard rain. This is a big improvement from when I was using my poncho/tarp because I did not need a DWR bivy to protect my down quilt. The tarp is long enough that I was able to leave the doors open during moderate rain storms, though I found the extra room with the doors closed to be extremely useful. The material seems to be more waterproof than sil-nylon based on a basic "hose test". My daughter got in the tarp and on my quilt and then I sprayed the tarp with a hose fitted with an adjustable nozzle set on jet which is a very concentrated high pressure spray against one of the sides. After two minutes there was no sign of water leaking through. When I attempt the same test with 1.3oz sil-nylon I get a light mist where the jet of water is hitting the fabric. The Spinnshelter was left set up in my backyard for a seven day period during which time it rained for six of the days. I used large spikes rather than my normal stakes to insure that the stakes stayed were I put them. At the end of seven days the contents under the tarp stayed dry and the tarp was nearly as taut as when I first pitched it. This is significantly better than my experience with sil-nylon which requires re-staking over time as it stretches. Once the rain had ended I was able to shake the tarp out and set it in the sun. It was dry to the touch in ten minutes.
Wind Performance
I love the material used in the Spinnshelter. Once you have a taut pitch with strong stakes this tarp isn't going anywhere. It doesn't stretch so flapping is kept to a minimum. Staked to the ground with the doors closed, it was fairly effective at blocking the wind. In particular, I found that 20 mph (32 km/h) winds were sufficiently blocked than I didn't notice any drafts while using a quilt. I measured winds at 50 mph (80 km/h) on one trip. The tarp handled the wind well. Unlike my fellow reviewers, I did not find the tarp particularly noisy. The difference is our experiences might be that I pitch the tarp extremely taut which didn't permit the tarp to flap much.
Bug Protection
Most tarps don't provide bug protection. If you pitch the Spinnshelter in full lockdown, it will keep a significant number of flying bugs at bay. I tried this a few nights as an experiment. I wouldn't recommend this as a strategy. It means you will be stuck in a confined space with a lot of condensations. You also don't get to experience cooling breezes which are desirable in warmer weather.
Gossamer Gear produces the Bug Canopy which is a bug netting designed to clip into the Spinnshelter. I tried it out on several trips but found it a bit awkward to use compared to my A16 bug bivy. If you are regularly in locations were you need both bug and rain protection in the same night, then the GG Bug Canopy might be a good option. For the conditions I face, I rarely need both bug and rain protection in the same evening. If it's raining the bugs aren't out and I just use a tarp. On nights without significant threat of rain I like to sleep under the stars or under the A16 bug bivy for bug protection. I prefer the A16 bug bivy because its roomier, much easier to pitch due to it's free standing nature, and only a couple of ounces heavier. The A16 is very awkward to use under a Spinnshelter in a full lockdown pitch.
Durability
After three years of use, the only evidence of wear is that the stitching hold the webbing / rear grommet has loosened slightly, there are a few stray threads from the stitching, and there are a couple of dirt spots which I have had some trouble cleaning off. All the stitching other than the rear grommet is still tight, including the single stitching on the pullouts. So far, none of the needle holes have enlarged significantly. The exposed edges which I was somewhat concerned about have not unraveled.
Customer Service
Very good. I have sent in a number of questions and have gotten back very quick responses via email. Gossamer Gear was also very responsive to the reviewers feedback. In particular, the guylines were changed from the original spectra cords to a more visible and easier to work with cord. Secondly, the user manual was significantly improved and the Gossamer Gear web site now provides a knot tying document for novices.
Other Options
I recently switched from the Spinnshelter to a Gossamer Gear "The One" because it's not much heavier than the Spinnshelter while providing a richer feature set. People investigating the Spinnshelter might also be interested in the Oware Alphamid Mini, and the Six Moon Designs Gatewood Cape.
Backpacking Background
I did a lot of backpacking from 1972 through the '80s. I started by going to various destinations in Ohio, West Virgina, and Red River Gorge in Kentucky. Destinations expanded to include sections of the AT, the PCT, the Rockies (Rocky Mountain National Park, Yellowstone, Tetons), The Big Horns, and various destinations in Canada. In the '90s my outdoor activities slowed down to make room for other aspects of life. Nearly all my backpacking was heavy-weight style. In 2001 I started seriously backpacking again... mostly in the Sierras. Over the next three years I switch from a heavyweight to ultralight to lightweight style. My three season base weight is now 8-11 lb (3.5-5 kg). Full carry weight including food and water is typically 15-25 lb (7-11 kg) depending on the length of the trip. Winter trips run a bit heavier.